The Divisive Y2K Tattoo Trend Coming Back With A Vengeance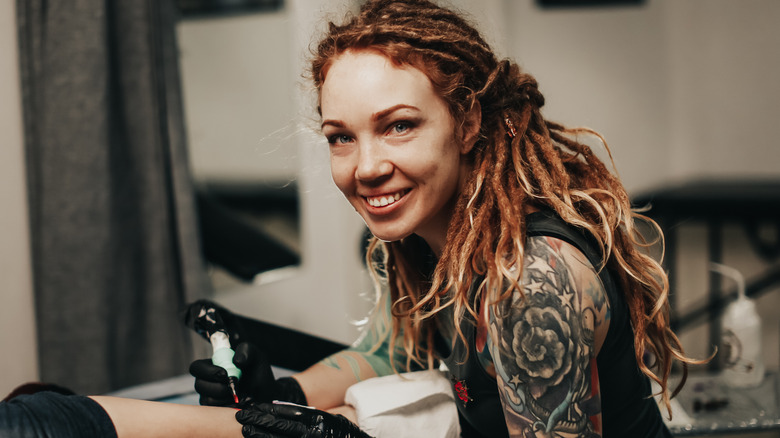 Natalia Lebedinskaia/Shutterstock
Y2K doesn't feel like that long ago for many of us. But, if you do the math (and cover your eyes if you don't want to feel old), it was actually more than 20 years ago. So as trends always make their way back, it makes sense that we are now seeing some of the biggest 2000 trends coming back. According to Vogue, the trucker hat was one of the first Y2K trends to make it back on some big name celebrities. After Rihanna and Hailey Bieber were spotted sporting the half-mesh style hat, it was instantly fashionable again.
Other Y2K trends have also made it back into mainstream fashion. According to Current Boutique, low-rise jeans, cargo pants, tailored vests, and even dresses over pants (a style beloved by Ashley Tisdale) have now become trendy yet again. But it's not just clothing that has come back in style – some makeup trends have returned as well. And one particular tattoo trend is back in full force.
The Y2K rhinestone body tattoos are trendy yet again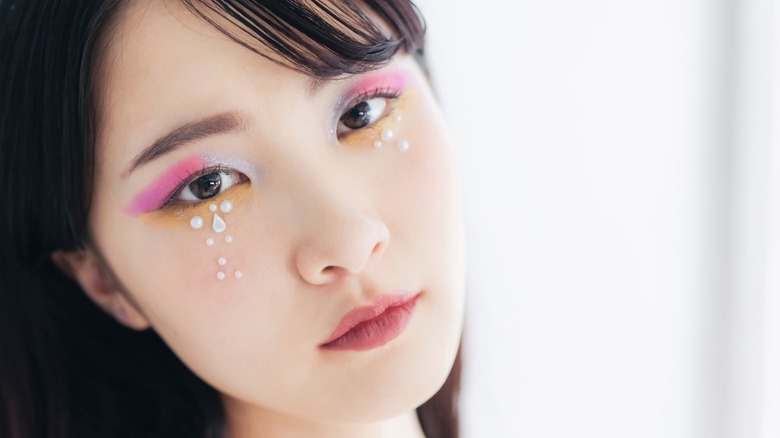 metamorworks/Shutterstock
If you have memories of walking into Claire's or Icing and picking out a rhinestone-clad butterfly or heart to stick on your arm or your lower back (if you were a bit edgier), you may be pleased to find out that those stick-on rhinestone body tattoos are back in style. The trend has been slammed in the past. As recently as 2014, Bustle criticized the Y2K obsession with rhinestones, writing that they "were never cute on sunglasses, your body, or your face, guys," but the times are changing — by which we mean the clock is turning back.
According to Byrdie, Bella Hadid was among the first celebs to sport the rhinestone tattoo bringing it back into mainstream fashion. According to PopSugar, she opted for a butterfly on her lower hip, sporting not only one 2000s trend but two with her low-rise pants, posting the pics on her Instagram. Fans of "Euphoria" also got a glimpse of the Y2K trend on the show, propelling the tattoos further into popularity.
If you are hoping to add the rhinestone tattoo trend to your routine, Byrdie recommends using them on your face to enhance your eye makeup. And to keep the trend more modern, they also recommend keeping it simple. Instead of layering them on like many of us did back in 2000, stick to one sparkly item per outfit.