Whatever Happened To Sharon Stone?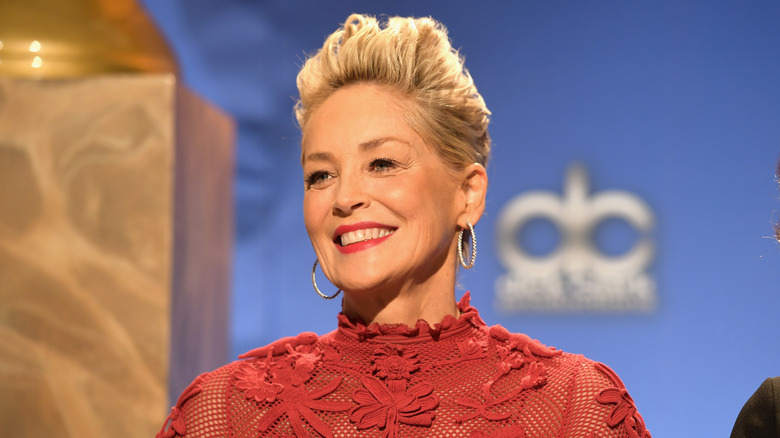 Getty Images
We may receive a commission on purchases made from links.
Sharon Stone was a bona fide '90s icon thanks to her attention-grabbing roles in "Total Recall" and, of course, "Basic Instinct." Following her Oscar nomination for "Casino" in 1996 (she nabbed the Golden Globe that same year), Stone seemed on course for a world-conquering career. But now, over 20 years on, it's difficult to pick out even one role since that comes close to those three.
Although Stone has worked consistently over the past two decades, she's also been mostly out of the spotlight (perhaps by choice?). When she does pop up in the media, it's usually to discuss whether the infamous leg-opening scene was kosher. Or it's because director Paul Verhoeven is flapping his gums again about what she really agreed to do. But, in the background of all this, Stone has been quietly building a life, family, and a career for herself that's worth taking notice of, too.
She's played a variety of roles that toyed with her persona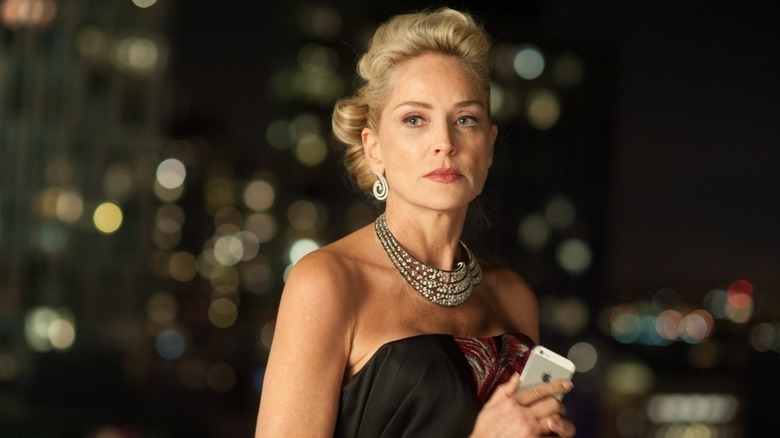 First and foremost, she has been working. A quick glance at Sharon Stone's IMDb page shows nary a gap in the schedule, in fact. There may not have been a big, career-defining moment like that of her most (in)famous role, but that doesn't mean she's been sitting around knitting blankets for 20 years. The intervening decades since "Casino" have, interestingly, seen Stone focus more on tough, difficult female characters in smaller indie movies. It's unlikely she's about to pop up in the next "Transformers" (even if Anthony Hopkins is there to greet her).
She's also been taking aim at her sexpot persona. The year 2013 alone saw her playing a repressed mother in "Lovelace" and a woman paying for sex out of desperation and loneliness in Woody Allen's "Fading Gigolo." In a 2014 interview with The Independent, Stone waxed lyrical about her choice to play such roles, deadpanning that she feels the concept of shame was "invented by a man." Whether this was in reference to "Basic Instinct," and the ensuing controversy, is open to interpretation, but Stone is certainly unafraid of toying with the public's long-held idea of who she is.
She suffered a massive brain hemorrhage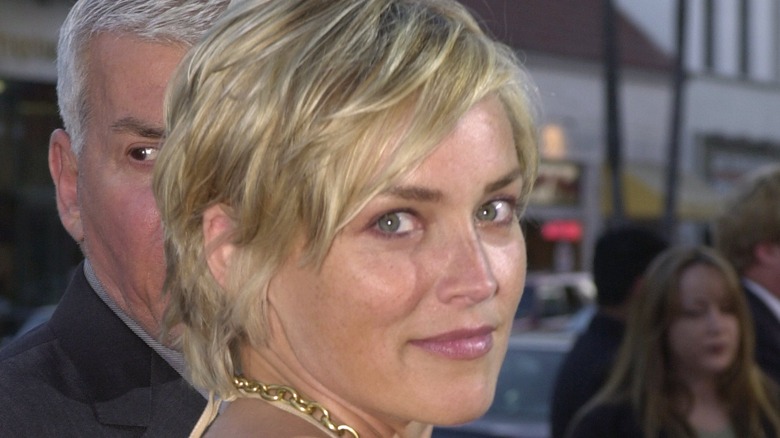 Getty Images
Back in 2001, Sharon Stone's life changed forever after she suffered a massive brain hemorrhage. As she detailed in an emotionally revealing op-ed in The Hollywood Reporter, Stone bled in her brain for nine days straight. After spending a week in the ICU, noting the survival rate for what she went through "is very low," Stone had to learn how to walk, talk, and read again.
She spent the next two years trying to piece back together who she was, a process Stone now credits with making her unafraid of the aging process because she knows "what the alternative is." The actress described it as a "humbling journey" that has forced her to work at everything in her life a bit harder as a result. She's made a habit of eating clean and works out four or five days a week, and she doesn't drink alcohol. But she hasn't lost her sense of humor, admitting, "People don't want to see a fat Sharon Stone, do they? I know my brand!"
She made a home for herself on TV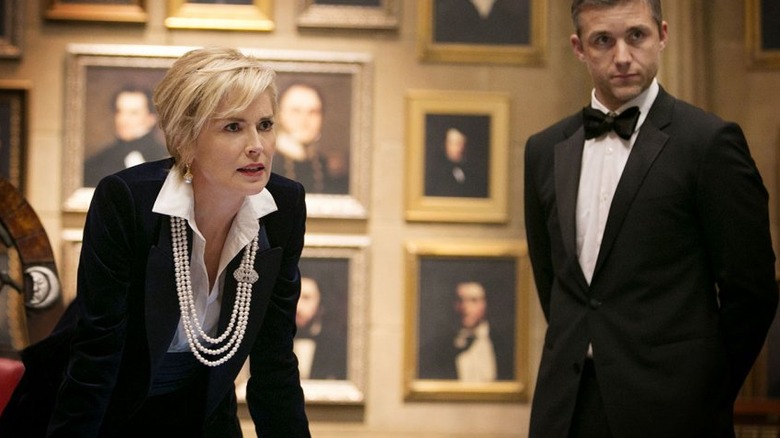 Off the back of her aneurysm and the difficult recovery period, Stone admits she found herself pushed to the back of the line. A guest spot on "Law & Order: SVU" led to difficulties with remembering her lines, but Stone pushed through and has found significant success on TV as a result. Although she'd already appeared on the likes of "The Practice" and "Roseanne" over the years, it's only now that she's found a real home for herself on television.
In particular, Stone headed up TNT show "Agent X," playing none other than the president of the United States. She also proudly executive produced the show. Next up on her roster was the intriguing "Mosaic," in which she played popular children's author Olivia Lake. She also found time to narrate children's TV show "Harold and the Purple Crayon" throughout its 13-episode run, a nod perhaps to her status as a quietly content single mother.

She's been a vocal proponent for women's rights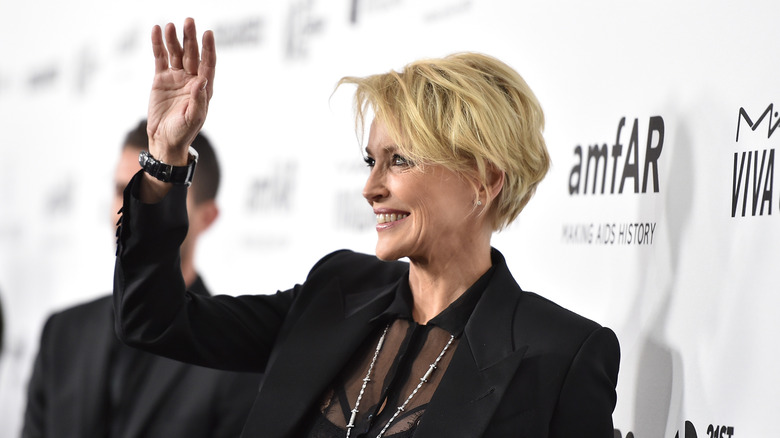 Getty Images
Those who have only seen Sharon Stone's name popping up in relation to that "Basic Instinct" moment (she'll probably still be discussing it when she's 80) will be surprised to learn she's actually quite the activist. A loud and proud proponent of women's rights, Stone has discussed everything from the gender pay gap to the #MeToo movement. 
Back in 2015, Stone spoke out at a fashion event hosted by her sister Kelly about how "no one wanted to pay me" after "Basic Instinct." Stone recalled sitting at her kitchen table with her manager, crying with frustration. And, even though she took a stand by refusing to work for free, Stone still got paid significantly less than her male co-stars. 
The struggle to survive in a male-dominated industry is something Stone discussed again in an interview with AARP, accompanied by fellow actresses Jane Fonda and Alfre Woodard. The three women discussed aging and the pressure to continue to be desirable in Hollywood. She also spoke to Luxury London about just how much strength it takes to survive in the business as a woman and how her strong characters represent that eternal fight.
She's been the chair of amFAR for 20 years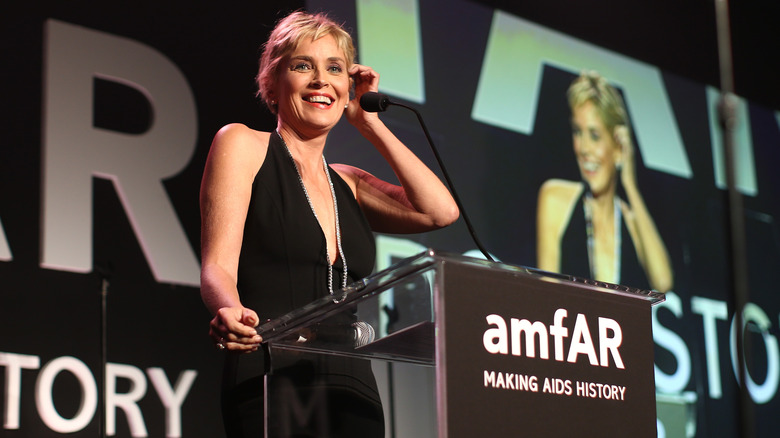 Getty Images
Not content with simply being a voice for marginalized women, Sharon Stone has also been quietly working away as an activist for the past 20-plus years. In fact, she's been the Global Campaign Chair of amFAR (American Foundation for AIDS research) since 1995. Stone initially signed on for a three-year stint in 1995. Then, in 1998, she renewed her term until a safe and effective AIDS vaccine could be found (i.e. it's still going). 
This impressive career as chair is detailed in all its glory on their official site, but suffice to say Stone's efforts have been more than exemplary over the years. Nothing she does is small, and from spreading awareness to fundraising, she's more than made her mark. In August 2000, she even hosted an auction at the starry Venice Film Festival that raised over half a million dollars. She won the Peace Summit Award in 2013 for her work.
She held an impromptu auction to build schools in Africa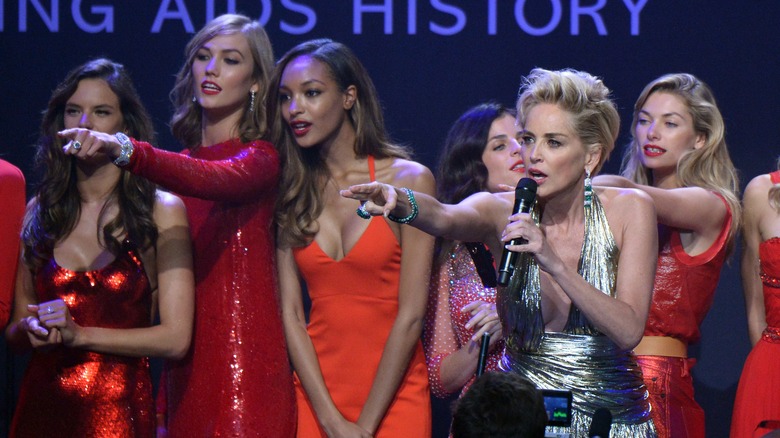 Getty Images
Speaking of auctions, Sharon Stone seems to have a bit of a knack for utilizing them to their greatest potential. One of her most impressive moments as an activist and humanitarian came in 2015 when she held an impromptu auction to raise much-needed funds for Africa. 
As a guest of honor at the Pilosio Building Peace Award in Milan, Stone could have just smiled for the cameras and reveled in the moment. Instead, she took the opportunity, in front of a crowd of the most powerful and wealthy construction industry CEOs in the world, to raise both money and awareness. 
Stone managed to gain enough pledges just from this one moment of spontaneity to build a whopping 28 schools in Africa. As it turned out, the idea was spurred on, Stone explained, from her meeting a businessman earlier who pledged to build two schools in exchange for a picture with her. 
She adopted three sons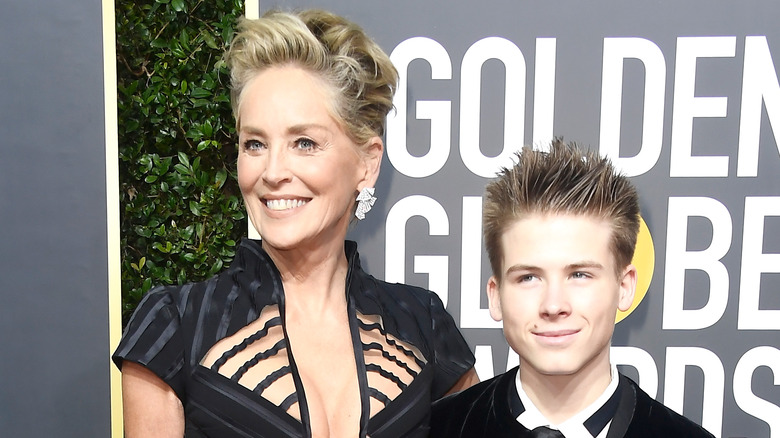 Getty Images
Arguably Sharon Stone's biggest personal achievement over the past decades, however, is as a single mother. Stone adopted her three children Quinn Kelly, Laird Vonne, and Roan Joseph in 2000, 2005, and 2006, respectively. She's kept them mostly out of the limelight, but in 2017 they presented her with a Mother of the Year Award at the Associates for Breast and Prostate Cancer Studies (ABCs) Mother's Day Luncheon in L.A.
In her acceptance speech, Stone admitted that motherhood "didn't come easily" to her. Stone also told People, in relation to life as a single mother, upon initially adopting Laird, "I have more love, help, friendship and kindness than at any other time in my life." Although they're mostly kept off social media and out of the public eye, Stone did post a fun snap sharing her 59th birthday with her kids to Twitter. Roan also broke with tradition and accompanied her to the 2018 Golden Globes. 
She dabbles in music on the side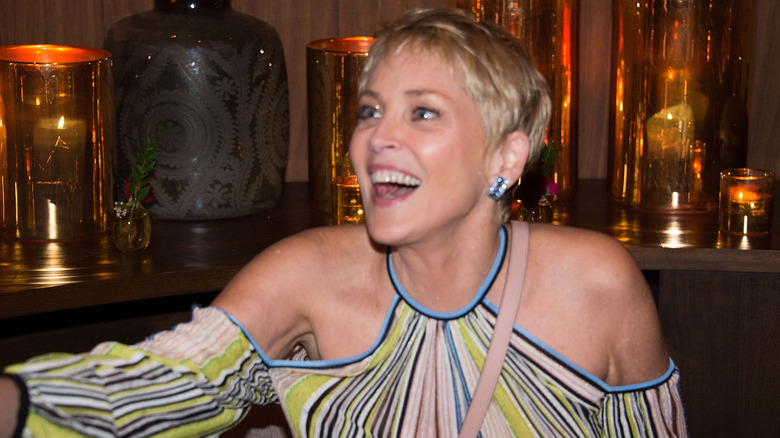 Getty Images
With a busy acting career, three children, and a massive humanitarian commitment all to contend with, it's amazing Sharon Stone finds time to breathe let alone do anything else. And yet, in an interview with The Independent, she admitted to yet another creative pursuit: songwriting. Albeit, naturally, with a humanitarian twist.
Stone revealed that the first song she ever had published was in aid of Hurricane Katrina, as part of a fundraising album ("Come Together Now"). Her song was actually the title track, which is no small feat. Elsewhere, she revealed, "I had a song come out in Argentina last year about a terrific writer and poet who was murdered in his car." Even further afield, Stone released a song in Sweden called "Let's Kiss." 
Stone explained she went to college on a writing scholarship at just 15 and has "always been a person who's loved to write." She's even had several stories published in magazines over the years. This may be less of a hobby soon enough if the right project comes along.
She was the face of a high-fashion campaign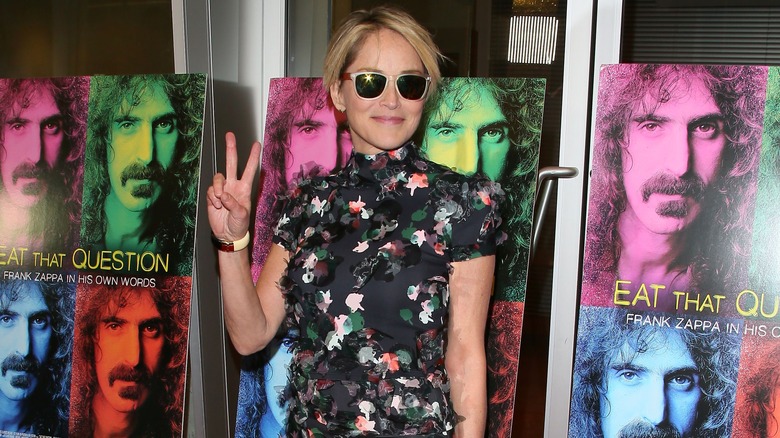 Getty Images
Sharon Stone has had brushes with luxury brands before, launching a special line of personally-designed vanity cases for Louis Vuitton back in 2000. Sales of the cases reportedly generated more than $3 million for amFAR. But, in 2016, she got even closer to the fashion world. 
As detailed in an eye-catching spread and in-depth interview with Luxury London, Stone starred in Austrian label Airfield's S/S 2016 campaign. Clad in a variety of stunning looks, Stone is the picture of assured confidence. She spends much of the interview discussing her seemingly everlasting sex appeal, noting, "Sexiness comes from deep inside. It's the feeling of being present, having fun and liking yourself enough." 
She actually began her career as a model, as the interviewer noted, before moving forward with acting. So the campaign surely came easily to her. And it most likely won't be the last for a woman who doesn't let age get in the way. 
She sent herself up as a bloodthirsty talent agent in The Disaster Artist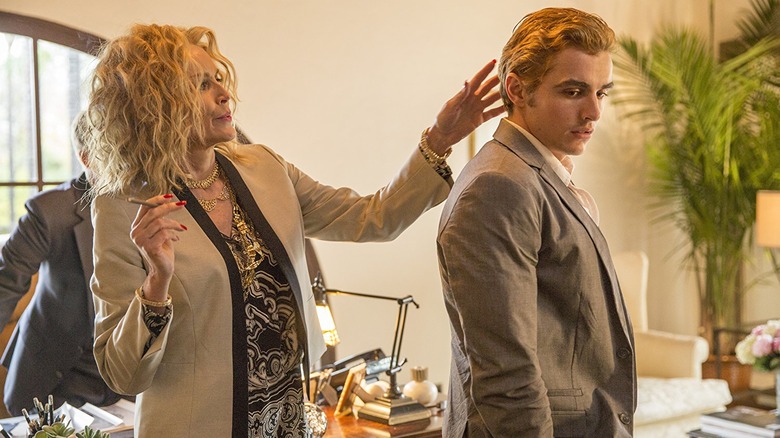 After years spent working away quietly in the background (relatively speaking), Sharon Stone stormed back into the multiplex in the most take-notice way she could. Taking aim at her own man-eater personality, cultivated over years of the media and public alike being unable to let the leg-crossing go, she turned up in "The Disaster Artist."
Almost upstaging James Franco himself in the sweet, true-life take on Tommy Wiseau and Greg Sestero's ultimate good-bad movie "The Room," Stone appears as a bloodthirsty, platinum blonde talent agent. Called into the room by a subordinate who's visibly terrified of her, Stone turns her sights on Dave Franco's Greg, naively enthusiastic, grabs him in her claws and tells him simply, "You're mine." It's a funny, Hollywood-skewering moment in a movie full of them. It also reaffirms Stone's standing as an icon, even if many people will struggle to think of what they've last seen her in.
Sharon Stone built her dream house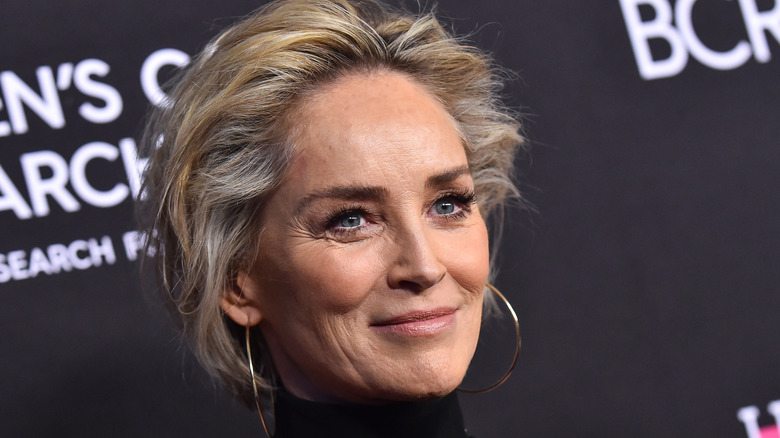 Shutterstock
Sharon Stone doesn't do things by halves. When it came to renovating the house she'd first bought at the height of her "Basic Instinct" fame, the legendary actress took her time with it. In a lengthy spread filled with jaw-dropping photographs of Stone's fabulous home — which includes a dining room floor from an actual Swiss château — Architectural Digest noted she purchased it back around 1993, after she found her privacy threatened by a sudden surge of interest in the breakout star. "This house has its own voice," the actress explained, "and once we began to understand that language the design process became much easier."
The renovation, completed with the assistance of the star's friend and interior designer, Douglas Truesdale, took four years total, with Truesdale advising that simply nothing Stone does is rushed. Moreover, she knows what she likes and how to get it. Truesdale gushed, "Sharon is an artist with a capital A. Whether it's acting or photography or decorating, she always brings incredible energy and creativity to the table. She's been all over the world. ... She's a sponge of visual information, and she can tap into all of it when we're designing."
She was handpicked to play another iconic villain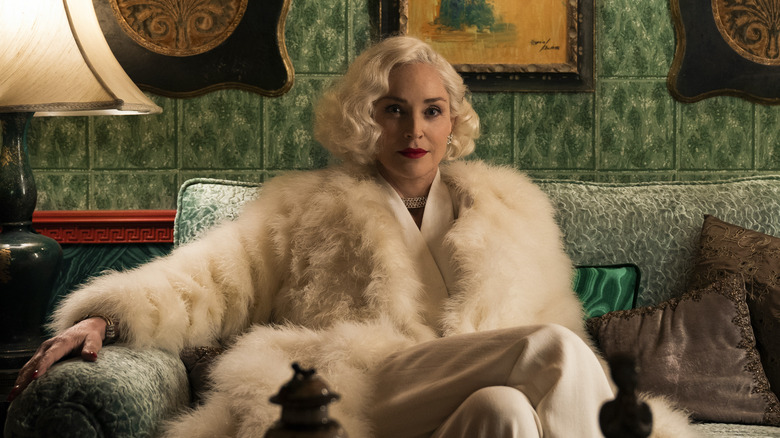 Netflix
Catherine Tramell is one of the most iconic villains in movie history, so it stands to reason that when super-producer and "American Horror Story" creator Ryan Murphy was searching for someone to go toe to toe with Nurse Ratched herself (from "One Flew Over the Cuckoo's Nest") in prequel series "Ratched," he went straight to Sharon Stone. As Town & Country magazine noted, the role of Lenore Osgood, a "strange, fabulously wealthy villain" with a pet monkey (Stone hand-picked the simian herself, naturally) was actually written with the actress in mind.
Although Stone freely admits nobody was really hiring her between the ages of 40 and 60 and that even nowadays people still assume all she can do is "Basic Instinct," essentially, she's confident there's a path forward for her. When it came to "Ratched," the job felt as though it fit into that plan. Still, it's frustrating, with the actress admitting, "Even now people say to me, 'You'd have to really disappear into a character.' And I'm like, 'Did you see 'Lovelace?' That was me.'" Stone explained, "People still want to see my boobs. I'm 62! It's like, 'Really? Grow up!'"
Sharon Stone wrote a memoir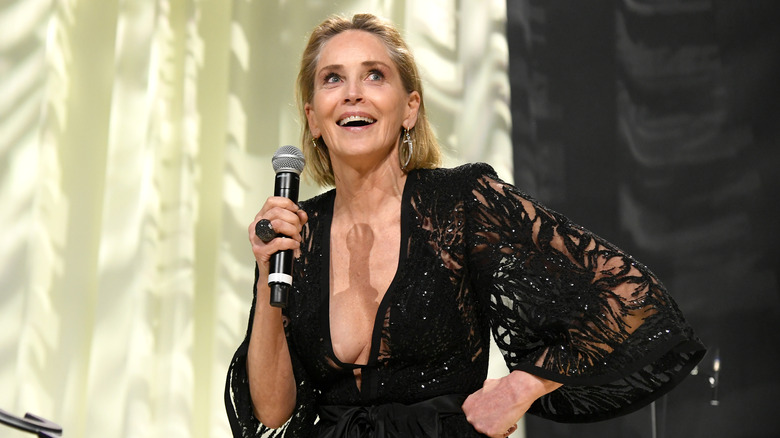 Mike Coppola/Getty Images
You'd be hard pressed to find somebody with more Hollywood stories to tell, and a better inclination to share them, than Sharon Stone. With the 2021 release of her memoir, "The Beauty of Living Twice," the screen siren opened up about her extraordinary life and career with the trademark wit fans have come to adore. Speaking to CBC, she admitted "Sharon Stone" is actually a persona, quipping, "I have like a little section of my closet that has the Sharon Stone clothes in it." 
Although there are many different, and very personal, reasons to write a memoir, Stone knew exactly why she wanted to do it. The actress explained, before covering each aspect of her life, she had to reintroduce herself and make it clear exactly who she is. "So many people in my life have told the story of who I am and decided who I am for me and told so many things that had nothing to do with me and more to do with the characters I've played," the actress advised, acknowledging, "It just was really helpful for me to take back my own identity and to get clear about my own identity."
She opened up about what really happened on the Basic Instinct set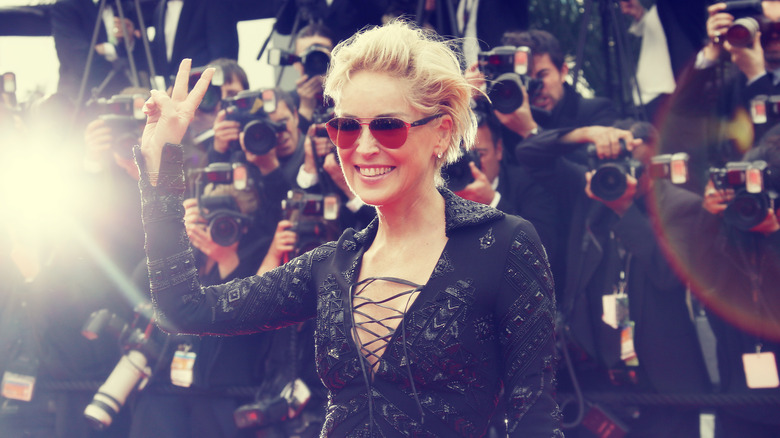 Shutterstock
"Basic Instinct" was, obviously, a huge moment in Sharon Stone's career but the movie's most infamous sequence still haunts her. In an excerpt from Stone's memoir, via Vanity Fair, the iconic starlet argued, "It's about more than just a peek up my skirt, people." As far as Stone is concerned, she shouldn't have been turned into a punchline after appearing in a movie everybody was championing. Especially considering, as the actress revealed, it wasn't her choice to do the scene that way. Stone discovered she'd gone full frontal only after the movie was completed and she sat watching it in a room filled with men. 
The young actress, who pushed herself to the breaking point to be cast and, ultimately, prove her worth had been reassured nothing could be seen despite the fact she was specifically asked to remove her underwear, allegedly because it was messing with the lighting. By the time Stone realized what had happened, it was too late. Stone doesn't regret doing "Basic Instinct," but, to everybody who waxes lyrical about the scene, she stated, "Since I'm the one with the vagina in question, let me say: The other points of view are bulls**t."
She started looking for love online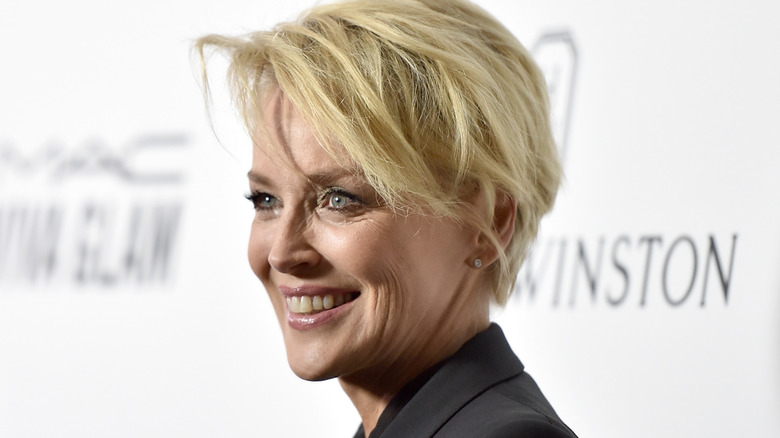 Mike Windle/Getty Images
Finding love in the modern world is tough, as Sharon Stone likely well knows. She looked for love online and took to dating app Bumble to meet someone special ... only to get unceremoniously blocked after users assumed she was a catfish. Taking to Twitter, the actress railed, "Hey @bumble, is being me exclusionary? Don't shut me out of the hive." Thankfully, Bumble responded to reassure the actress her account would be reinstated ASAP and not to worry about getting booted again. A spokesperson for the dating app later apologized to Stone in a statement to Forbes, noting a quick verification would protect the "Ratched" star from any further bans (a selfie, mimicking a pose randomly generated by their system, is required in order to complete verifications).
Stone, naturally, received numerous dating requests after speaking up about her experience. Bumble is famously the app where women approach men rather than the other way around. Although many celebrities, including Ben Affleck, flock to the exclusive app Raya, where there's no danger of them matching with hideous normal folk, Stone has zero interest, telling Town & Country magazine, "People kept pretending they were things they weren't on Raya. Like straight."