Here's How Skin Cycling Actually Works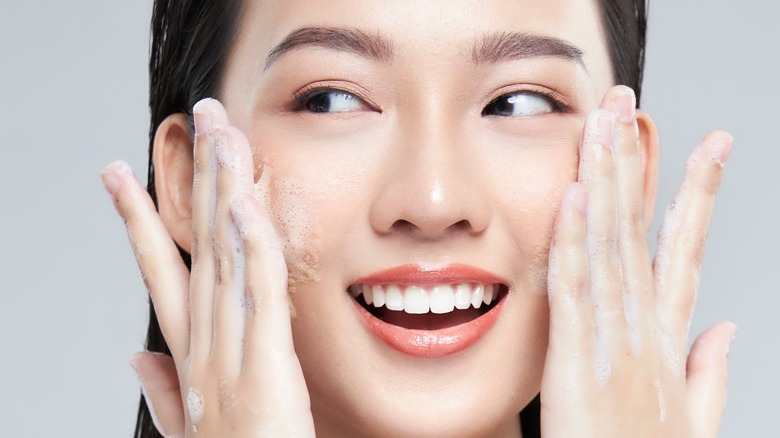 Minh Mi Goi/Shutterstock
We may receive a commission on purchases made from links.
Skin cycling was made popular by New York-based board-certified dermatologist Whitney Bowe, who noticed that people were using less makeup and more skincare products but without expected results during the pandemic. As Dr. Bowe explained to SELF, knowledge about skincare was everywhere, yet the people who seemed to know the most were seeing the worst results due to misuse. This led to sensitivity, blotchiness, and breakouts. 
Since not all skincare advice works for every skin type and people were using too many products, Dr. Bowe wanted to simplify people's nighttime routine by sharing what products to use, in what sequence, and how often. She introduced skin cycling as a four-night cycle in which you use a chemical exfoliant like alpha or beta hydroxy acids on night one, retinoids for cell turnover on night two, and hydrating products on nights three and four to let your skin heal and recover. This more relaxed approach has gotten so popular, it now has over 100 million hashtag views on TikTok.
It's less overwhelming than the K-Beauty 10-step skin care routine and more similar to skinimalism, in which you use minimal products to get the most benefits. Skin cycling is a method aimed at helping your skin slowly build a tolerance to the active and sometimes irritating ingredients in many products, medical aesthetician Amy Peterson told CNN. Using active and healing ingredients in a rotation or cycle will benefit your skin most from each ingredient rather than using them all at once, as one might make the other less effective — or worse, cause inflammation and breakouts. 
Benefits of skin cycling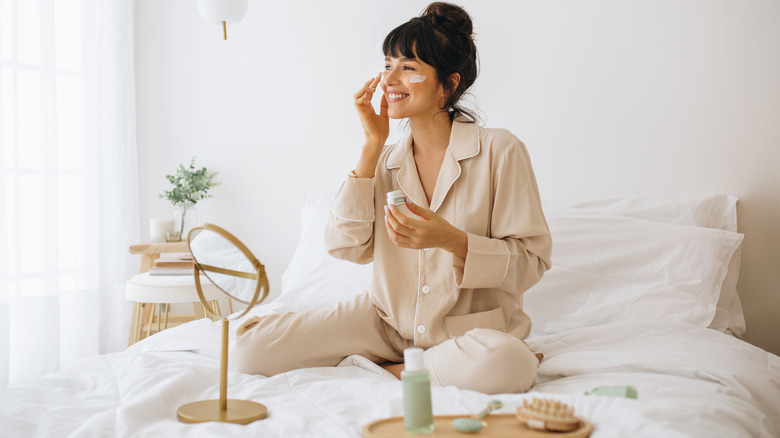 JLco Julia Amaral/Shutterstock
Using exfoliating acids and retinoids can work miracles for your skin, but if you use them too much without letting your skin heal, you will experience more skin issues. This is why skin cycling is a great idea. Dr. Bowe told Allure that the approach will allow you to maximize the benefits of the active ingredients in your products while reducing the chances of adverse effects such as redness, irritation, and breakouts. 
For instance, using chemical exfoliants and retinoids on the same night can cause irritation and inflammation, so using them on separate nights helps your skin reap the most benefits. You then give your skin time to recuperate on the other two days, just like you would when you work out at the gym when you let your muscles recover and heal.
Skin cycling works because it provides noticeable results, especially if you're struggling with acne, dullness, or hyperpigmentation, according to Dr. Salome Dharamshi, an aesthetic doctor and skincare expert (via Refinery29). Dr. Dev Patel, the founder of Perfect Skin Solutions, told the outlet that those who follow the practice will likely experience major improvements in skin texture and reduced pore size.
Skin cycling simplifies your nighttime skincare routine by helping you use fewer products each night, making the most of each ingredient you use — and seeing results is the best part of it all.
Best products for skin cycling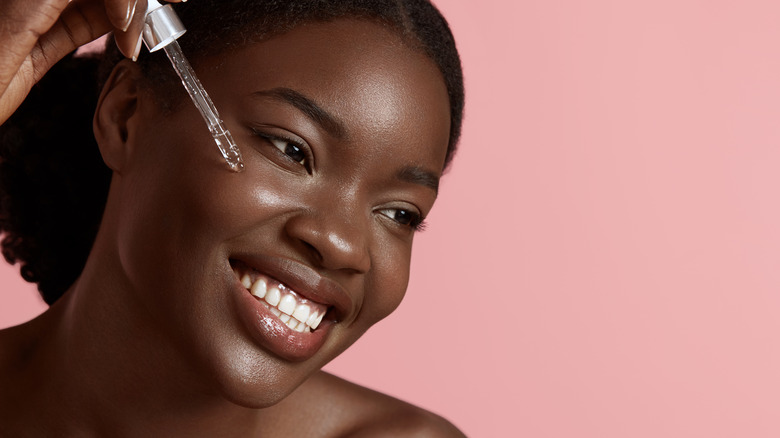 puhhha/Shutterstock
Thanks to Dr. Bowe, we no longer have to overwhelm our skin with too many active ingredients. Now that you know how it works and what it can do for you, here are some products to build your new or improve your existing nighttime routine.
On night one, the chemical exfoliation night, Dr. Bowe recommends an acid blend that contains glycolic acid. One of her favorites is La Roche-Posay Glycolic B5 Dark Spot Corrector with 10% pure glycolic acid (via TikTok). It's said to be safe enough to gently exfoliate sensitive skin and has kojic acid to help brighten the complexion.
Night two is for retinoids, and Dr. Bowe told Vogue that one of her favorite products for her sensitive skin is Dermalogica's Overnight Retinol Repair. It's infused with Vitamin C, copper peptides, and ceramides to increase cell turnover and reduce wrinkles.
For nights three and four, it's all about recovery, so you can give your skin extra hydration and healing ingredients to strengthen the skin barrier. Dr. Bowe loves PCA Skin Hyaluronic Acid Boosting Serum because it has hyaluronic acid to boost the skin's hydration and ceramides to repair damage. La Roche-Posay Hyalu B5 Pure Hyaluronic Acid is an affordable yet effective alternative.