Study Finds New Reasons For Pregnant Moms To Avoid Ultra-Processed Foods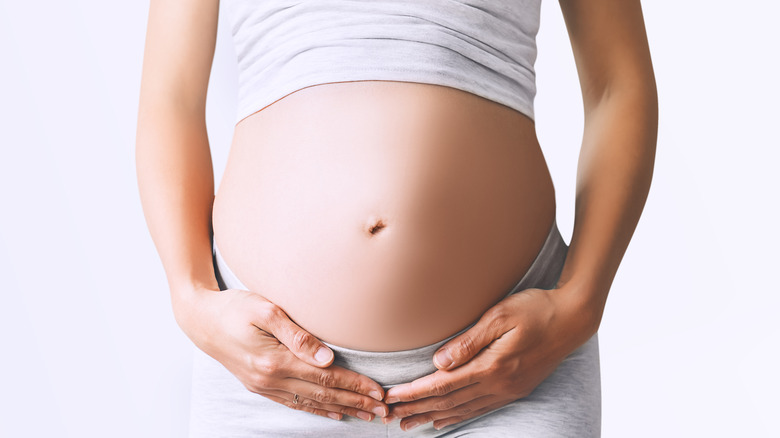 Natalia Deriabina/Shutterstock
We've all heard the saying that a pregnant woman is eating for two, but that goes beyond dealing with common pregnancy cravings and needing some extra calories to stay energized. In fact, everything a woman eats throughout her pregnancy impacts her health, as well as the well-being of her unborn child, which is why doctors encourage their pregnant patients to follow a healthy diet and lifestyle. "When you're pregnant, your body goes through several changes and there are additional demands," Sarah Shawki, M.D., clinical assistant professor of obstetrics and gynecology at NYU Langone Health in New York, told Forbes. "A healthy diet is key in keeping both mom and baby healthy."
According to the Office of Disease Prevention and Health Promotion, pregnant women should eat a variety of vegetables, fruits, whole grains, dairy products that are both fat-free or low-fat, and protein foods. There are also certain items to stay away from completely, including seafood high in mercury, sushi, raw eggs and undercooked meats, unpasteurized cheeses and juices, herbal tea, excessive caffeine, and of course, alcohol, per Mayo Clinic.
If you're lucky, you might be one of those women who crave vegetables during their pregnancy (yes, this does actually happen!). But if you're a pregnant woman yearning for junk food, specifically ultra-processed foods (think packaged sweets and ready-to-eat meats), then you'll want to pay attention to a recent study about how it can impact your child's health in the future.
Ultra-processed foods during pregnancy can lead to childhood obesity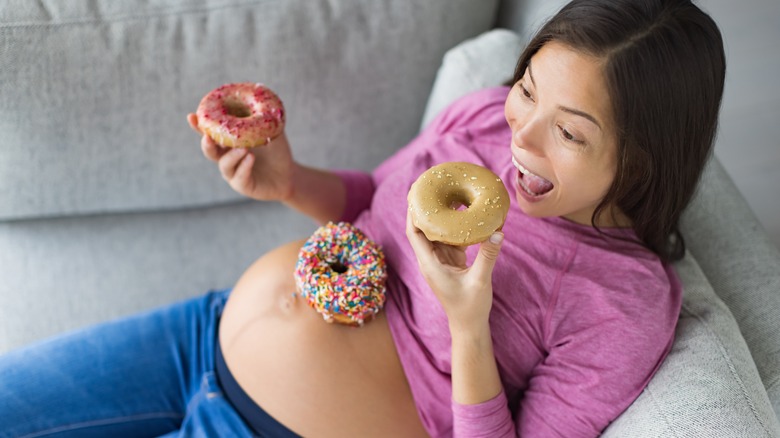 Maridav/Shutterstock
A new study has found a link between consuming high levels of ultra-processed foods — including mass-produced bread and bakery items, ready-to-eat meals, packaged sweets, desserts, and snacks — during pregnancy and childhood obesity. According to new study published in the BMJ, these higher levels of ultra-processed foods eaten led to a 26% increased risk of overweight or obesity in children between 7 to 18 years of age. And the child's own consumption of ultra-processed foods had no impact on the outcome of the study.
"Our research highlights the importance of the diet of the mother on not only her health but also the health of her children. Until now, we tended to focus on dietary counseling for middle-aged and older adults to reduce the risk of chronic disease. This clearly shows that we need to encourage healthy eating across the life course," explained Dr. Andrew Chan, study author and professor of medicine at the Harvard Medical School, per Medical News Today.
Childhood obesity is an epidemic in the United States, with data from the Centers for Disease Control and Prevention showing that 14.7 million American children and adolescents are obese. The condition can lead to health issues including high blood pressure, high cholesterol, type 2 diabetes, breathing problems, and more. It's such a problem that in 2010, then-President Barack Obama convened the first task force to solve the issue, and First Lady Michelle Obama launched the Let's Move! campaign to encourage kids to eat healthy and exercise.