The Runway-Approved Makeup Trend You're Going To Want To Try ASAP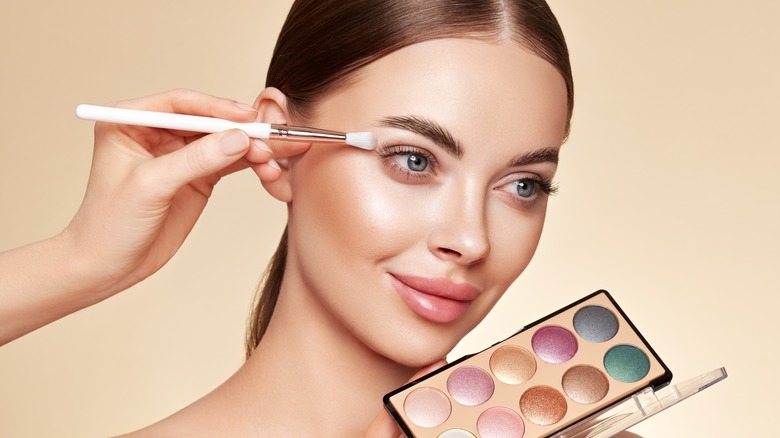 Oleg Gekman/Shutterstock
We may receive a commission on purchases made from links.
Earlier this year, Bella and Gigi Hadid donned boned corsets, latex leggings, and mini skirts at the Versace Fall 2022 show (via Page Six). And although Y2K fashion was already trending, Versace's bold styling demonstrated how trends can be elevated. Makeup artist Pat McGrath suggested his own pairing: bleached eyebrows with dark, foreboding smokey eyes. It wasn't too long before everyone (from Kendall Jenner to Lizzo) began bleaching their eyebrows out of existence, per Glamour.
Covetable outfit trends aren't the only drops we're picking up on a fashion runway; makeup plays a huge role in the production of a show and the notes of the show-watchers. For the latter half of the year, we're seeing the rise of a new makeup trend amongst '90s graphic dresses and sparkly ensembles. And it's one that signals our wanton need for the seasons to change — because this trend may take over sooner than spring 2023.
Models wore colorful eyeshadow on their nose bridge
Glitzy makeup and soft-yet-bold shades are all over the runway but one trend in particular is standing out. The color from eyeshadows are leaking onto, and around, the nose bridge to create a "butterfly effect" (not literally). Allure called the look "butterfly bridge makeup" where vibrant colors at their brightest in the inner crescent of the eyes are slowly blended out vertically — towards the brow bone and the lower lash line. With eyeshadow concentrated in this area of the face, the makeup trend looks like the wings of a post-modern butterfly.
Deviate, a genderless fashion brand, employed the butterfly wings to complement the colors in their graphic dresses for their runway debut, per Allure. Makeup artist Kabuki, who was behind all of these looks for Deviate, seems to have out-of-the-box thinking listed on his resume of stunning makeup looks — many of which don't stick to the "rules." Makeup artists like Laura Yard gave us electrifying variations of the look while Etro's inverted butterfly wings take the color outwards. Chloe used silvery metallics in their runway show while Gucci emphasized the highlighted wings with face ornaments.
It's easy to recreate this look
TikTok picks up trends (or makes them) quicker than any fashion cycle. "Eyeshadow bridge" has over 4 billion views with creators playing with soft pastels and bright shades across and around their nose bridge. Beauty TikToker Martha Lyn added a gem-encrusted heart to her hot pink eyeshadow, across her nose bridge, while offering a beginner-friendly alternative without the heart. Her captioned instructions make it easy for anyone to follow along and try the look. Place a shade of your choosing "all over the bridge of your nose [and] between your eyes ... Blend onto the eye socket." Lyn then uses a lighter shade of the same color for the inner corners, and highlighter on the bridge. Other creators soon followed suit, using #marthalyn to credit her (via TikTok).
Essentially, all you're going to need is a colorful eyeshadow palette (we like this one from NYX), some highlighter, and a brush to blend it all together. We're excited to see this trend take off because butterflies for fall are groundbreaking.