Everything You Need To Know About The Bleached Eyebrow Trend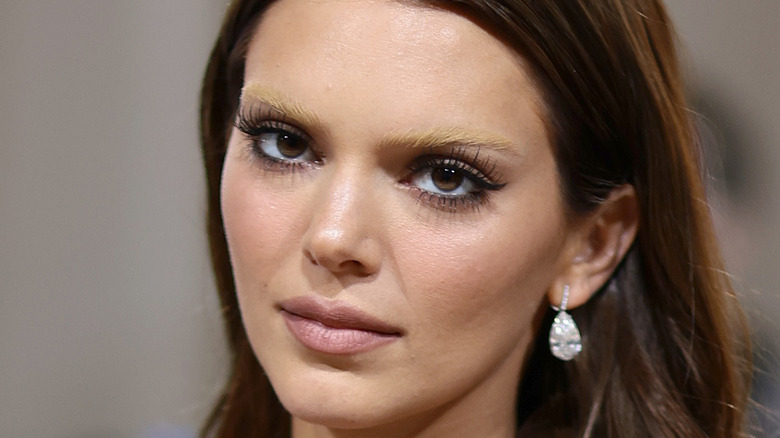 Dimitrios Kambouris/Getty Images
An unlikely trend, bleached eyebrows, are popping up everywhere at the moment. Spotted on Kendall Jenner at this year's Met Gala, the look is exactly as it sounds — your eyebrows, but bleached to either be very light or invisible. "Game of Thrones" actress Maisie Williams also rocked the bleached brow look to the Met Gala in both 2021 and 2022, proving she was ahead of the trend.
Bleached brows can also be known as "invisible eyebrows," and they aren't just being seen at the Met Gala. Model sisters Bella and Gigi Hadid rocked barely-there eyebrows at the Versace Fall 2022 show, showcasing a fierce look. Everyone from Lizzo to Kim Kardashian has experimented with the bleached brow, and, just like bushy brows, it's clear the bleached brow trend is going nowhere. As fall approaches and many of us are wrapping up warmer, bleached eyebrows are the perfect way to create a bold look even when your body is covered head to toe. 
Always make sure to test if bleach is suitable for your skin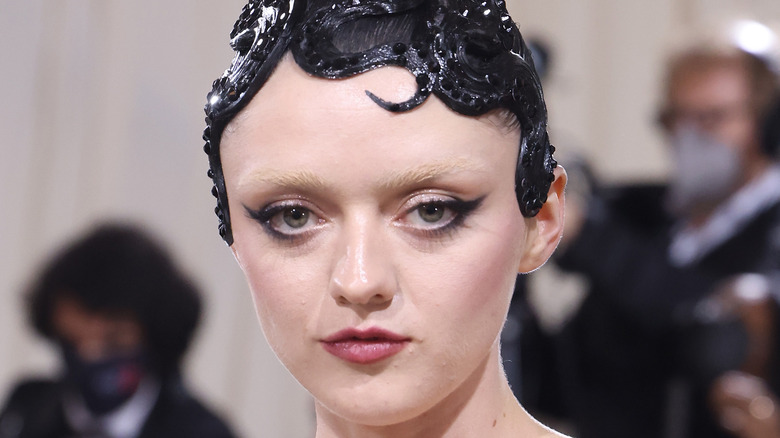 Taylor Hill/Getty Images
If you want to rock the bleached brow look yourself, BEAUTY/crew has the lowdown. Makeup artist Emily Cheng spoke to the magazine about how she achieved the look on "The Haunting of Bly Manor" and "You" actress Victoria Pedretti, calling it "another way to have fun and experiment with your look." She also shared some words of wisdom for those who are nervous about trying it out — much like hair dye, you can always use a facial beard dye to quickly get back to your previous brow color. 
Firstly, you'll want to clean your eyebrow area, and then go in with a moisturizer. This is to protect the delicate skin in your eyebrow zone from getting irritated by the bleach. Cheng used Elizabeth Arden Eight Hour Cream for Pedretti, but any rich cream is fine. If you've never used bleach before, performing a patch test is best. However, Chanel Brow Artist Jimena Garcia warns that bleach isn't for everybody (via Byrdie). If you have extra sensitive skin or are experiencing a bad breakout, stay clear for now to prevent any further damage.
You may want to leave the dying job to the pros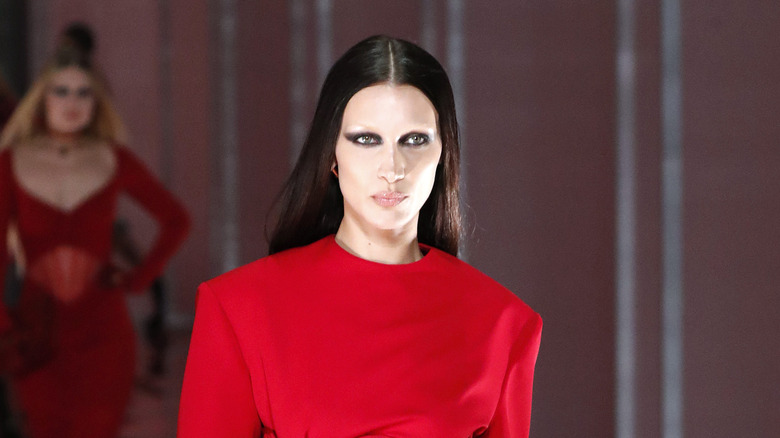 Estrop/Getty Images
Makeup artist Emily Cheng revealed that she reaches for Jolen Creme Bleach to do the heavy lifting (per BEAUTY/crew). Use a q-tip to apply to make sure every area is covered, and then leave the bleach on for 10 minutes. Once time is up, check your brows have lifted accordingly, and then wash all bleach off thoroughly. Speaking to Byrdie, brow artist Jimena Garcia recommended roping in a friend to apply the bleach for you. This will prevent any mistakes from nervous shaky hands and also protect your eyes as you get close to them. However, Garcia also said you should go to a professional to get your eyebrows bleached if possible, as bleach is a dangerous chemical to work with.
Still, if you're determined to self-bleach, Garcia says it may take several bleach sessions to achieve the color you want, especially if your hair is dark. To eliminate brassy yellow undertones, she shared that you should apply a purple shampoo after bleaching and leave for a few minutes before rinsing thoroughly. To prevent bleaching too often, both Cheng and Garcia say using concealer is great for darker sections of regrowth. Cheng says white eyeliner is good for achieving a lighter color, too.