Vicki Gunvalson Doesn't Hold Back Her Disdain For Teresa Giudice At BravoCon 2022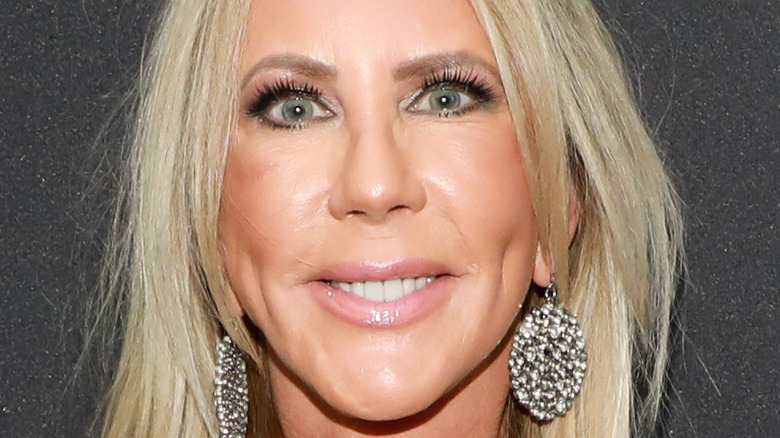 Jason Mendez/Getty Images
The "OG of the OC," Vicki Gunvalson might not be a cast member on "The Real Housewives of Orange County" anymore, but that doesn't stop her from always having an opinion about the happenings on Bravo. Gunvalson was an original cast member of the first iteration of the Housewives franchise, which premiered in 2006. However, after thirteen years as a main cast member, she was demoted to a "friend" for the 14th season (via US Weekly). This didn't sit well with Gunvalson, and she had a boisterous meltdown at the season fourteen "RHOC" reunion. That moment was Gunvalson's final Housewives appearance until her participation in season two of "Real Housewives: Ultimate Girls Trip."
"RHUGT" Season 2 featured a recently heartbroken Gunvalson mixing it up with ladies from the Atlanta, Beverly Hills, and New York versions of the Housewives. Gunvalson and fiancé Steve Lodge split up right before she arrived, and she wasn't in the mood to do her signature "whoop it up" mentality. Not only that, but Gunvalson found herself feuding with the majority of the other cast members, most notably Dorinda Medley, in a blistering back and forth over the legitimacy of COVID-19 (via Page Six).
Gunvalson's latest Bravo appearance is actively taking place at the BravoCon 2022 event, and she's not holding back her opinions of fellow original Housewives. One "Real Housewives of New Jersey" star, in particular, was on the receiving end of some harsh words from Gunvalson.
Gunvalson doesn't understand how Teresa Giudice is on TV after serving prison time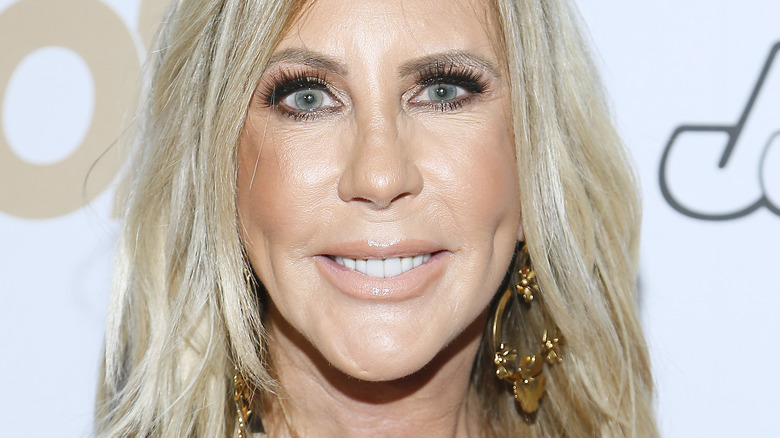 Paul Morigi/Getty Images
If you ask Vicki Gunvalson for her opinion, she will give it to you. That's precisely what happened during the "Right The Relationship" panel at BravoCon 2022. According to a reporter from The List, Gunvalson didn't hold back when asked who the most overrated Housewife was. She named "Real Housewives of New Jersey" star Teresa Giudice and said, "You do a bad thing ... and you're still on a TV a show? It's hard for me to understand." The bad thing in question refers to Giudice's stint in prison following her conviction for fraud. Bravo paused production on "RHONJ" during her prison sentence and resumed filming upon her release (via ABC News).
Gunvalson is no stranger to controversy herself. Gunvalson dated Brooks Ayers, who famously faked cancer while dating the "RHOC" star for many years. Gunvalson denied any claims that she was in on the cancer scam, but most of her co-stars still condemned her (via People). Giudice has been on "Real Housewives of New Jersey" since the first season, and the upcoming thirteenth season will tie Gulvalson's run at thirteen consecutive seasons as a Housewife.
Guidice is also present for this weekend's BravoCon 2022 festivities, so it's possible she will comment on Gunvalson's remarks about her being the most overrated Housewife. Hopefully no tables will be flipped in the process!