Did Vicki Gunvalson And Fiance Steve Lodge Split Up?
Paul Morigi/Getty Images
"Real Housewives of Orange County" fans will remember the ups and downs that Vicki Gunvlason faced in her quest for love. Over the years, the reality star has shared her divorce and controversial relationship with Brooks Ayers with Bravo's cameras. More recently, however, the mother of two had happier news to share with the audience: her engagement to Steve Lodge.
Unfortunately, rumors swirled around whether or not the couple was still together throughout 2021. In September, sources confirmed to E! News that the two had in fact gone their separate ways after celebrating their engagement two years ago. According to the outlet, it was Lodge who made the final call and ended their courtship. Apparently, the two initially broke up in June 2021 but got back together shortly after. Now, the split appears to be for good.
"Steve and Vicki had been living separately for much of the pandemic," a source explained. "Steve had been living like he was a single man in Puerto Vallarta, while Vicki was in the U.S."
After sharing her relationship troubles on "RHOC" for so many years, Gunvalson noted that she was ready to settle down again and looked ready to do so with Steve Lodge.
Vicki Gunvlason and Steve Lodge had postponed their wedding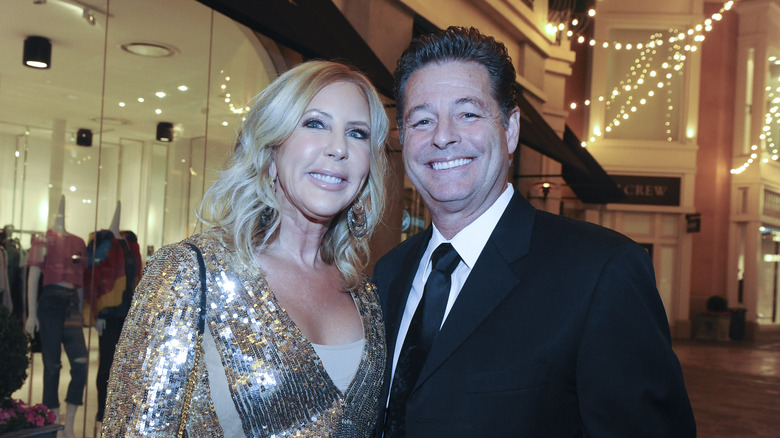 Amy Graves/Getty Images
Vicki Gunvlason shared the news of her engagement to Steve Lodge on Instagram in 2019 with a now-deleted post. Bravo TV reports that the two later postponed their 2020 wedding due to the pandemic and never rescheduled their ceremony. Gunvalson also officially left the "Real Housewives of Orange County" in January 2020 after 14 seasons, E! News reports. "It's been an incredible ride for 14 years," she wrote on Instagram, "I want thank all of you for your support, for your love and for 'whooping it up' with me along the way."
Despite all of the changes she's endured, the reality star has a few things to look forward to, including the birth of her fourth grandchild. Bravo TV reports that her daughter Brianna will welcome a baby girl to her family of three boys in late 2021. Gunvalson has struggled with being away from her children, as both of them have relocated outside of Orange County. "Being apart from my kids doesn't get easier, and in fact it gets harder the older I get," she explained.
After the breakup, the O.G. of the O.C. will likely head spend more time with her beloved grandchildren and hopefully bounce back.