The High Honor The Queen Once Bestowed Upon Robbie Coltrane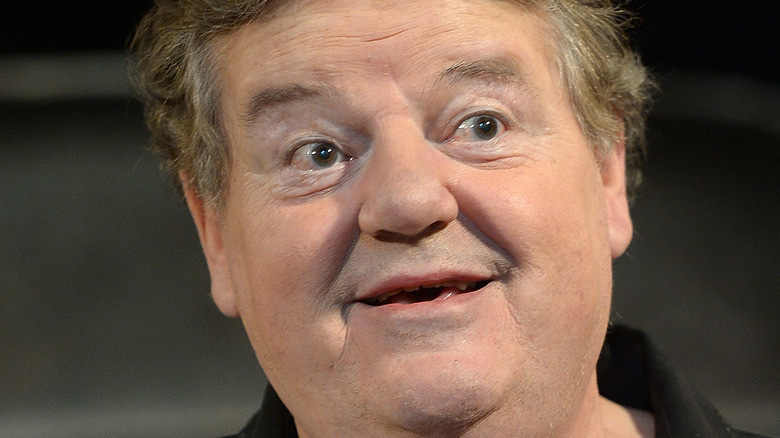 Gustavo Caballero/Getty Images
Robbie Coltrane was known and loved as Rubeus Hagrid — the gamekeeper and Keeper of Keys and Grounds at Hogwarts School of Witchcraft and Wizardry. The half-human, half-giant is a fan favorite in the "Harry Potter" franchise (via The Scotsman), and Coltrane's take on the character makes it hard to imagine anyone else as Hagrid.
But the loveable giant wasn't the only character in Coltrane's canon. For almost 45 years, the Scottish actor played dozens of roles. Outside the Wizarding World, he was perhaps most known in the U.K. for his portrayal as criminal psychologist Dr. Eddie "Fitz" Fitzgerald in the ITV series "Cracker," in addition to the James Bond films "GoldenEye" and "The World Is Not Enough," in which he played the ex KGB officer Valentin Zukovsky (per IMDb).
Coltrane was also known for his comedic work, having performed with Hugh Laurie, Stephen Fry, and Emma Thompson in the ITV sketch series "Alfresco," in addition to "Nuns on the Run" with "Monty Python" alum Eric Idle and two episodes of BBC's "Blackadder."
And with over 100 acting credits to his name, it's no wonder that Coltrane was once bestowed one of the highest honors an actor can receive in the United Kingdom.
J.K. Rowling helped Robbie Coltrane receive his OBE
In 2006, a then 55-year-old Robbie Coltrane was awarded an OBE (Most Excellent Order of the British Empire) by Queen Elizabeth II, having been included on the New Year's honors list for his impact on the drama industry (via BBC News). Aside from his varied career, it would seem that it was his iconic work in "Cracker" and the "Harry Potter" franchise that earned him the title — a title he shared with "Harry Potter" author J.K. Rowling. She was given an OBE in 2001 for her impact on children's literature, according to her official site.
Rowling paid tribute to Coltraine among his family, friends, and co-stars, writing that she'll "never know anyone remotely like Robbie again" on Twitter. "He was an incredible talent, a complete one off, and I was beyond fortunate to know him, work with him, and laugh my head off with him," she said.
Stephen Fry shared a loving tribute to his former co-star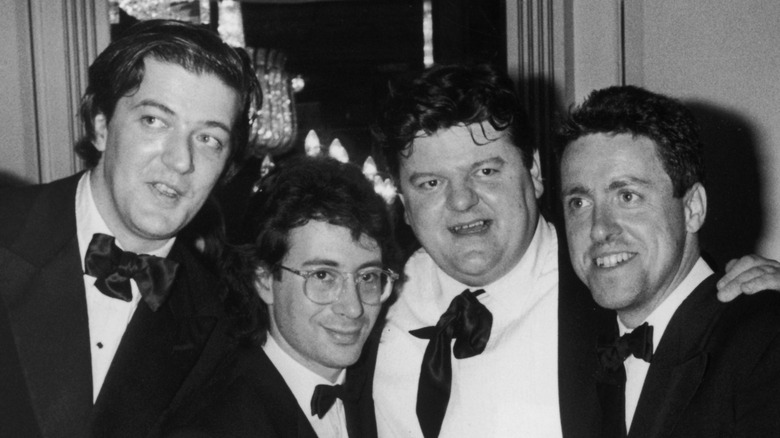 Dave Hogan/Getty Images
Like J.K. Rowling, many more of Robbie Coltrane's co-stars in "Harry Potter" shared their memories and love for the late actor, including Daniel Radcliffe, Emma Watson, and Matthew Lewis (via New York Post). Coltrane's co-stars from other projects paid tribute to the star, like Stephen Fry, who he worked with on the ITV sketch show "Alfresco." Taking to Twitter, Fry wrote how he was "awe/terror/love struck at the same time" when he first met Coltrane. "Such depth, power & talent: funny enough to cause helpless hiccups & honking as we made our first TV show, 'Alfresco,'" Fry recalled. "Farewell, old fellow. You'll be so dreadfully missed."
Hugh Laurie, who starred in "Alfresco," also shared a fond memory of Coltrane on Twitter. "I used to ride with Robbie Coltrane between Manchester and London in his sort-of-restored MGA," he wrote. "I'd roll him cigarettes while he discoursed on the ways of the world, and I don't think I've ever laughed or learned so much in my life.