The Bold And The Beautiful's Kimberlin Brown Keeps It All In The Family With A Special Guest Star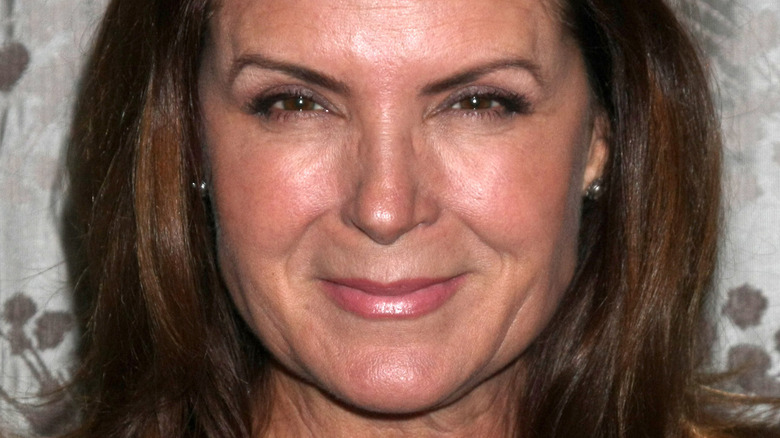 Kathy Hutchins/Shutterstock
When it comes to daytime television, it seems like a lot of our favorite soaps like to keep things in the family. After all, Maurice Benard's son Joshua Benard has made plenty of appearances on "General Hospital" as his character Adam, according to Soaps.com. Similarly, Heather Tom's son, Zane, also played her on-screen son on "The Bold and the Beautiful," per Soaps in Depth. Tom admitted to the publication that her son was actually shocked to find out that he was recast on the show when she pulled him out to go to school full-time. When asked why he was apparently "fired" from the show, Tom jokingly said, "I scarred him for life. He's going to be in therapy when he's 35 saying that his mom got him fired from his first job!"
Well, it looks like there's another child of a huge soap star that is about to make her way on the canvas, too. As many fans know, Kimberlin Brown has had quite a ride so far with her character Sheila Carter and her reign of terror on "The Bold and the Beautiful." That' why a lot of fans can't help but wonder what's in store for Brown's daughter, Alexes Pelzer, in this fictional town of Los Angeles.
Kimberlin Brown's daughter Alexes Pelzer is coming back to the soap
According to Soaps.com, Kimberlin Brown's daughter, Alexes Pelzer, is joining the cast of "The Bold and the Beautiful" in a guest role. While not many details have been revealed about the role just yet, Brown did have a proud mom moment in which she posted several behind-the-scenes Instagram photos of her daughter on the set of the hit CBS soap. Back in September, Pelzer made a brief appearance as a patron at the fictional Il Giardino restaurant. Of course, it didn't take long for her social media followers to weigh in on the photos. Many of them commented with, "Would love to see her take over the role of Daisy, Sheila's daughter," along with, "Oh my gosh, your daughter is coming back on the show! I'm so excited to see her back!"
There were also a few "The Bold and the Beautiful" fans who suggested that Pelzer could play the role of Thomas Forrester's (Matthew Atkinson) new on-screen love interest. Now, if that were to happen, there's no doubt that sparks would fly. There's also no doubt in anyone's mind that Sheila Carter would sure have a lot to say about that romance, right? After all, a lot of people think that Thomas Forrester has not changed for the better. Whatever happens, we have a feeling that Pelzer's character is sure to make some interesting waves.