BravoCon 2022: RHOSLC's Whitney Rose And Heather Gay's Feud Takes A Volatile Turn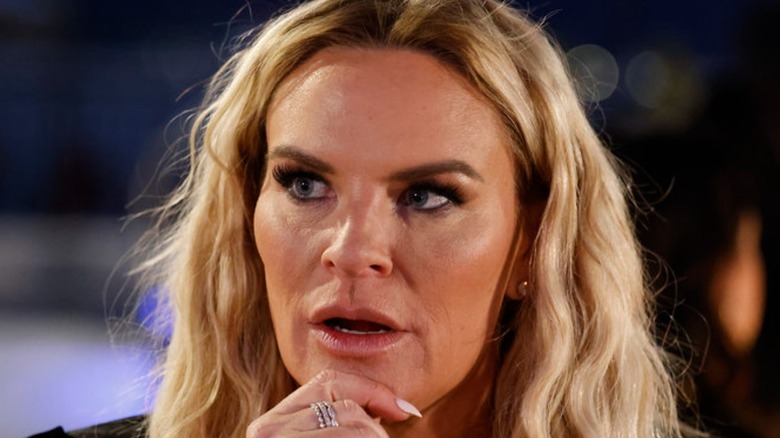 Randy Shropshire/Bravo
When "The Real Housewives of Salt Lake City" cast appeared at 2022 BravoCon, accusations flew across the stage. With Karamo Brown of "Queer Eye" mediating the panel, Heather Gay and Meredith Marks sat on one side of the stage, while Lisa Barlow and Whitney Rose sat on the other, seemingly drawing a clear line in the sand. 
During Season 3 of the "Housewives" spin-off, Marks and Barlow have been the primary adversaries due to aired footage of Barlow talking badly about Marks behind closed doors. The audio picked up included insults to Marks' family and accusations of infidelity within her marriage.
There's already plenty of drama spread throughout the cast — including Jen Shah's guilty plea in July to fraud, though sentencing has been pushed until December, per Page Six. But Marks and Barlow's feud in particular has had a major impact on other friendships within the group. The conflict continued when Marks appeared to spread retaliatory rumors concerning infidelity in Barlow's marriage, as well as shady dealings surrounding her brand, Vida Tequila.
In Episode 3 of the current season of "Salt Lake City," Rose revealed that Marks had reached out to her regarding the rumors about Barlow — however, Rose had also contributed to the information being spread. Gay was said to be present when Rose originally heard aforementioned information about Barlow, but Gay denies it.
Thus began the feud between distant cousins Gay and Rose, which came to a head at 2022 BravoCon, according to a reporter from The List.
The stars' friendship has experienced ups and downs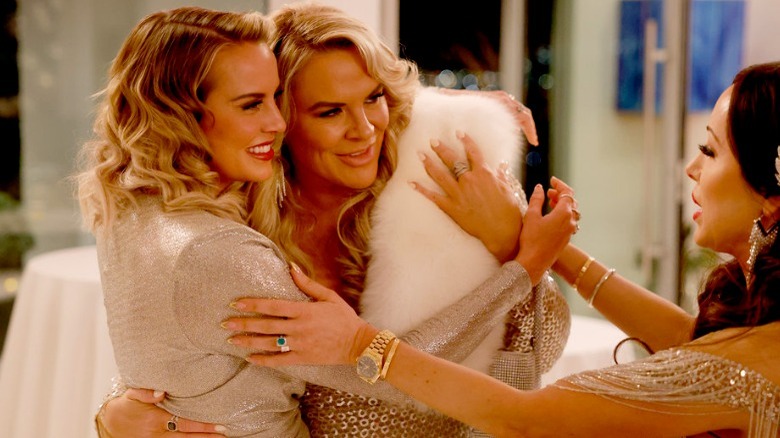 Fred Hayes/Bravo
Struggling for the moral high ground over gossip spread amongst the friends, Whitney Rose failed to make her point in Season 3 Episode 3 of "The Real Housewives of Salt Lake City," and she also fell short when it came to the show's live panel at BravoCon. 
Rose stated that after their conflict on the show, she and Heather Gay had made amends while filming "The Real Housewives Ultimate Girls Trip" in Thailand this past July. During the panel, Rose asked Gay, "Were you lying about it just to have a moment?" presumably referring to a conversation on their shared trip to Thailand. "Why did you say we had squashed it, we had [a] beautiful moment with the feather and we were crying in the pool when it rained? I don't get it."
Gay responded, "You tweeted lies and you went on-camera... and as soon as the cameras are around you started doing interviews..." though she was interrupted. Host Karamo Brown then took the opportunity to promote his new talk show, which deals with family members' strained relationships. He told the distant cousins, "Give me an hour, I promise you." However, things continued to escalate as the pair faced down on-stage.
Gay continued, "I felt like you were trying to create drama where there was absolutely none." Rose repeated herself, saying, "I thought we were good, until I came to BravoCon." 
New friendships have developed within the cast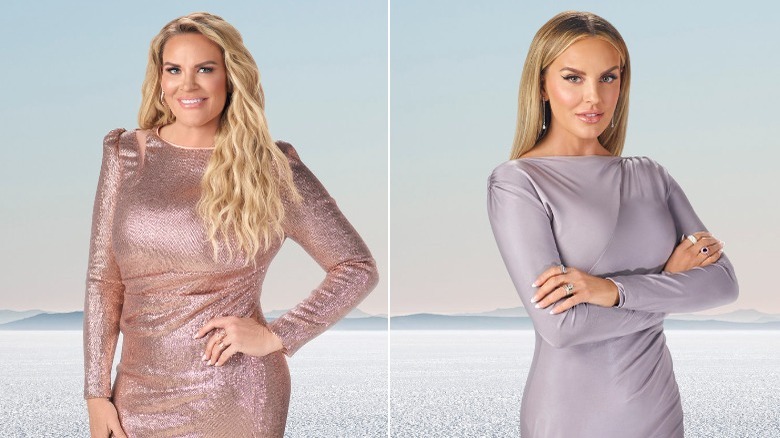 Chris Haston/Bravo
During the BravoCon panel, Whitney Rose continued to assert that her bond with Heather Gay had been mended in Thailand. But Gay responded, "We're not good." She then asked, "Why would we be good; you dumped me as a friend?" Still, Rose claimed that she continues to reach out to Gay and even offered her cellphone up as evidence, which garnered audience applause.
Lisa Barlow then interjected, "She just wants a different kind of friendship," supposedly referring to Rose. Relationship dynamics between "The Real Housewives of Salt Lake City" cast have certainly shifted in Season 3. 
Gay even commented on Rose's new friendship with Barlow in a September interview with Page Six. "It's very strange to me," Gay told the outlet at the time. "I want resolve for everyone, so I'm happy that everyone's getting along and figuring out their way," she added.
Gay also shared that she had hopes for a reconciliation with Rose. "It appears like there's been a major implosion, I hope that's not the case. I mean, I love Whitney. She is my cousin. She's [Whitney and Heather Bad Weather]." However, the star owned, "I don't know how this season's going to play out and I'm nervous about it."
On the panel, Gay ultimately summed up what had gone wrong between them from her point of view. "We were dear friends and it seemed out of the blue, [you] just completely decided that you were gonna dump me as a friend." Time will tell what happens between these two.