The Footwear Line You Never Knew Sarah Jessica Parker Started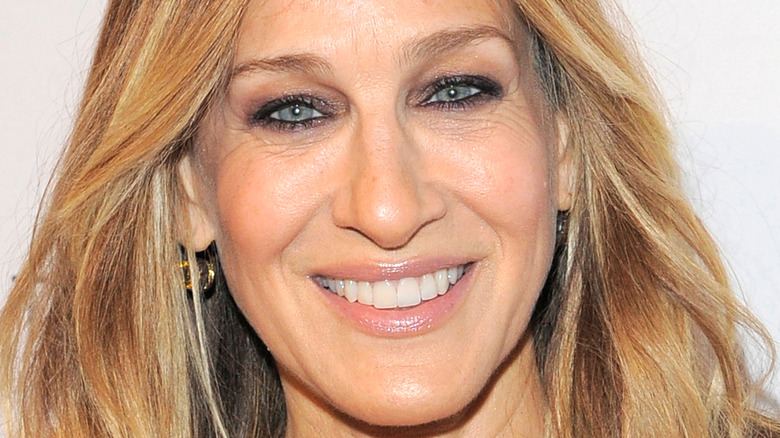 Ron Adar/Shutterstock
Sarah Jessica Parker, known affectionately as SJP, has inspired women everywhere to drink cosmos and wear nameplate necklaces — and has assured them it's okay to fall in love with a pair of shoes. This is all thanks to her signature role as Carrie Bradshaw in the HBO series "Sex and the City," and its sequel, "And Just Like That."
Per Marie Claire, "Sex and the City" held the honor of never repeating the same outfit twice, with the exception of a few accessories. Though the actress has an equally impressive wardrobe on the red carpet — this look stands out among the rest — she downplays her fashion influence. "I never intended to give fashion or style advice because I look around for inspiration," she told L'Officiel. "I think the important thing is to feel good about yourself, to be authentic, to not be afraid of being unique."
With Allure calling Sarah Jessica Parker, "the woman who inspired a generation of women to squeeze into stilettos," it's no wonder the actress developed her own shoe line.
The actress launched the SJP Collection in 2014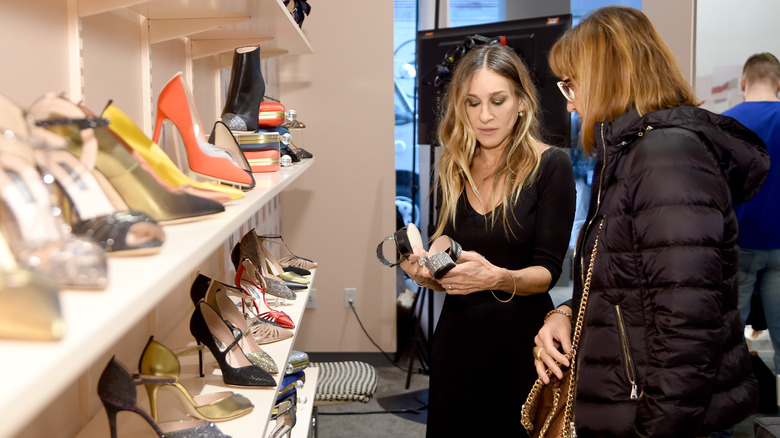 Dimitrios Kambouris/Getty Images
Sarah Jessica Parker created her own line of footwear with business partner George Malkemus III. "In February 2014, George and I launched the SJP Collection," Parker wrote on the SJP by Sarah Jessica Parker website. "We founded our footwear collection upon three main pillars: delivering quality products, using color and sparkle as a neutral, and giving the single sole a new heartbeat." The collection includes what Parker has dubbed "evergreens," a core group of styles that are ever-present but with changing colors, as well as trendier, seasonal styles.
In addition to an online store, there's a flagship SJP Collection boutique in New York City, and a few in other places (via SJP Collection website). There are frequent pop-up shops in New York City, where Parker has been known to step in as a salesperson. "Every chance I get, I meet customers," she told Footwear News. "I talk to the customers; I get feedback."
Instead of a red sole like Christian Louboutin, shoes in the SJP Collection have a trademark ribbon. "The grosgrain stripe is a nod to my childhood, specifically my mother," Parker explained on the SJP Collection website. "As a young girl, I was required to wear a grosgrain ribbon in my hair every day. . . . When our first samples arrived from Italy . . . the seam up the back looked unfinished. I suggested to George that we cover it with a grosgrain and our signature touch was born."
SJP Collection shoes have been worn by Carrie Bradshaw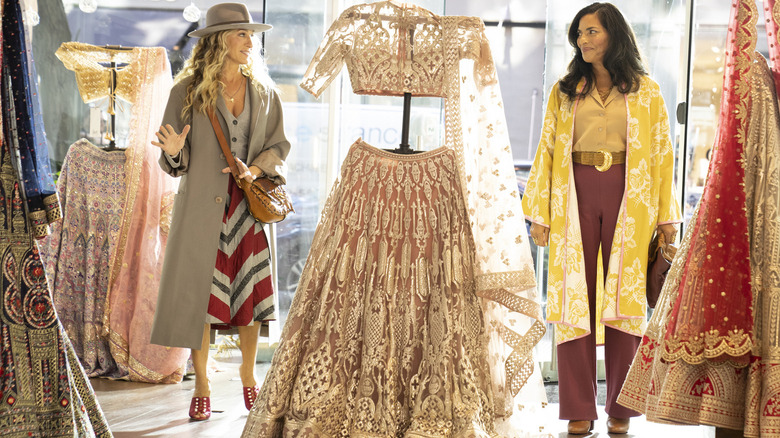 Craig Blankenhorn/HBO Max
One of the things Sarah Jessica Parker shares with her most famous character Carrie Bradshaw is a love of shoes. "I think it was 1985 or '86 that I bought my first Manolos," the actress shared with Oprah. "I had very little money but still ordered four or five pairs." In fact, one of the shoes in the SJP Collection has a design nod to Carrie. "Carrie Bradshaw often wore a silk flower in her lapel, and I gave one to Etta," she told Oprah. Etta is "one of her most flirtatious pairs."
Costume designer Molly Rogers teamed up with the SJP Collection to design shoes for Carrie in "And Just Like That." The shoes were labeled as the faux brand Duchessa Gardini for the show, but five designs were released as a capsule collection.
"Knowing Carrie so intimately, I felt privileged to be in a position where I could work with George to design shoes from scratch that were not only beautifully hand-crafted and incredibly comfortable, but true to both her fevered love of footwear and evolution of character," Parker shared with Footwear News. She further detailed Carrie's love for footwear, and her love for the show's fashion in Vogue. "[Carrie] has a relationship with her shoes . . . they have a special place within her life . . . It's fun to be a part of something where the clothes and shoes always have so much meaning."