Adam Lambert Proves He's A Beauty Guru With His 'Flawless' Makeup Look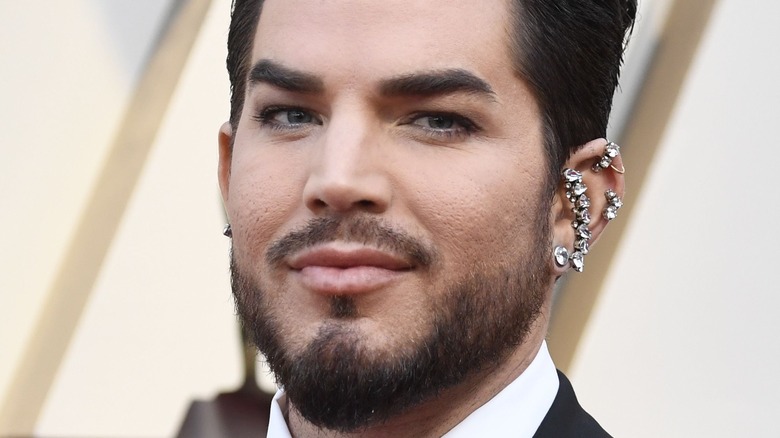 Frazer Harrison/Getty Images
Adam Lambert is no stranger to all things flashy and fabulous, which he made clear during his explosive 2009 entry into the spotlight on "American Idol," (via Smooth Radio). During his weekly performances, Lambert was always dressed to the nines in metallic outfits and grungy jet-black hair, but he also wore something during every show that made him the glamorously confident icon that he is: makeup. Let's just say there's a reason the singer's nickname, alongside his legions of fans, is "Glambert" (via Twitter).
Fast-forward more than a decade, and the Grammy-nominated performer is still going strong in the beauty department. Now lead singer of the mega-famous rock band Queen, Lambert added "beauty guru" to his incredibly long list of accomplishments. Showcasing his makeup artistry, Lambert uploaded a handful of beauty tutorials to his YouTube channel, where he glams up and shares some of his favorite styles and techniques with millions of subscribers. Lambert kicked off his series with a flawless, everyday natural look.
His everyday makeup routine is the soft glam tutorial everyone needs
Even though Adam Lambert is known predominantly for his bold and daring makeup looks, the "American Idol" alum eased into his life as a beauty guru with a soft glam tutorial. "This is how to do a really natural makeup, which I know is not something you usually associate with my name ... natural," Lambert acknowledged in the video (via YouTube). "But sometimes I'm in that mood to not be heavily glam."
He begins the nearly 12-minute tutorial by shaping his gorgeous fluffy brows with an eyebrow pencil. Then, the singer adds a metallic, champagne Mac eyeliner to his waterline, giving his blue eyes a sultry pop. Lambert dresses up his eyes further with concealer on the lid and some black shadow and mascara (only Lambert would apply black eyeshadow to his face and still describe the look as "natural"). 
He finishes the look off with some simple base makeup, which includes concealer, contour, highlighter, setting powder, and bronzer. The final step in Lambert's routine involves a light pat of beard oil to ensure his facial hair is free of any makeup.  Plus, it adds a "nice little shine," as he said. As Billboard notes, the Queen front-man was instrumental in bringing "the beauty boy makeup movement" to the masses, so it's unsurprising he knows his stuff. 
Lambert also shared more eccentric makeup looks on his YouTube channel
Aside from his natural glam tutorial, Adam Lambert uploaded a whole bunch of other makeup looks, ranging from "Disco Blue Glam" to "Night Life Look" and even "Valentino Red." Perhaps one of the flashier looks he shared on his channel is "Hot Glam," where the singer sports a very intense, black-smoldered smokey eye, complete with hot pink and red pigments all over his lid, temples, nose, and forehead. And, of course, plenty of glitter. 
"This is really heavy for, like, anything normal — this is definitely stage, or a photo shoot, costume party," Lambert noted. "But hey, if you're really feeling it, ya know, do grocery shopping like this. Try it." In an interview with fellow "Idol" alum Kelly Clarkson, Lambert opened up about his love of makeup, admitting he always wore it as a theater kid (via Billboard). 
When asked if he could potentially see himself joining the list of celebrities with cosmetic brands by starting a makeup line of his own one day, Lambert revealed that he would "love to." It would be interesting to see what kind of makeup Lambert would sell, but one thing is for sure — it would definitely be super glam, even if it was meant to be natural.