Everything You Need To Know Before Going On Your Very First Cruise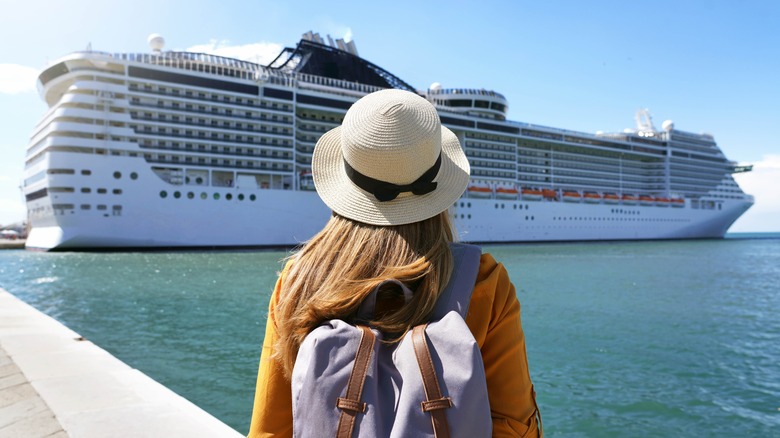 Zigres/Shutterstock
What better way to enjoy a relaxing time away from home than being tucked away in a giant floating city in the middle of the ocean? Cruises are a popular leisure activity for vacationers, bringing in over 30 million passengers yearly (per High Sea Cruising). From the Mediterranean Sea to the Pacific Ocean, there are 1,200 ports in various regions worldwide, providing endless activities and events while on board.
Cruise ships are literally mini metropolises complete with restaurants, shopping centers, pools, clubs, casinos, and so much more, all within walking distance. Booked a cruise and have no idea what to expect for the upcoming voyage ahead? You'll be happy to know it's mostly smooth sailing. In fact, according to Cruise Critic, it's as easy as unpacking once while on board and letting your floating hotel take you where you need to go. For more info, we compiled some things to consider so you can make the most of your sea-filled journey.
Things to know before you board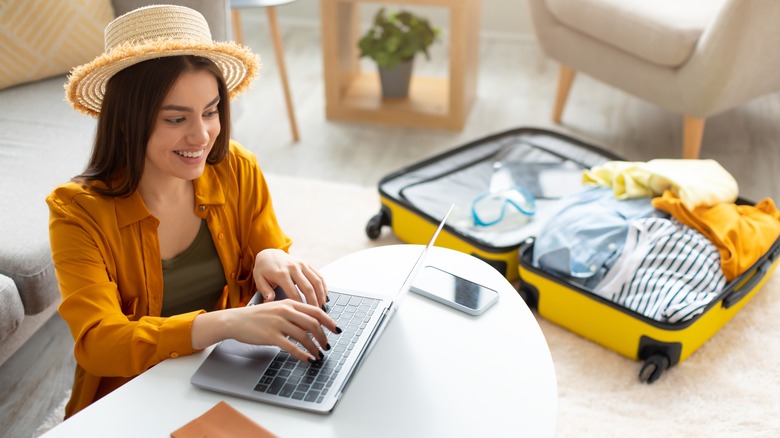 Prostock-studio/Shutterstock
Like gearing up for any vacation, prepping for a cruise requires work. From packing to planning, it's hard to know where to begin. Packing for a cruise can be daunting, as you have to keep temperature variations in mind. After all, you're at the mercy of the weather when setting sail in the middle of the ocean. Celebrity Cruises recommends packing a good mix of casual, formal, and activewear attire, as the different events on board may range.
To prepare for the fun vacation vibes, consider purchasing a drink package. Cruise ships frequently offer discounted packages prior to boarding, so be on the lookout for those before heading on the trip. Drink packages may vary depending on the cruise line, but one (awesome) thing is for sure: For a set fee, you're guaranteed a certain number of drinks for a fraction of the normal cost (via Cruzely).
A large part of the cruising experience is the ports of call, where you can disembark the ship and explore the various attractions at each location. Researching these stops before the trip is highly recommended so you can make the most of each visit (via The Points Guy). You can choose to spend the time on land in any way you see fit — or you don't have to get off the ship at all!
How to make the most of your cruise experience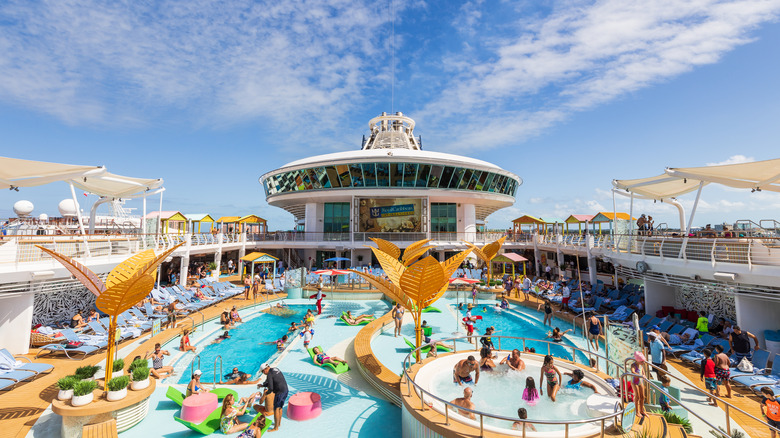 Hendrickson Photography/Shutterstock
The first thing to remember when heading to the port for check-in is to be on time. If you arrive late, you could be denied entry due to port regulations or miss the boat entirely as the ship waits for no one (per Celebrity Cruises). Once on board, get acquainted with your surroundings and take yourself on a tour. These ships can be enormous, so knowing where to find the ship's amenities after leaving your room can make navigation a lot easier, Cruise Critic suggests.
While on board, you may experience motion sickness. Make sure you pack over-the-counter motion sickness medication to ease the discomfort, though the ship should also sell some if you forget. When it comes to purchasing items, cruises are a pretty cashless experience, as most lines operate by charging room keys instead of taking cash or debit cards (per Family Cruise Companion). So, don't worry about bringing extra cash or carrying your wallet around with you.
Take a look at the daily cruise planner that's usually posted to your cabin door to view upcoming events, from dance classes to trivia and theater shows. Whether taking a solo trip or bringing the whole family, there's something for everyone to enjoy. But remember — you're on vacation, so sit back and relax, and don't feel like you must do it all!