How To Plan For A Cruise If You Suffer From Motion Sickness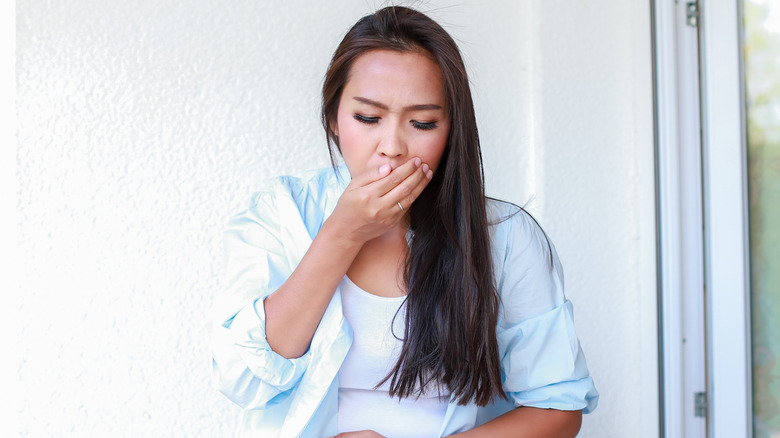 Onjira Leibe/Shutterstock
Motion sickness, or seasickness, is one of the more unfortunate realities of cruising for many passengers. The intense feelings of nausea and cold sweats can affect anyone, though Cleveland Clinic explains that women and children under 12 are the most likely to be affected. Those with a family history of motion sickness, or those taking hormonal birth control, are also more likely to experience motion sickness, along with those who are pregnant and people with inner ear disorders.
The brain interprets motion through the nervous system, which comprises of the inner ear, eyes, and the body surface, per Medical News Today. People experience motion sickness when there's a discrepancy between the sensations of these different pathways — or, put simply, when there's a difference between what a person sees and what they feel. For example, if you are in your stateroom on a cruise ship, your view will likely be of a room that's not moving. However, your inner ear will pick up on the rocking movement of the ocean. This conflict causes you to feel sick.
Feeling seasick can be an awful experience, but the good news is there are several ways to alleviate the uncomfortable symptoms so you can enjoy your cruise. Many of them are similar to the methods used to get rid of car sickness. 
Booking a cruise when you get motion sickness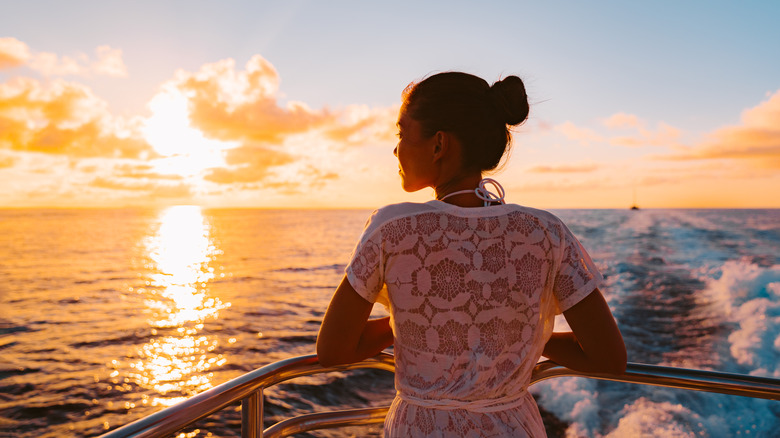 Maridav/Shutterstock
If you're prone to motion sickness, prevention should start well before you board the cruise. Try to book a stateroom that is as close to sea level as possible and in the middle of the ship, per Celebrity Cruises. This is the part of the ship that is the least affected by the movement of the ocean. It's also important to book a room that has access to fresh air, either through a window or balcony, as this can reduce the symptoms of motion sickness. Keep in mind that ships traveling in open water are more likely to experience rough movement than those that stay close to the shoreline. So, if you experience severe motion sickness, it might be worth avoiding cruises that travel long distances across open water.
Knowing what to do ahead of time can also help you to respond in a helpful way when motion sickness hits. Don't panic if you start to feel sick. Rather, put down your phone or book and stare at the horizon. Dan Boater points out that reading anything, even on a screen, can worsen the symptoms of motion sickness. Snacking on dry crackers can alleviate sea sickness, so be sure to have some on hand. Also, packing anything with ginger or peppermint, such as candy or chews, can also help when motion sickness hits (via Navigate Content). Peppermint and ginger essential oils are also a great oil combination for relieving nausea.
What to pack for motion sickness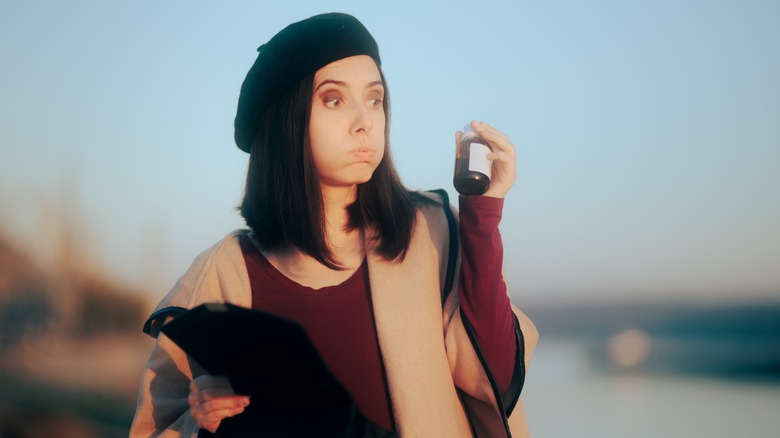 Nicoleta Ionescu/Shutterstock
When it comes to packing for a cruise when you experience motion sickness, there are a few other items that you should always have in your bag (and a few to leave out). Dehydration will worsen motion sickness symptoms, so pack a water bottle that you can refill and have with you at all times while on the ship, WebMD advises. By the same token, avoid packing or consuming anything with caffeine or alcohol, as these have a dehydrating effect.
According to Healthline, putting pressure on an acupressure point along your wrist called the nei-kuan can bring relief from motion sickness. Rather than trying to administer the pressure yourself, you can purchase anti-nausea bands to just slip on your wrists when you feel sick (via Prevention). And of course, there are over-the-counter medications you can purchase ahead of your cruise that will provide relief. These come in the form of antihistamines and antiemetics which should be taken before you travel, per Health Direct. However, always talk to your healthcare provider before using medication, as many have side effects.
Seasickness is a bummer, but it doesn't have to stop you from cruising. Take a little care when choosing your cruise and stateroom, as well as when packing your bags, and you'll be able to manage the symptoms of motion sickness more effectively.