Meet The Cast Of Netflix's Wednesday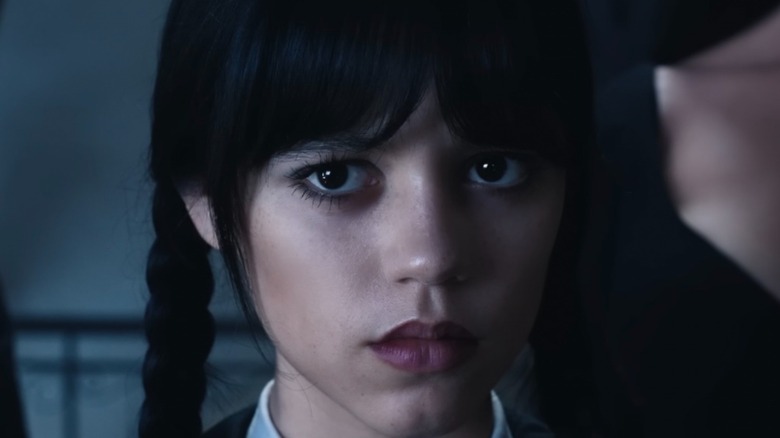 They're creepy, kooky, mysterious, and spooky ... that's right, they're the Addams family (click, click). Ever since the iconic 1991 film, "The Addams Family," this gothic, creepy family has been a pop culture legend. Chances are, you see reincarnations of them every Halloween. Well, now, you'll get to see them on your screen again, too. That's right; the Addams family has been resurrected for a whole new generation in Netflix's show, "Wednesday." Directed by the king of spooky cinema, Tim Burton, and starring "You's" Jenna Ortega in the titular role, this show will focus on the family's daughter, initially played by Christina Ricci in the film. 
As Burton told Empire, he felt an instant connection with teenage Wednesday. "In 1976, I went to a high-school prom," he said. "It was the year 'Carrie' came out. I felt like a male Carrie at that prom... You know, Wednesday and I have the same worldview." It sounds like this show will focus on Wednesday's experience of high school — we don't know what will happen yet, but it's safe to say she probably won't be joining the cheerleading team. 
Curious to learn more about Ortega and the other cast members of the new show? We've got you covered.
Jenna Ortega as Wednesday Addams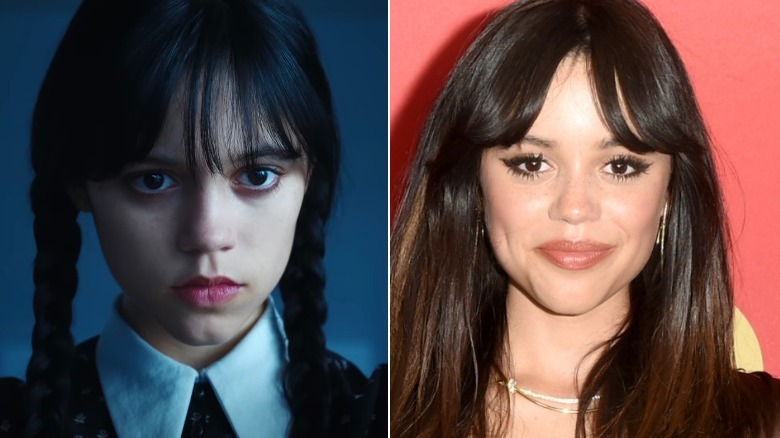 Netflix, Vivien Killilea/Getty
Jenna Ortega will be taking on the iconic role of Wednesday Addams, played initially by Christina Ricci. Ortega's performance will probably be a little different, but it already has Ricci's stamp of approval. "She's so good ... her Wednesday is, like, really an incredibly, great modern take," she told Jimmy Fallon (via YouTube). While Wednesday might be Ortega's most significant role to date, she's hardly new to the film and TV scene.
The actress got her start as a child actor with a few bit parts in 2012, including a cameo in "Iron Man 3." Since then, she has risen to fame with roles in "Stuck in the Middle," "Jane the Virgin," and Netflix's "You." 
She's already had plenty of success, but Wednesday might just be the role she was born to play. "I've been compared to Wednesday Addams consistently all throughout my life," she said to Who What Wear. She was working on the film "X" when Tim Burton contacted her about the role. Even though she had been planning on focusing on film, Burton quickly changed her mind. "Just hearing his passion for the project and what he had in mind visually to make the series was enough to get me interested," she said. If that's not fate, we don't know what is.
Luis Guzman as Gomez Addams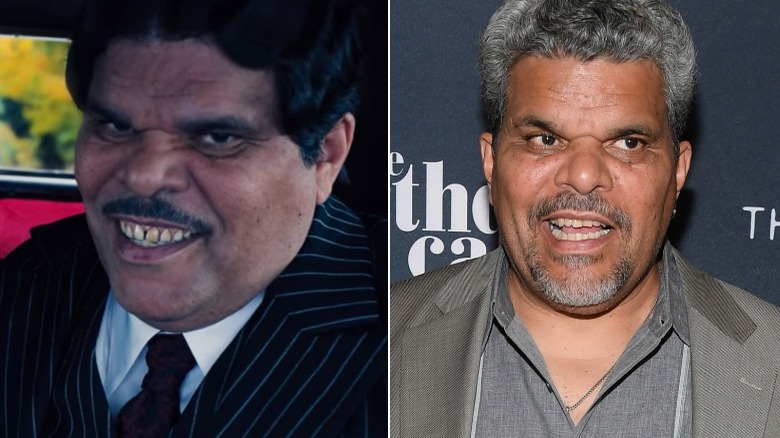 Netflix, Bryan Steffy/Getty
As Wednesday's father, Gomez Addams, is Luiz Guzman. Guzman probably looks familiar to many TV fans already. Since the '80s, the Puerto Rican has appeared in character roles — think sidekicks, mobsters, and so on. You've probably seen him in the likes of "Traffic," "Boogie Nights," "Punch-Drunk Love," or "The Count of Monte Cristo" if you're a film buff. Or, if you like lighter TV shows and films, you may know him from "Community," "Journey 2," "We're the Millers," or "Dumb and Dumberer."
You can probably already see from the promotional material that this version of Gomez will be a little different from the Gomez of the original film. As creators Alfred Gough and Miles Millar told Vanity Fair, this is because they based Gomez on the original cartoons. "[Tim Burton] wanted the silhouette to look more like the Charles Addams cartoons, which is Gomez shorter than Morticia, versus the kind of suave Raul Julia version in the movies," said Gough. However, Guzman will have one thing in common with the film version of Gomez — his romantic outlook on life. "The definition of Gomez [is] he's a lover," said Guzman to Daily Dead. "He's a passionate man, loves his wife, loves his family."
Catherine Zeta-Jones as Morticia Addams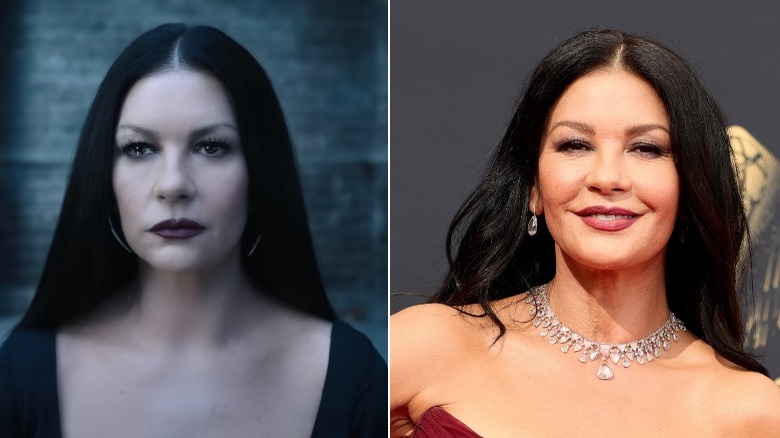 Netflix, Rich Fury/Getty
Even though Angelica Houston was an iconic Morticia Addams, the new Morticia put her own stamp on the character. After all, she's also an icon of the screen — Catherine Zeta-Jones. Zeta-Jones began her career in the '90s with roles in "Catherine the Great," "The Mask of Zorro," and "High Fidelity." As her career went on, she became a leading lady with roles in "The Terminal," "Ocean's Twelve," and "Chicago."   
Zeta-Jones is also married to actor Michael Douglas, known for "Basic Instinct," "Fatal Attraction," and, more recently, "The Kominsky Method." "We both love to travel and we have done since we've been together, which is actually 22 years," she told Today, explaining that she and Douglas hoped to travel the world after the pandemic. "I have a son in college and my daughter goes to college next year, so we're kind of empty-nesters," she said. Even though Zeta-Jones may be focusing on seeing the world and spending time with her husband, it's clear that Morticia was a role she just couldn't turn down.
Isaac Ordonez as Pugsley Addams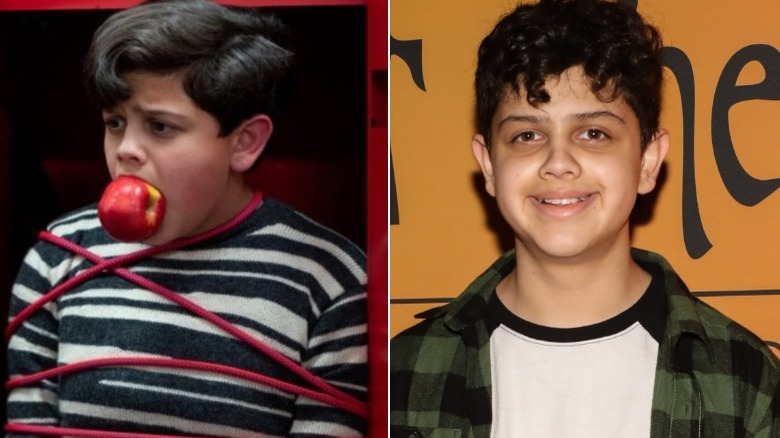 Netflix, Paul Archuleta/Getty
Isaac Ordonez plays Pugsley in "Wednesday," the younger brother of the titular character. So far, the 12-year-old actor is still fairly new to Hollywood. In 2018, he was the double for Derick McCabe, who played the young Charles Wallace. He then appeared in several short films and a music video by Chromeo. Pugsley marks his first major role in a large-scale production. He is also due to appear in the Stephanie Beatriz-led film "Trans Los Angeles" as "Bully."
Based on the initial images from the show, it looks like the original comics inspired Tim Burton for Pugsley and Gomez. The young boy appears carefree, happy, and normally dressed in the comics. It seems like Ordonez's version of the character might be a little bit less spooky than the version from the movie. Either way, we can't wait to see what he does with the character.
Gwendoline Christie as Larissa Weems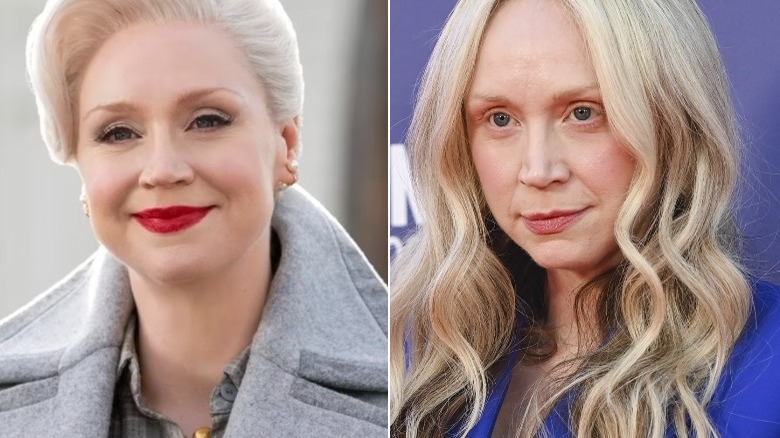 Netflix, Kate Green/Getty
Outside the Addams family, "Wednesday" will introduce us to a host of new characters. Larissa Weems, the headmistress of Wednesday's new school, Nevermore Academy, is played by Gwendoline Christie. Since appearing as Brienne of Tarth in "Game of Thrones," Christie has had something of a cult following. As she told The Guardian in 2019, "That character has changed my life. I feel emotional."
Since her career-defining role, Christie has appeared in plenty of other films and TV shows, including "Star Wars," "The Hunger Games," and "Top of the Lake," to name a few. 
For Christie, a fan of "The Addams Family," the chance to star in "Wednesday" was a dream come true. "It was a genuinely extraordinary project to be a part of, and also hugely collaborative," she gushed to Daily Dead. "When you work with a brilliant auteur like Tim Burton, you don't necessarily expect to have such an incredibly collaborative experience about how you see your character, how you see the performance, how you see interaction [but that is absolutely what happened]."
Christina Ricci as Marilyn Thornhill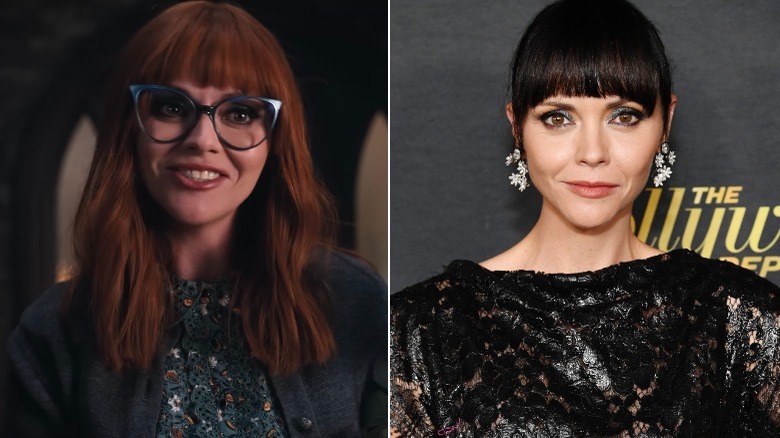 Netflix, Jon Kopaloff/Getty
In an homage to the 1991 "Addams Family" film, Tim Burton cast Christina Ricci, the original Wednesday, in the show — though she won't be reprising her original role. Instead, she'll be playing a character called Marilyn Thornhill. 
In addition to playing Wednesday as a child, Ricci has also appeared in "Sleepy Hollow" (another Burton production), "Ally McBeal," "Casper" and, in more recent years, "Yellowjackets." 
For Ricci, starring in "Wednesday" meant reuniting with Burton. "It was so great. It was amazing," she gushed to Slant Magazine. "Tim is such an incredible director and so creative and visionary and smart. And as an actor, you basically just do anything he tells you to because he's so good, and you just trust him so much... And it was like being ten again to work with him." We can't wait to see what Ricci brings to this new version of "The Addams Family." One thing's for sure — her performance is sure to be pretty different!
Fred Armisen as Uncle Fester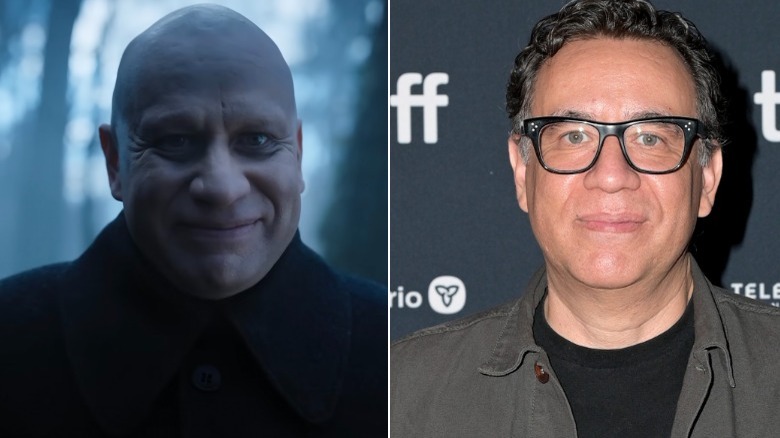 Darren Eagles/Getty
The final member of the infamous Addams family is Uncle Fester. Played by actor Christopher Lloyd in the 1991 film, the new version of Fester will be played by comedian Fred Armisen. Based on Armisen's CV, it seems as though Tim Burton plans to lean into Fester's funny side.
Armisen got his start on "Saturday Night Live" — you might remember his more famous characters like the art dealer, the court stenographer, or the new girlfriend. Since his days on "SNL," Armisen has become a familiar face in film and TV. From his sketch show "Portlandia" to his appearances in "Brooklyn Nine-Nine," and "Unbreakable Kimmy Schmidt," Armisen has become one of the comedians of his generation.
By the sounds of things, Armisen has fit right into the cast. "He's a delightful little freak," said Jenna Ortega to ET Online. Added Gwendoline Christie with a laugh, "A living nightmare." 
Emma Myers as Enid Sinclair
Emma Myers , an up-and-coming young actress, will play a character called Enid in "Wednesday." Based on the trailer, it looks like Enid is Wednesday's colorful new roommate (and potential friend) at Nevermore Academy.
Although Myers is fairly new to the industry, she appeared in a few shows and films before "Wednesday." She started with a small uncredited role in the 2010 film "Letters to God." She went on to appear in a 2020 show called "The Baker and the Beauty," a show called "Dead of Night," a TV film called "A Taste of Christmas," and a film called "Girl in the Basement." She will also appear in the upcoming film "Southern Gospel," alongside Max Ehrich.
Based on her Instagram, Myers is a fan of visiting art galleries, spending time with her circle of friends, hiking in the wilderness, and hanging out with her cat.
Joy Sunday as Bianca Barclay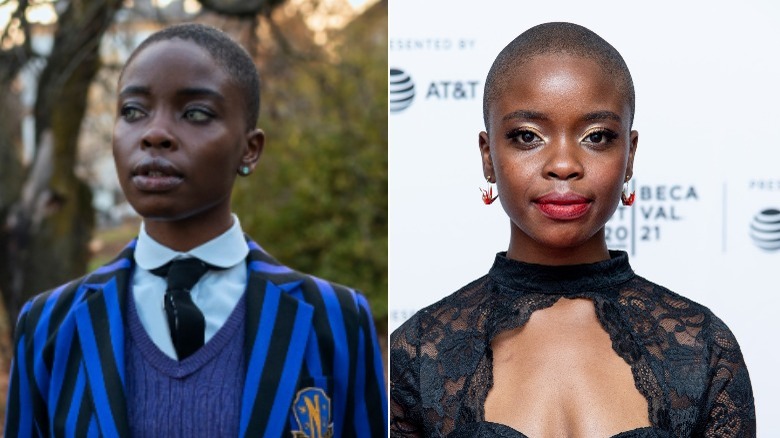 Netflix, Roy Rochlin/Getty
The actress Joy Sunday is set to play Bianca Barclay, a siren and one of the "most popular students" at Nevermore, in "Wednesday." According to IMDb, Sunday was born and raised in New York. She went to Fiorello H. LaGuardia High School, an arts school, before studying at USC's School of Cinematic Arts. She got her start in 2018 with a role on the Lucas Till show "MacGyver." Since then, she has appeared in the show "Yas Kween," "Dear White People," the horror film "The Beta Test," the Hulu film "Bad Hair," and the Channing Tatum-led film "Dog." 
According to her CV on Actor's Access, Sunday has also done some stage and voiceover work. On stage, she appeared at the Edinburgh Fringe Festival in a play called "Intelligence." You can also hear her voice on the "Black Panther: Tales of Wakanda" and the "Sound of Stars" audiobooks. You can even catch her in an Xfinity commercial. One thing's for sure — we'll probably be seeing a lot more of Sunday after "Wednesday."
Jamie McShane as Sheriff Donovan Galpin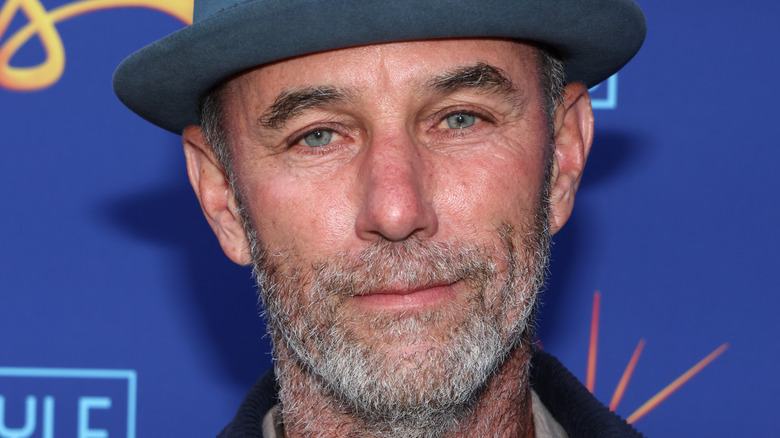 David Livingston/Getty Images
In "Wednesday," Jamie McShane will play a character called Sheriff Donovan Galpin. While we don't know much about the character, we know that McShane is no stranger to television. With almost 150 credits to his name, you've likely come across him before. From "ER" to "Alias" to "NYPD Blue" to "CSI" to "Heartland," it's hard to think of many TV shows this actor hasn't appeared in.
His biggest roles include playing Press Secretary Gerry Whitehorn in season three of "24," Henry in "The Nine," Cameron in "Sons of Anarchy," Erin in "Bloodline," Donald in "The Fosters" and Captain Lindell in "SEAL Team." You may also remember him from movies like "Argo" and "Gone Girl." 
Even though McShane has a hugely impressive list of credits to his name, he began acting reasonably late in life, getting his first professional role in 1997 at 33. Instead, he worked for his father's company in New Jersey. "I basically drove a truck all day throughout NJ and NY doing delivery/pickup and sales," he told HuffPost. "I also taught tennis and strung rackets. It took me about 12 years of acting before I made a living at it." Well, it's clear that his perseverance really paid off. 
Riki Lindhome as Dr. Valerine Kinbot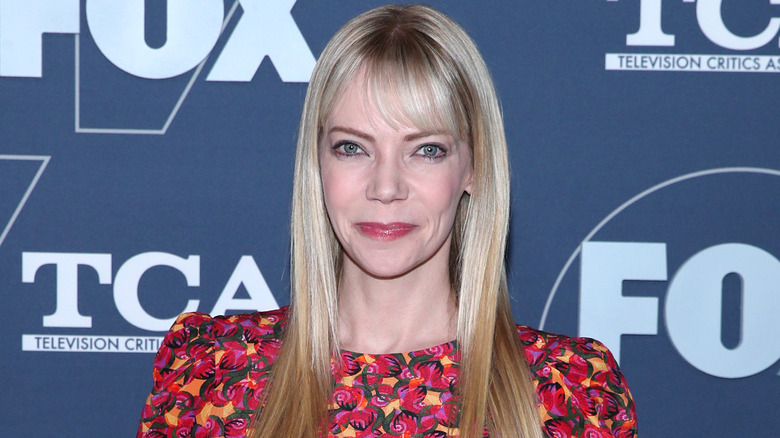 Rich Fury/Getty Images
Riki Lindhome will play Dr. Valerine Kinbot in "Wednesday," who, according to Netflix Geeked, is a "local therapist in the sleepy town of Jericho who takes a particular interest in her newest patient, Wednesday Addams." 
When you see Lindhome on your screen as Dr. Kinbot, chances are, she'll look a little familiar. That's because she has appeared in almost 100 projects since beginning her career two decades ago. Over the years, you may have seen her as Juliet in "Gilmore Girls," Kylie in 'New Girl," Ramona in "The Big Bang Theory," or Beatrice in "Another Period" — to name just a few. You may also know her as one-half of YouTube-famous musical comedy duo Garfunkel and Oates.
Based on Lindhome's work so far, it seems like she'll be a perfect fit for Tim Burton's spooky world in "Wednesday." As Lindhome once explained to Gaper's Block, she is attracted to "really odd, dark things... what makes [me] laugh is really strange humor." Sounds like "Wednesday" will be right up her alley.
Percy Hynes White as Xavier Thorpe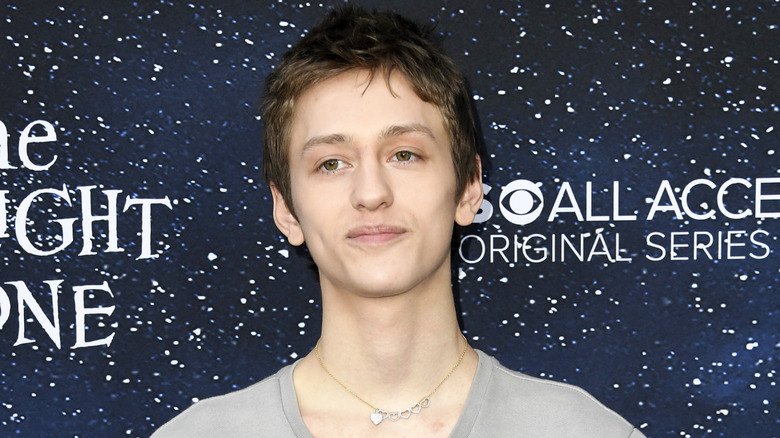 Frazer Harrison/Getty Images
In "Wednesday," Percy Hynes White will play another Nevermore student, Xavier Thorpe, a "charismatic and supernaturally artistic" student. You may have seen White before in shows like "Defiance," "Murdoch Mysteries," "Between," "Pretty Hard Cases," and "X-Men" spinoff "The Gifted."  
A prolific child actor from Newfoundland, Canada (via CBC), Hynes White grew up surrounded by members of Hollywood's elite. "Both of my parents work in the industry and they have taught me everything I know about being an actor and storytelling in general," he told Kidz World in 2017. "I couldn't narrow it down to one piece of advice." His father is Joel Thomas Hynes, an actor you may know from "Orphan Black" or "Little Dog," while his mother is Sherry White, producer of "Pretty Hard Cases," "Orphan Black," and "Saving Hope." Hynes White even acted alongside his father in the film "Cast No Shadow" in 2014. Talk about a talented family!
Based on his artistic Instagram feed, White is interested in photography. 
Hunter Doohan as Tyler Galpin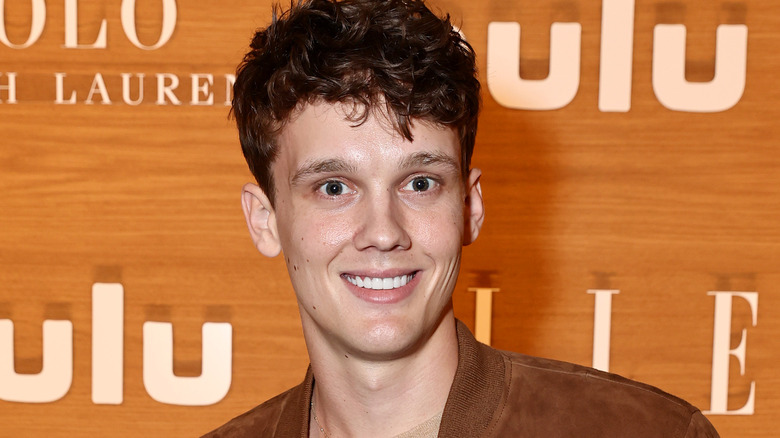 Matt Winkelmeyer/Getty Images
It looks like Wednesday Addams might just have a love interest in the new series — or, at the very least, a friend. Hunter Doohan plays Tyler Galpin, "a townie who strikes up an unlikely friendship with Wednesday Addams."
Doohan has already got some big credits under his belt, including the Bryan Cranston show "Your Honor," AppleTV+'s "Truth Be Told," and ABC's "Schooled." He's also produced some short films with his friends and done some writing.
As Doohan told DaMan, he grew up in Fort Smith, Arkansas. "I was lucky to have great high school and community theatre programs that got me interested in acting during high school," he said. When asked about his goals, he said, "I have absolutely no idea. I just hope I can continue to be as fortunate as I've been and get to work on some great projects." It's safe to say that a project like "Wednesday" definitely fits the bill.
Thora Birch as Tamara Novak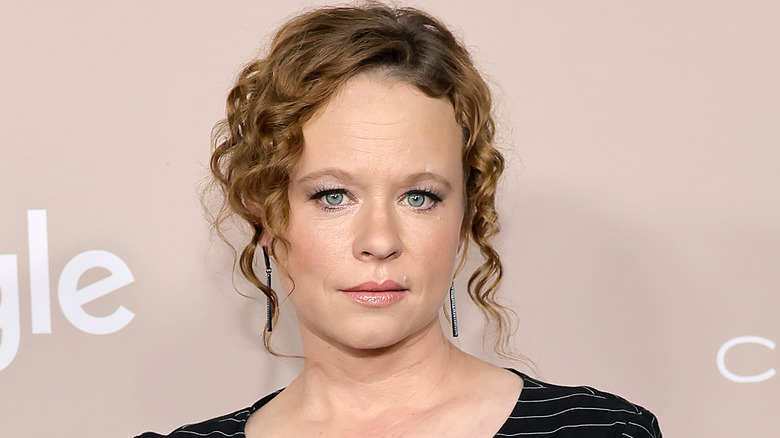 Amy Sussman/Getty Images
If you're an "Addams Family" fan, chances are you're also a fan of slightly creepy cult movies. If that sounds like you, you've probably already seen Thora Birch in the dark comedy "Ghost World," the cult classic "Hocus Pocus," or the famous" American Beauty." More recently, you may have spotted her in "The Walking Dead" or "Overleaped."
Birch was cast as Tamara Novak, an employee at Nevermore Academy, but in 2021, it was announced by Deadline that she had been forced to leave production early due to a "personal matter." As Birch later told Entertainment Tonight, she had decided to leave over artistic differences. "I had filmed a certain amount, and there were some questions about how much more to go with that character, and there were just some changes and adjustments made," she said. "It didn't work out that I would be able to go back, so they are finding their own solutions" (via Movie Web).