Donald Trump's Opinion Of Kanye West Has Reportedly Taken A Turn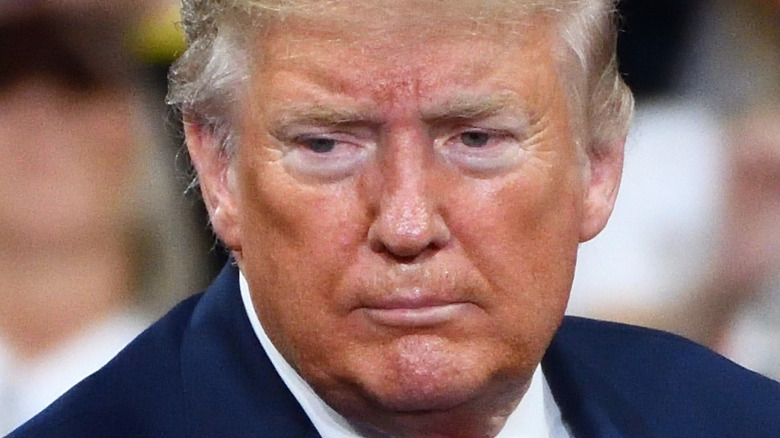 Evan El-Amin/Shutterstock
Kanye West's recent antics have been so off-putting that even his self-proclaimed BFF, former president Donald Trump, now apparently wants to distance himself from him.
In recent weeks, West has been increasingly exhibiting unhinged behavior on social media by posting a string of alarming anti-semitic statements. On Twitter, he shared an alarming remark, saying that he would go "death con 3 on Jewish people," (via BBC) which prompted the social media site to suspend his account. Instagram also decided to suspend the "Donda" rapper from further engaging on their platform after he shared an exchange between him and Diddy, in which he used language depicted by others as anti-semitic, per The Hollywood Reporter. Additionally, Ye was also photographed donning a statement tee that read "white lives matter" during Paris Fashion Week, which the Anti-Defamation League classifies as hate speech, according to BBC.
While Ye has always been known as someone who's not afraid to speak his mind, his recent remarks have reportedly become too much for Trump, and now it doesn't look like he wants to continue his "friendship" with the rapper.
Donald Trump apparently thinks Kanye West is too 'crazy'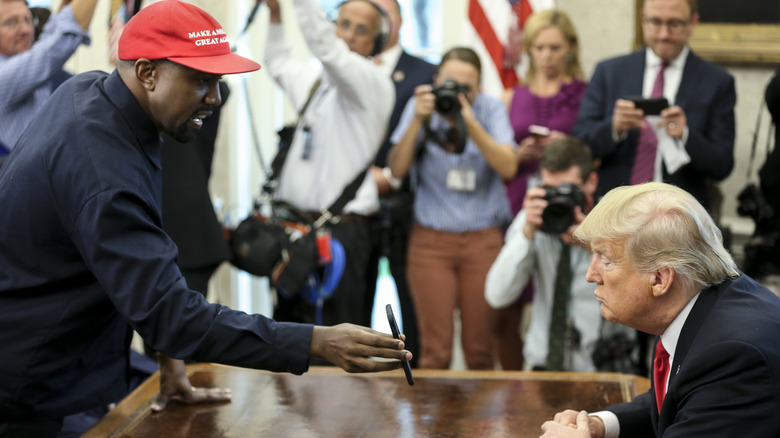 Pool/Getty Images
Kanye West, a frequent MAGA hat-wearer, is a big fan of former president Donald Trump. It isn't surprising that the businessman-turned-politician has taken a liking to the rapper, but Ye's latest social media outburst seemed to have changed his mind.
Following Ye's most recent online tirade, Trump has reportedly told multiple people that the rapper is acting "crazy" and that he clearly needs to seek professional "help," sources told Rolling Stone. And while he hasn't addressed West directly as he had done in the past, he took to his social media platform, Truth Social, to urge American Jews to "get their act together" and offer support to Israel "before it is too late," per The Hill. He also called out Jews for not showing him enough gratitude, saying "No President has done more for Israel than I have. Somewhat surprisingly, however, our wonderful Evangelicals are far more appreciative of this than the people of the Jewish faith, especially those living in the U.S." 
Only time will tell whether Ye and Trump will rekindle their so-called friendship, but now, West's priority seems to be purchasing a social media platform that would let him speak his mind. According to CNBC, the rapper is hoping to buy Parler, a known right-wing social media site. "In a world where conservative opinions are considered to be controversial, we have to make sure we have the right to freely express ourselves," Ye said in a press release.