Is This How Kanye West Really Feels About Donald Trump Today?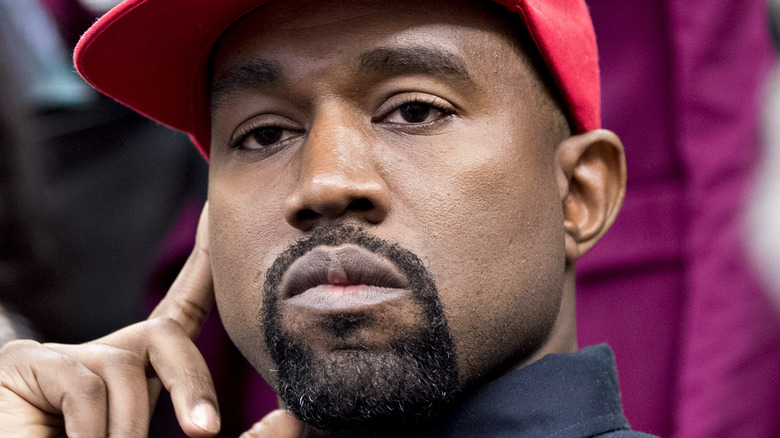 Bloomberg/Getty Images
Musician and music producer Kanye West has never been shy regarding his feelings about anyone or anything. In 2009, he famously got up on stage at the VMAs when Taylor Swift won for Best Video by a Female Artist rather than his preferred choice, Beyoncé. "I'mma let you finish, but Beyoncé had one of the best videos of all time!" he said as Swift looked on in shock at her upstaged moment (via Vox).
When it comes to former President Donald Trump, West has remained just as vocal and even proclaimed himself a fan more than once. In fact, in 2018, Trump and West met at the White House, and, after the meeting, the rapper spilled all his feelings about the then-president of the United States.
"Trump is on his hero's journey right now," West said, according to The New York Times. After he covered topics from replacing Air Force One to improving sketches on "Saturday Night Live," even Trump was nearly left speechless, and West admitted that everything he said was "from the soul."
But how does West feel about Trump now, nearly a year after he left office?
Kanye West is still sporting his red cap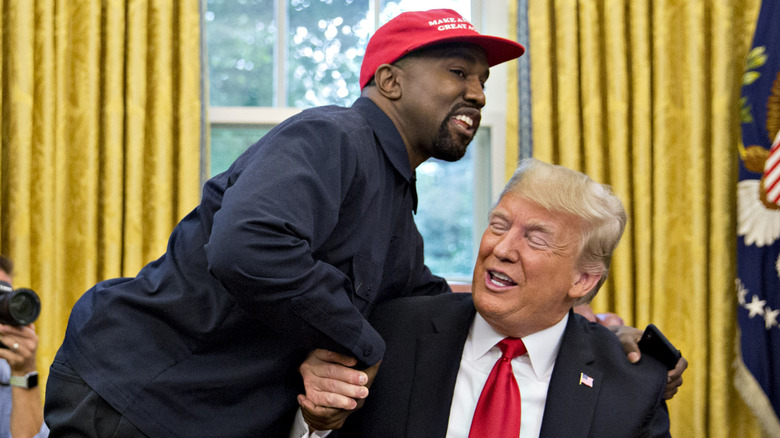 Bloomberg/Getty Images
Through the years, Kanye West has alternately gone from loving Donald Trump and proclaiming it proudly to being so frustrated that he actually ran against him for president in 2020. West only managed to get himself on the ballot in 12 states, which means he had no chance of winning, but he did garner approximately 60,000 votes when all was said and done (via BBC).
During a ranting interview with Revolt TV's "Drink Champs" about everything from his relationship with estranged wife Kim Kardashian to whether he's fully vaccinated against COVID-19 (he's not), West once again affirmed his love for the former president in a way so many Americans still do (via the Daily Mail).
"I've still got a red hat on today," he said. "I'll let y'all know that. I might not got it on [at the moment] but I'll let y'all know where I stand."