Football Fans Showed Their True Feelings About Jill Biden At Eagles Game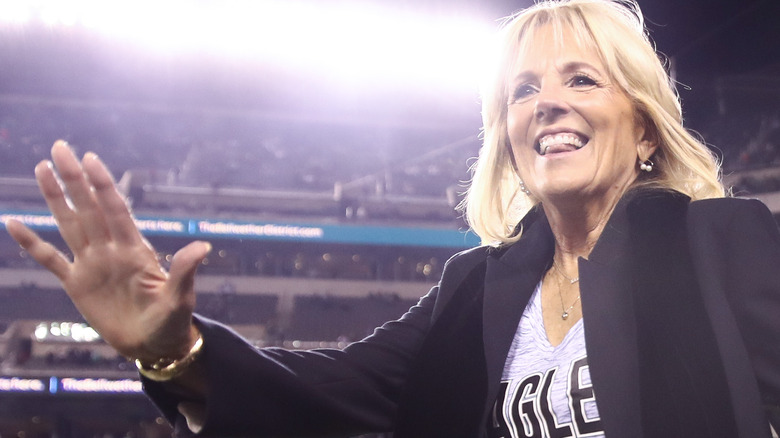 Tim Nwachukwu/Getty Images
The Philadelphia Eagles may have won against the Dallas Cowboys on Sunday, but there was one fan who didn't have such a good game at home: Jill Biden (via ESPN). The first lady, who hails from Eagles country, was on hand to help with the pre-match coin toss and to promote the administration's cancer-fighting initiative (via New York Post). Unfortunately, fans at Lincoln Financial Field were not feeling the love for the President's wife.
According to the Post and many accounts on Twitter, Joe Biden's other half was booed by the crowd. The good news is that the professor kept her cool and seemed totally unfazed by the less-than-warm reception, as you can see in a video taken from the game and posted online. Many Twitter users commended First Lady Biden for remaining composed, but as one person noted, the moment did get a little uncomfortable. "This is so embarrassing for I *almost* feel sorry for her," the individual admitted.
As many other Twitter users shared video of the "embarrassing" incident, people promptly began dissecting why Biden was booed — or was she?
Not everyone buys Jill Biden getting booed
Jill Biden booed loudly by fans at an Eagles game in Philly.

Not only is Pennsylvania her home state, but Philadelphia is about as deep blue as it gets.

Yet we're told Joe Biden got more votes than any other presidential candidate in history! 🤔pic.twitter.com/9II7qwoO1E

— Ben Kew 🐶 (@ben_kew) October 17, 2022
Many social media users were quick to question if indeed Jill Biden was booed by the crowd at the Eagles game, since video can always be doctored. While Newsweek noted the evidence wasn't conclusive that she was overwhelmingly condemned by those in attendance, the outlet did admit that at least some sections of football fans were clearly booing the Democrat on Sunday.
Still, many people on Twitter took sides about whether the booing took place or not, with some flinging accusations that video is being suppressed by the site, while others said even NBC attempted to hide that she was booed.
If indeed the crowd did not react kindly to Biden's appearance at the game, it may have been because of recent economic woes, according to some Twitter users. Or could folks be fed up with the ongoing Hunter Biden investigation that is also indicating the POTUS' younger brother, James Biden?
No matter what you believe, even Chuck Woolery had an opinion on the hotly-debated incident, with the former game show host tweeting, "She got humiliated."