Study Finds That Instagram Can Adversely Affect A Postpartum Mom's Mental Health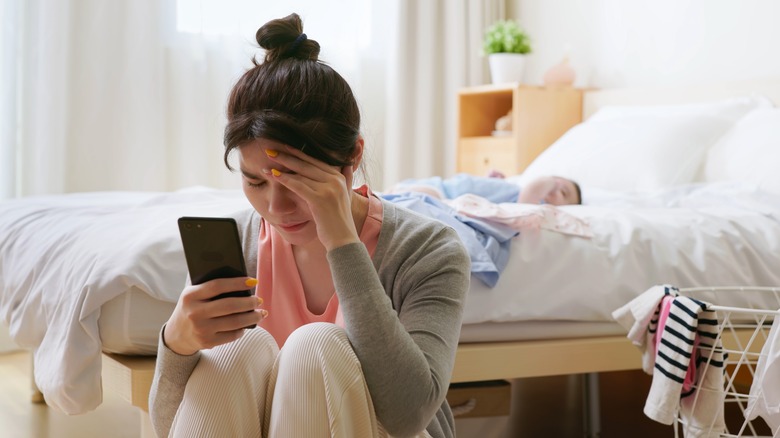 aslysun/Shutterstock
While social media can be a great platform to stay connected and amplify people's voices and experiences, it can also lead to higher stress levels, harsh self-criticism, and depression when consumers forget the reality behind the posts they see (via Help Guide). This is especially true for postpartum women who have recently given birth and are searching for community and information from other moms online.
People rarely post about their difficulties and hardships on social media when it comes to parenthood. Influencers and mommy bloggers want to present their best selves to create a brand or encourage other parents to follow in their footsteps. But what works for one mom may not work for another, which can easily be forgotten when pregnancy and postpartum becomes over-romanticized online.
A study published in Healthcare journal found that people who have just recently had a baby may be negatively affected by social media. Platforms like Instagram tend to glamorize parenthood and not depict a realistic view of the complexities that new parents experience, which can lead to dangerous comparisons and increase their risk of postpartum depression.
Try not to compare yourself to the influencers you see online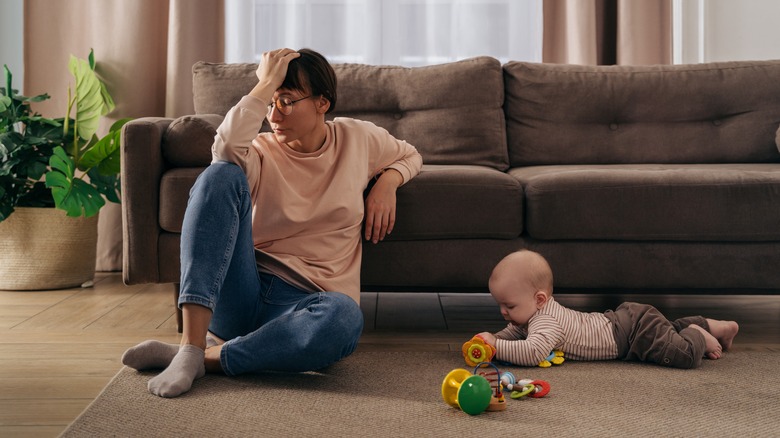 Arsenii Palivoda/Shutterstock
Getting parenting tips from around the world can be a great source of information, but too much social media can become harmful to new parents. Per WebMD, Megan Gow, PhD, found that Instagram is especially harmful for women who have just had a baby as they navigate raising their new child while experiencing changes to their body. Gow stated, "We need to be encouraging women to not focus on photos, but to focus on the postpartum experience in an all-encompassing way that includes both physical and mental health."
In the few months after having a baby, a postpartum body is experiencing extreme hormonal changes while the new mom adjusts to her new life with the newborn. During this time, women are extremely vulnerable to images seen on social media. A study that tracked parents' usage of social media found that their feelings about their parental abilities were directly linked to the amount of likes and engagement their posts received. This external validation can cause increased loneliness and comparison to other "influencer parents" seen on social media.
According to the APA, one in seven women will experience postpartum depression. Limiting social media consumption during the few months after birth may reduce the impacts of postpartum depression.
If your loved one just had a baby, be there for them by showering them with love and support. And for a little something extra, here's a guide to the best gifts for the new mom in your life.