Jinger Duggar Vuolo Announces The Release Of Her Explosive New Book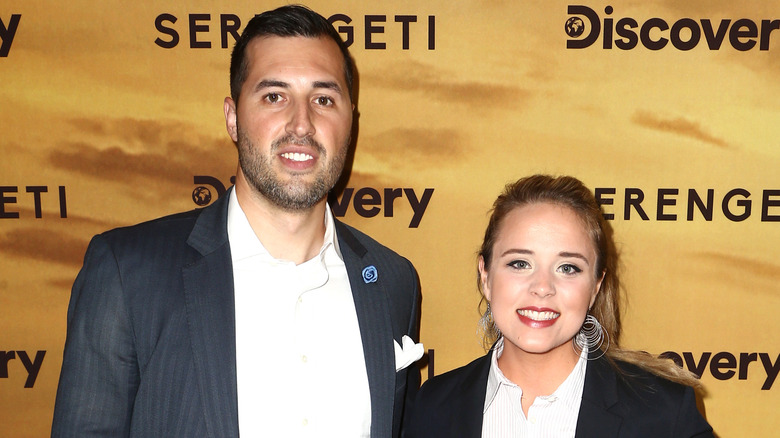 Tommaso Boddi/Getty Images
Jinger Duggar Vuolo has long been considered the rebel of her family, though not quite the regular, James Dean type. The world watched her grow up on "19 Kids & Counting," which followed the Duggars, who were famed for their strong religious faith and ultra-conservative lifestyle. Even then, Jinger seemed to stand out from her 18 siblings: In one episode, she admitted that she hoped to live in a city someday, even if it meant moving away from the rural Arkansas town she called home (via HuffPost). 
Following the family tradition, Jinger married young, to former pro soccer player Jeremy Vuolo, and had two daughters in quick succession. But Jinger soon showed fans she was ready to break the Duggar mold. While most of her siblings have stayed close to home, Jinger and Jeremy now live in L.A., fulfilling her dream of an exciting urban lifestyle. 
She was also the first of her sisters to break the strict Duggar dress code, which dictates that girls must wear long skirts and keep their arms and upper chest covered at all times (via CafeMom). From there, Jinger continued to drift further from her parents' orbit; collecting pricey sneakers, attending a Michael Bublé concert, and perhaps most shocking of all, leaving her childhood faith group and joining Jeremy's church instead. 
But Jinger's biggest act of rebellion is still to come. She's releasing a book that details her break from her parents' controversial church, which will undoubtedly cause quite a stir with the rest of the Duggars. 
Jinger Duggar Vuolo claims her childhood church was toxic
The Duggar family's religion has always been a hot topic. Parents Jim Bob and Michelle Duggar belong to the Institute in Basic Life Principles (IBLP), an independent Baptist group founded by leader Bill Gothard. Per NBC News, Gothard promoted a restrictive patriarchal lifestyle that frowned on public education, dating, and even pop culture, and encouraged wives to have as many children as God would allow.
Now, Jinger Duggar Vuolo is declaring her independence from the strict belief system with her most revealing book to date. "Becoming Free Indeed: My Story of Disentangling Faith from Fear" is due out in March 2023 from Thomas Nelson, the Christian imprint of HarperCollins Publishers. The promotional copy promises an enlightening look at the "harmful ideology" of the IBLP. 
Jinger "was convinced that obeying the rules was the key to success and God's favor," even as she worried privately that she could never live up to the church's ideals. Her husband Jeremy and brother-in-law Ben Seewald helped Jinger gain the courage to cut ties with them for good (Gothard resigned from his own church in 2014, following allegations of sexual harassment within the ministry, per Religion News) 
Fans are wondering not only what tea Jinger will spill, but also how the book's release will impact her relationship with Michelle and Jim Bob. They may cut her off for good, much like sister Jill Duggar Dillard, after she revealed her true feelings about her father's controlling personality.