Newly Unsealed Court Documents Reveal Jill Duggar Dillard's True Feelings About Her Father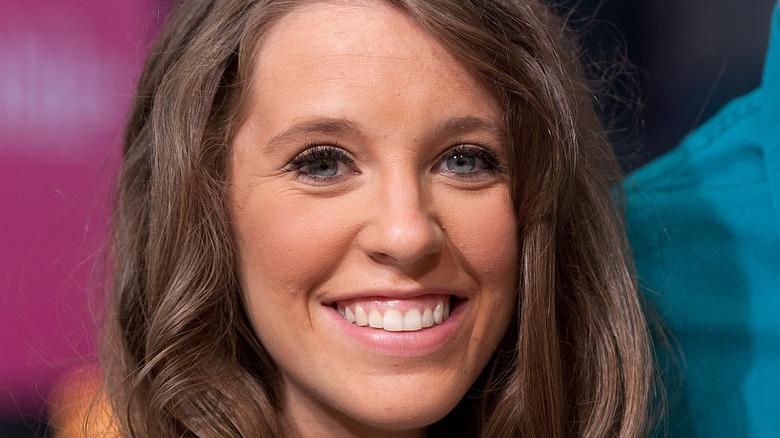 D Dipasupil/Getty Images
The following article includes mention of child sexual abuse.
If you didn't know who Jill Duggar Dillard was, you'd take her for any suburban mom. She's happily married, has two sons, and is expecting her third child in early July 2022. The family is also planning to move to a location closer to her husband's new job, per their website. Her Instagram posts show her enjoying precious mom moments, such as going to the library, making pancakes, bike riding, and visiting the Silver Dollar City theme park. 
However, the joyful life Dillard leads now was a long time coming. As a member of the famous "19 Kids & Counting" Duggar family, she lived her early days under the scrutiny of TV cameras. Her parents, Jim Bob and Michelle, presented their large clan as a loving, organized, faith-based group, and their children were expected to make a good showing for the public. Dillard also had to abide by strict rules set down by her father. For instance, girls couldn't wear pants or revealing clothing, watch most secular TV shows, get tattoos or non-earlobe piercings, or read romance novels, per The U.S. Sun. All the Duggar children were homeschooled, and the girls were discouraged from having full-time careers. 
Instead of dating, Dillard entered into a marriage-minded courtship with Derick Dillard — with her father's approval —  and once again, her life was captured on tape via the spinoff series "Counting On," (via IMDb). It was her marriage that truly helped her gain freedom. Now, newly unsealed court documents are revealing Jill's true feelings toward her father following her unconventional upbringing.
Jill Dillard has hinted at a strained relationship with her father
Jill Duggar Dillard's courtship, wedding, and early years of marriage to Derick Dillard became fodder for the spinoff show "Counting On." However, in 2017, the Dillards left the series, feeling that their lives were being micromanaged. "Our control to choose what jobs we were allowed to accept and even where we were allowed to live was taken away from us," Jill said in an interview with People. She added, "We knew we had to pull out completely to reevaluate and get our bearings." 
Jill was free to show the world her authentic self. She wore pants, got a nose piercing, and indulged in the occasional drink. Her sons, Israel and Samuel, attend public school. Perhaps most shocking to fans, she and Derick openly admitted to using birth control. "Children are a blessing, but that doesn't mean that at all costs, you should have as many kids as possible," she declared in another People sit-down. It seemed clear through her actions that her relationship with her parents was strained.
In 2021, her oldest brother, Josh, went to trial and was convicted on charges of possessing child sexual abuse material. This followed the shocking revelation years earlier that Josh had molested Jill and three of her sisters as children (per USA Today). Jill attended the trial and was listed as a witness, but wasn't called, according to The U.S. Sun. Still, her willingness to stand up for justice may be her most courageous move to date.
If you or anyone you know has been a victim of sexual assault, help is available. Visit the Rape, Abuse & Incest National Network website or contact RAINN's National Helpline at 1-800-656-HOPE (4673).
Jill Dillard told her truth about her 'verbally abusive' dad
After brother Josh's trial, Jill Duggar Dillard and three of her sisters — Jessa Seewald, Jinger Vuolo, and Joy-Anna Forsyth — filed a joint civil lawsuit against the city of Springdale, AR, for allowing their confidential testimony about their brother to be leaked to a tabloid (per Justia). The suit was dismissed, but the court recently unsealed the sisters' court depositions. These public records offer a brutally honest account of their upbringing. 
"Without a Crystal Ball" was the first outlet to share some of the revelations, particularly Jill's. In an excerpt from her deposition, Jill said that her relationship with her father, Jim Bob Duggar, became "toxic" after she and her husband, Derick, left "Counting On." "Sadly, I realized he had become pretty controlling, fearful, and reactionary," she said. "He was verbally abusive." 
Jill added that "it isn't good for my mental health right now" to be around her father. "We pretty much only see him right now at weddings and funerals," she explained. "I think sometimes he wishes that we would just 'get over it,' and go back to how things used to be ... doing things his way." 
For now, Jill isn't in a place where she feels she can try reconciling with the father who manipulated so much of her life. "It's emotionally taxing, and I don't have the energy right now," she said in the document. As for her mother, Michelle, Jill said, "I'm okay seeing her a little more than my dad, but it's still awkward and triggering."