The Outlet That Did Christmas Content Before Hallmark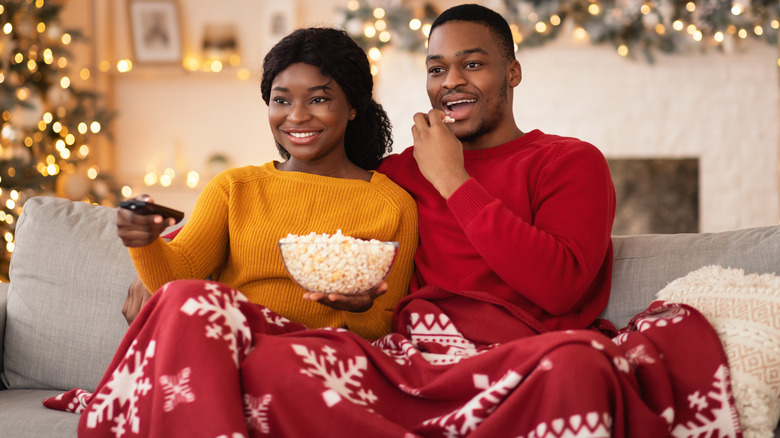 Prostock-studio/Shutterstock
We may receive a commission on purchases made from links.
Although Hallmark produces movies year-round, there's just something special about their Christmas films. According to Forbes, more than 80 million people tune in to at least a few minutes of a Hallmark flick during the holidays. Considering that Hallmark movies could benefit your mental health, these millions of people may be onto something.
What was once just another part of the season has expanded into an entire fanbase. Die-hard fans can even meet their favorite Hallmark talents at the annual Christmas Con celebration (via People). From watch parties to specialty merchandise, it's safe to say that the franchise has exploded in popularity.
With each year, Hallmark cranks out dozens of Christmas films. Now, the festivities begin as early as October and continue through the holiday season. There's even an app to track your movie-binging progress (via Hallmark). Interestingly enough, Hallmark Channel hasn't always been the reigning network for Christmas cheer, though. 
Passing the Christmas crown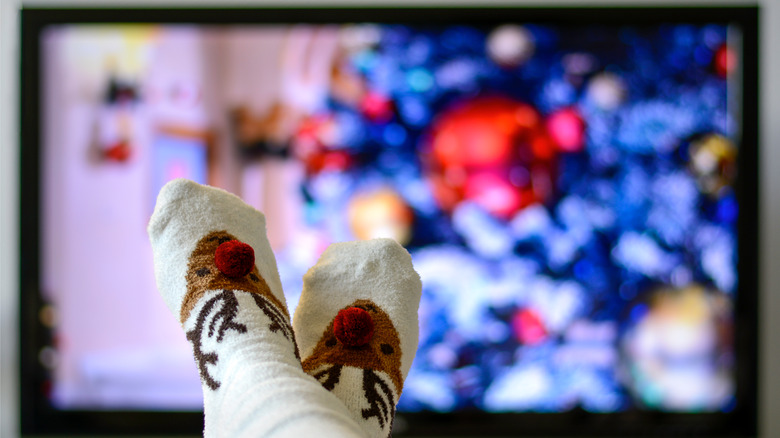 Ellyy/Shutterstock
Before there was Hallmark, ABC Family's "25 Days of Christmas" reigned supreme. If you grew up during that time, you can probably still hear the jingle. The special ABC Family series dominated views as cable television's biggest programming event of the year (via D23). Each holiday season brought Christmas cartoons, claymation classics, and even some live-action films. Ever seen "Holiday in Handcuffs" starring Melissa Joan Hart and Mario Lopez? That movie was a product of "25 Days of Christmas" (via Mental Floss).
In more recent years, special holiday episodes of shows like "Switched at Birth" and "Pretty Little Liars" were also thrown into the mix (via D23).
Mental Floss reports that the channel departed from continuous Christmas cheer in 2011 to better target teen views. Hallmark seized the opportunity to spread some Christmas cheer. Director Ron Oliver thinks there may be more behind the channel's success than just good movies.
"With Hallmark, you actually turn on the TV at 8 p.m. and watch collectively," Oliver told Business Insider. "It speaks to a real need."
A legacy of Christmas cheer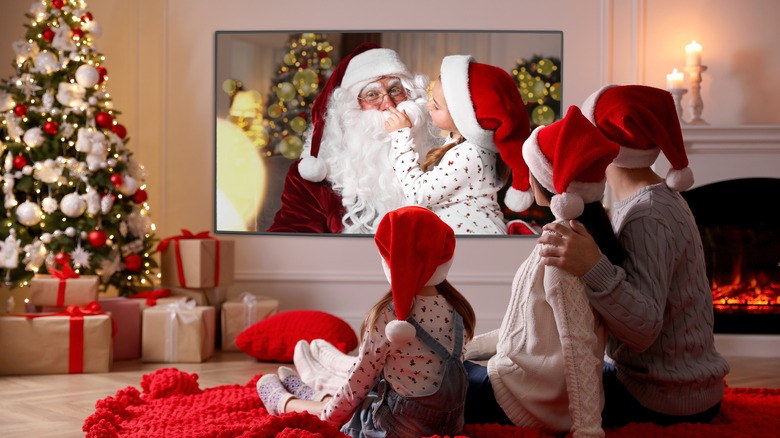 New Africa/Shutterstock
According to Business Insider, Hallmark movies clock millions of live viewers. Considering that streaming services have statistically overtaken cable television, those numbers are a pretty big deal (via NBC News). The movies were giving people a chance to turn on the TV, filling the gap that ABC Family left.
The YouTube promo for the opening year of Hallmark's "Countdown to Christmas" promoted the release of 14 new Hallmark Christmas movies. Since that first year, several major celebrities have made appearances in Hallmark films. From "Mean Girls" star Lacey Chabert to "Full House" favorite Candace Cameron Bure, there are a plethora of former Hollywood stars that have made a Hallmark appearance.
With the channel's growing popularity and movie count, it's clear that the original 14 movies were only the beginning. Now, you can visit Hallmark to find recipes, trivia games, and celebrity guides to go along with your movie binging experience.