Marianly Tejada And Cooper Van Grootel Tease Season 2 Of One Of Us Is Lying - Exclusive Interview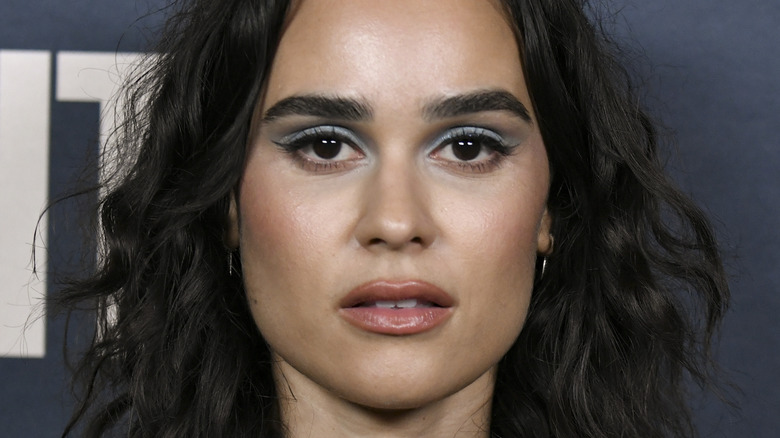 Rodin Eckenroth/Getty Images
What's better than a season of nail-biting television that keeps you at the edge of your seat? Two seasons, that's what. Fan favorite "One of Us Is Lying," based on the book of the same name by Karen M. McManus, is hitting Peacock on October 20, and even we didn't know what to expect. 
The Bayview Four are back after having been on one of the biggest roller coasters any teen could ever expect to ride. When Simon — the high school student known for starting rumor-mongering online gossip site About That — drops dead in detention in Season 1, suspicions, blame, and fingers are pointed at the four students who too found themselves with their heads on the detention desks. Each had a clear motive for wanting Simon out of the picture, and by the time Season 1 comes to a crashing end, Jake is shot and killed. While the news reports that he ran away, the Bayview Four know differently, and so does "Simon Says" — an anonymous texter who claims to know the truth.
Heart-pounding stuff, right? Well, just imagine if you were one of the actors bringing these embattled characters to life — the twists and turns are off the charts. Ahead of the premiere of Season 2 of "One of Us Is Lying," we sat down with Marianly Tejada, who plays Bronwyn Rojas, and Cooper van Grootel, who brings Nate Macauley to life, to discuss the next chapter for the strife-riddled characters and what viewers can expect. While no spoilers were dropped in the making of this interview, we did get a sense of how Season 2 will differentiate itself from the first iteration of the story, and the actors gave us insight into just how they get into character.
Season 2 was 'anxiety' inducing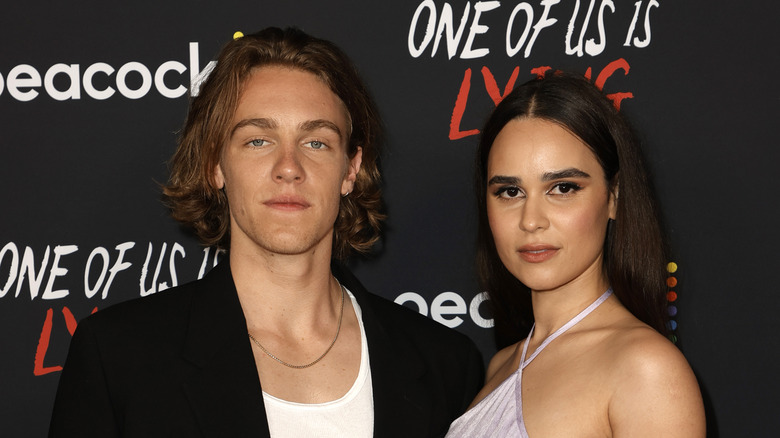 Frazer Harrison/Getty Images
This whole premise started with detention, and now, we have this twisted, turning story that's evolving in the craziest way. The 1st season left us on such a cliffhanger, and this Simon Says character is now in the works. Tell me what it was like to engage in such a mind-boggling storyline for Season 1.
Cooper van Grootel: Anxiety-filled [laughs]. It was such a blessing. We're all so grateful for the position that we are in. Karen McManus has created such a beautiful world for us to develop and dive into, and props to the showrunner and the directors and all the writers, and the cast too, for it being such a collaborative experience.
Jumping back in to Season 2, it's high stakes. There's more thrill. There's more suspense. There's more love. Our characters have to trust one another more for Season 2 — because [in] Season 1, they weren't really trusting one another, so they have to work together to figure out who this Simon Says entity is.
Marianly Tejada: It was wild going into Season 1, but as Cooper said, we have the book as a base, and once we started filming, we had an idea of where the story was going to go, so that helped the journey. It was a little bit easier to dive into Season 1 because you knew where it would end and what the journey was. You knew these characters' thoughts and their relationships and dynamics. And this season — if you thought Season 1 was crazy, this season's going to be on steroids.
The duo dishes about their characters' dynamic during Season 2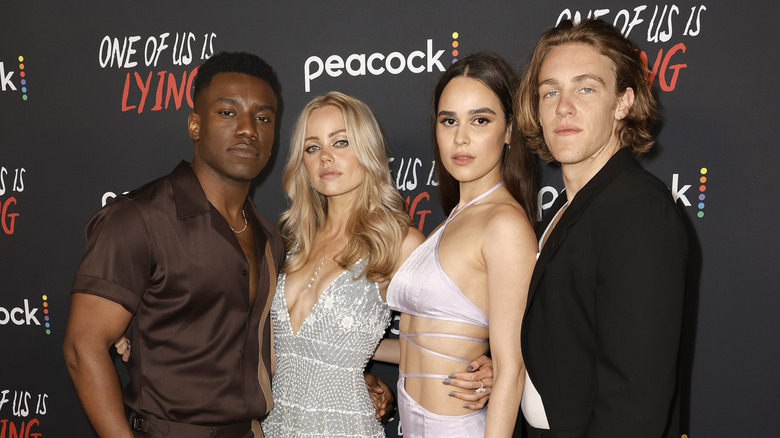 Frazer Harrison/Getty Images
Did either of you have any predictions for Season 2 before production started? Were you right? Wrong? Anything like that?
Tejada: Yes, and yes, but I can't say specifically because I would spoil some.
van Grootel: I was open to what was going to happen, so I don't think I really had any predictions or theories. I did think that Bronwyn and Nate would settle their differences, and I feel like they do this season.
Tejada: Are you about to spoil something?
van Grootel: I don't want to say too much!
Your characters are so intricately connected, but the plot can change in a flash. Without spoiling too much, what can viewers expect to see this season?
Tejada: I love that some of the essences that people reacted so well to are there. It's two very strong and different individuals, and they're trying to see how they can agree and be on the same page. There's friction, which is great, because then there's also tension, so it creates very, very interesting scenes. Because they're coming from this very traumatic event that happened at the end of Season 1, they're forced to open up to one another a little bit more, and there's a maturity there, which helps the relationship evolve and get to a place where everyone's going to be happy.
van Grootel: They do trauma bond, don't they? Marianly said it well. They're a lot more mature about the situations that they're in, and they both bring to light things that they probably need to deal with, and they're a mirror for one another. Bronwyn's a mirror for Nate and vice versa. They begin to understand each other on a deeper level as two human beings when thrust into this hectic, intense environment and they're put under pressure. They're almost forced — not forced, but there's a want there to fall deeper in love. ... Under the circumstances, you got to be able to work through and deal [with] the conflict.
The actors reveal where they sourced inspiration from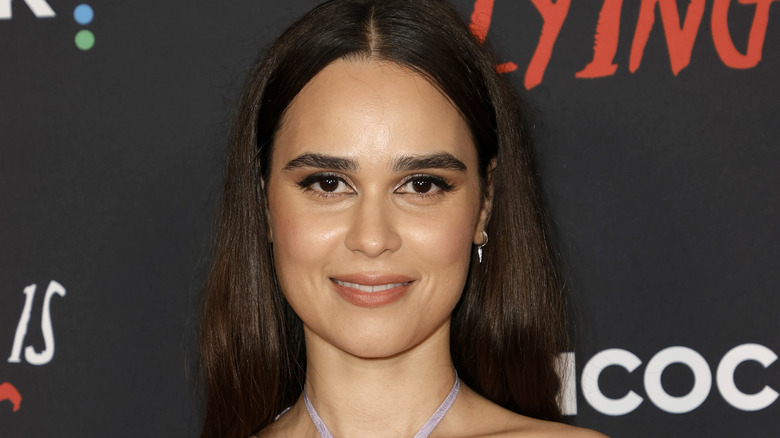 Frazer Harrison/Getty Images
When bringing these characters to life — I'm thinking about different genres, different works within the genre that you're working in — where did you both source inspiration from? Maybe other murder mysteries, novels, curated music?
van Grootel: You want to take that on? Great question.
Tejada: I was going to say, music definitely is the thing that I carry throughout filming. It's so accessible to have a playlist that you keep adding songs to. It really, really helps to get into character. There's something like witchcraft in there that has to do with music, where it facilitates you getting to certain places. We had a playlist in Season 1 that we kept adding songs to.
And the book, "One of Us [Is Lying]," is something that I still go back to because it [helps to have] the character's thoughts with you. When we filmed Season 1, "The Breakfast Club" [was an inspiration], and I watched a lot of "Clueless" as well — I watched it a couple times because those are great films to draw from to be in this world. Also, "10 Things I Hate About You." We talked about that.
van Grootel: There's a very similar dynamic between the two characters as well, and I pull a lot of inspiration from "10 Things I Hate About You." Heath Ledger's character is quite similar to Nate in the sense that he's an outsider, and he's a bit of a bad boy, but he has a golden heart.
Music's a big one, too. It evokes such an emotion, and sometimes you have to feel it rather than think about it [in] a scene. It can bring you into your body and your emotional state and have you vibe on that frequency.
And "The Breakfast Club" and films like "The Outsiders" [were] where I pulled a lot of inspiration from, and [I was pulling from] a few Australian films that I thought had a similar vibe and genre to the story and to Nate's archetype. Also, the book. The book is a great reference point, too.
All eight episodes of "One of Us Is Lying" are now streaming on Peacock.
This interview has been edited for clarity.