Katherine McNamara Gushes Over The Wild West Fashion In Walker Independence - Exclusive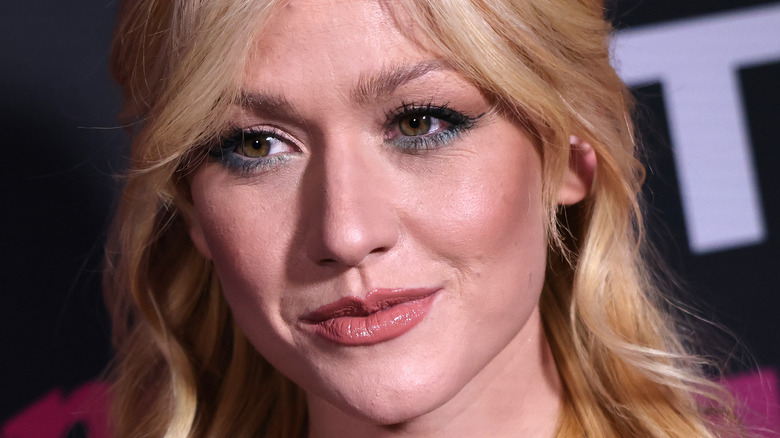 David Livingston/Getty Images
It's clear that the fashion in "Walker Independence" is breathtaking within the first five minutes of the "Pilot." Marian Toy, the show's costume designer, has certainly been busy between the many corsets, the White Dove looks, and the dapper and outlaw aesthetics for the guys. Despite the series taking place in the late 1800s, it still feels fresh, and none of the fashion looks stale despite its historical inspiration.
It doesn't hurt that the actors' input is welcome, and personal style is taken into consideration. Plenty of Westerns set during this time period take a somewhat boring approach to the aesthetic of the fashion, but "Walker Independence" wants to drop jaws with its choices — and the show clearly succeeds at that goal.
During an exclusive interview with The List, McNamara discussed the fashion on "Walker Independence," if she ever gets tired of wearing bulky gowns, and how much input she's had in Abby's style.
Fashion in the Wild West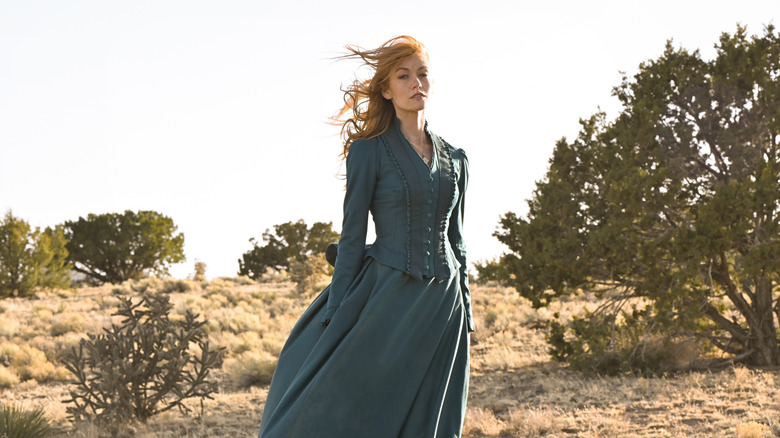 The CW
When McNamara first scored her "Walker Independence" gig, she mentioned how excited she was to take on a period piece with corsets. On how much of a hand she has in Abby's wardrobe, her favorite looks, and if she regrets wanting to get dressed up in bulky 1800s garb from head to toe, McNamara said, "I do not regret it one iota. Truly, it's been a lot of fun. I love a challenge." With McNamara's own passion for fashion, that sentiment isn't exactly surprising.
"I guess the quickest way to adjust to [the] altitude here in Santa Fe is by wearing a corset on a 13-hour shoot day," She joked. "Our costume designer, Marian Toy, has such incredible vision. In the same way I was talking about the color of the show, the life, and the vibrancy, she has so much to do with that — her eye, her vision, and the way in which she creates such a specific look for each character but then elaborates upon that."
So far, McNamara has zero complaints about any of her "Walker Independence" looks. "Every single look I've had for the show has been fantastic," she says, "some of which have been from vintage collections that we've pulled from wardrobe houses, a lot of which have been made from scratch by our wardrobe team."
Saying yes to the dress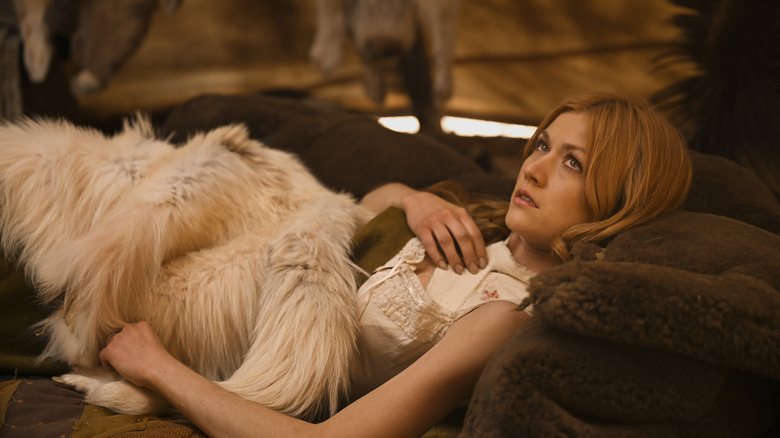 The CW
"It astounds me every single time, the things that they come up with," she says.One of my favorite dresses for the show started as a bolt of fabric. [Costume designer Marian Toy] said, 'We found this fabric in the costume house, and we dyed it to make it more of the tone of our show,'" McNamara continued. "Then suddenly, I come in a few costume sittings later, and it's this gorgeous dress that has been sculpted and crafted." There's no Party City shopping for these elaborate gowns, and it takes quite a bit of work to perfect them.
"I've had entire costume fittings where we have 17 different ruffles, and we have to decide which ruffle and from which stripe of the fabric brings the most to the piece. It's wearable art at this point. And truly, as hot and dusty and challenging as it can be, it's so worth it," McNamara explained. "It brings so much to the show and allows you to immerse yourself in the world. Also, I appreciate the care and the detail and the attention to specificity of not only historical accuracy but artfulness and character through clothing that we get the chance to do on this show. It's a masterpiece." 
Okay, but the real question is, how do we get our hands on a gown like this?
"Walker Independence" airs Thursdays on The CW, with episodes streaming on the website the next day.