Days Of Our Lives Classic Romance: Mike And April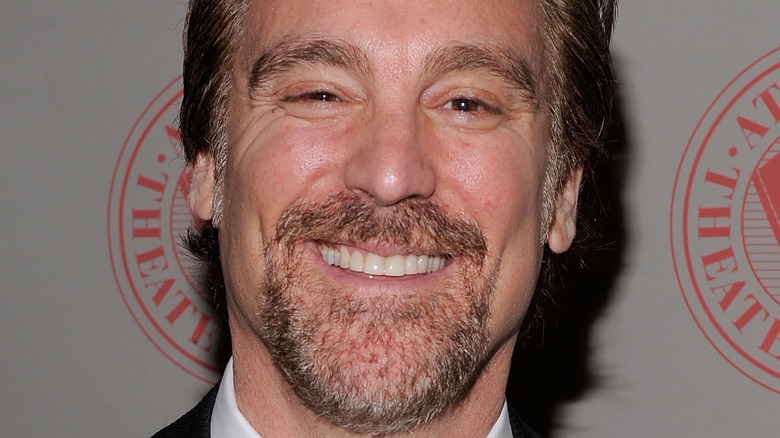 Jemal Countess/Getty Images
Mike Horton is one of "Days of Our Lives'" legacy characters. As the son of Bill and Laura Horton, Mike had plenty of drama growing up in Salem, per Soaps in Depth. When Mike was first born, he was thought to be the son of Laura's then-husband and Bill's brother, Mickey Horton. However, as a teenager, Mike learned that Bill was actually his biological father.
Over the years, Mike was forced to deal with some severe family issues such as his mother Laura's mental health struggles and his younger sister Jennifer Horton's rebellious teenage ways. He also fell victim to a terrible accident where he was crushed by a car and forced to have emergency surgery. Mike also struggled with his sexuality as a young man, and believed that he might be gay for a brief period of time (via Soap Central). During his time in Salem, Mike also found himself in legal trouble when he confessed to a murder he didn't commit to protect a loved one, and was tricked into running weapons by Salem villain Stefano DiMera (Joseph Mascolo), who later blackmailed him with knowledge of the crime.
However, the majority of drama in Mike's life over the years has seemingly come from his romantic relationships.
Mike had a long string of romances before meeting April
In his younger years, "Days of Our Lives" viewers watched Mike Horton fall hard for a woman named Trish Clayton (via Soaps in Depth). The couple even got engaged, but they never made it down the aisle. Mike moved on to have a quick fling with Linda Patterson before falling head over heels for Margo Anderman. The couple married, but sadly, Mike and Margo's time was marked with tragedy after she was diagnosed with leukemia. Margo's treatments left the couple in tons of financial debt and after Margo died, Mike found the inspiration to go to medical school and become a doctor like many of his Horton family members before him.
Mike left Salem and when he returned as a doctor he began working at Salem University Hospital, where he met Robin Jacobs. The couple fell deep for each other, but their religious beliefs kept them from tying the knot, per Soap Central. Robin ultimately married another man and Mike moved on to have relationships with women such as Janice Barnes and Gabrielle Pascal. However, those romances weren't the right fit for Mike, who remained unable to find true love until he met a woman named April Ramirez.
Mike (then played by Michael T. Weiss) and April (Lisa Howard) seemed like they were meant to be and they quickly began dating. Soon after, Mike popped the question and the pair celebrated their engagement. However, they never got their happy ending.
Mike and April weren't meant to be
Mike and April appeared to be happily in love, but like many "Days of Our Lives" couples, the pair were thrown a curveball when Robin returned to Salem and revealed to Mike that she had given birth to his son, Jeremy Horton (via Soaps in Depth). April made a difficult decision to end her relationship with Mike so that he could be a family with Robin and Jeremy. However, Mike's love for April couldn't be denied. He tried to be a family with Robin, but he couldn't get over April, who moved on and married another man. Eventually, things fell apart with Mike and Robin and she took Jeremy and moved to Israel. Mike wanted to reunite with April, but her husband stood in the way.
In 1990, April's husband agreed to annul the marriage and she and Mike quickly reunited, per Soap Central. The pair got engaged again, before Mike left to volunteer in Israel and visit Jeremy. Mike told April that he would return to Salem, but he continued to put off his homecoming. Eventually, April got so upset by Mike's shallow promises that she opted to end their engagement. After the split, Mike decided to stay in Israel with Jeremy. April stayed in Salem for a while, but eventually decided to move to New York with her brother Julio (via Soap Central).
Sadly, Mike and April never really got a fair shot at love, but fans would likely love to see them reunite sometime in the future.