Where To Find A Dupe Of Khloé Kardashian's Wedding Dress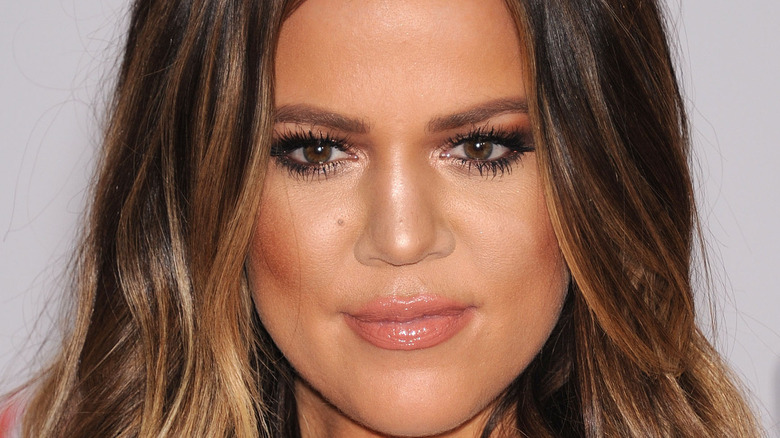 DFree/Shutterstock
It's been over a decade since Kardashian fans gushed over Khloé Kardashian and Lamar Odom's whirlwind romance. Practically coining the phrase "when you know, you know," the pair tied the knot after just one month of dating (via Marie Claire). Their nuptials were broadcast during Season 4 of "Keeping Up with the Kardashians" in 2009, and it wasn't long before the couple received a spin-off reality TV show, "Khloé & Lamar," in 2011. The series showcased their life as a married couple and only lasted two seasons, as cheating allegations surfaced on Odom's behalf. This led to the couple's on-again-off-again-separation, which was eventually finalized in 2016 (per Us Weekly).
Nevertheless, their wedding ceremony, which was held at a family friend's Beverly Hills mansion, was gorgeously over-the-top (via Insider). The venue, decked out in opulent white roses, had a romantic and elegant feel. Just as gorgeous as the venue was Kardashian's mermaid-style wedding gown, which was custom-made by renowned designer Vera Wang and unavailable to the public (per The Sun). However, that doesn't mean you can't get your hands on an almost identical gown for a fraction of the price.
There's a website that sells celebrity-inspired wedding dresses
Regardless of which celebrity you want to emulate on your big day, there's a website that's got your back. TheCelebrityDresses.com has dozens of styles to choose from — all you have to do is search for the name of the celeb whose dress inspires you the most. Khloé Kardashian's custom strapless mermaid gown with a lavender sash is on the website, retailing for $199.99. There are different color options to choose from, with shades ranging from burgundy to champagne and ivory. You can customize the belt color, too.
There are a few five-star reviews of Kardashian's dupe mermaid gown on the website, with photos of the brides attached. One customer named Michelle said the dress was gorgeous and looked exactly like Kardashian's. Another customer, Yolanda, said the dress was even better than the photo.
The Vera Wang dress that closely resembles Kardashian's gown is the Ivory Silk Helene dress, model number 12239 (via Pre-Owned Wedding Dresses). The dress is from the fall 2009 collection — the exact time of Kardashian's wedding — and is available for purchase at a starting price range of $4,600 to $6,000.
Other celebrity fashion dupes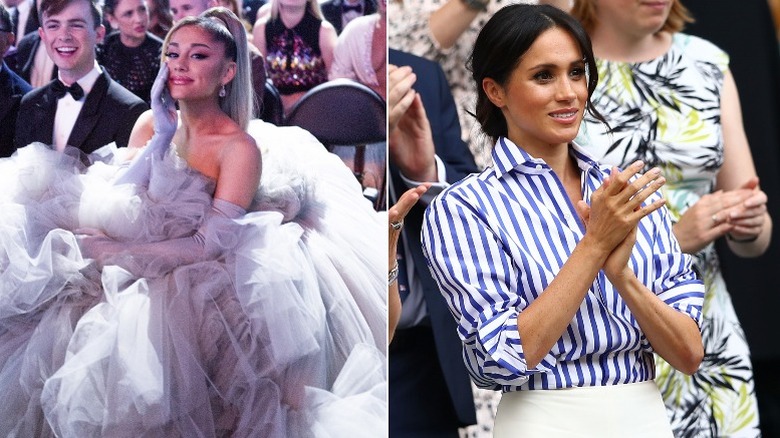 John Shearer/Getty & Michael Steele/Getty Images
Not exclusive to wedding gowns, the website offers a wide arrange of outfits that are dupes of other celebrity looks. From the expensive outfits that Kate Middleton has worn to the sexy and skintight looks of Bella Hadid, the website doesn't lack glamorous, celebrity-inspired fashion. One dress that has a handful of five-star reviews is a dupe for Ariana Grande's iconic gray strapless ballgown she wore to the 2020 Grammys. Her gown, which was designed by Giambattista Valli (who does not typically create custom gowns), had a massive 20-foot skirt that engulfed her tiny frame (via Insider). It is unknown how much her custom dress cost the "thank u, next" singer; however, the dupe gown on The Celebrity Dresses is currently on sale for $499.99 (originally $1,129.99). The glowing reviews of the dress indicate that the dupe is "absolute perfection" and "an extremely good replica."
The website also offers casual and classy looks inspired by paparazzi photos of celebs like Kendall Jenner and Hailey Bieber. One outfit that made waves in 2018 was Meghan Markle's Ralph Lauren striped button-up blouse that she wore to Wimbledon, which retails for $590 (per Hello Magazine). Love the look but don't want to spend nearly $600 on a shirt? This dupe is currently available on The Celebrity Dresses for $79.99. Whether you're looking for a wedding gown or a casual date night fit, be sure to look up different celeb fashion ensembles for inspiration, and you'll be able to find the dupe online in no time.