The Most Unique Airbnbs You Can Find In Nashville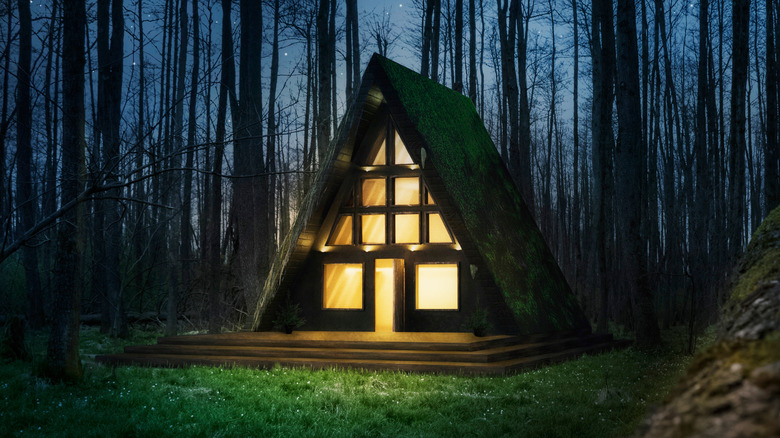 neytz/Shutterstock
Airbnbs have been all the rage over the past decade and if you're planning a trip to Nashville, there are some unique properties you'll surely want to call home for a night or two. From vintage trailers to adult treehouses, your visit to Music City will be all the more colorful in these unusual Airbnbs.
There are many reasons travelers opt for an Airbnb rather than a hotel room. Price, household amenities, privacy, a more homey feel — whatever the reason, Airbnb's success has been undeniable. According to its website, Airbnb has had over one billion guest arrivals since its launch in 2007. And it's easy to see why.
While there are some great qualities in a hotel stay, like predictability and room service, it's fun to switch things up with the adventure and charm of an Airbnb. So, if you're headed to Nashville and want to liven up your stay, be sure to browse Airbnb for some seriously inviting lodging. Here's a look at what's out there.
Try rural tiny-living for a night
There's not much with more charm than a tiny space made both beautiful and functional. Located just outside of Nashville in Ashland City, Tennessee, the Dreamy Vintage Trailer at No.9 Farms has five stars on Airbnb and raving reviews. Complete with an outdoor kitchen and outdoor bathtub, you can also buy fresh eggs and produce from the owner's farm. It doesn't get more idyllic than that. This is truly a unique spot to unwind and unplug on the outskirts of Music City.
Next up is the Dreamy Tiny House Cottage. This spot embodies the essence of all your cottage-core dreams and is the most wish-listed Airbnb in Tennessee. With a clawfoot tub and lush greenery magical enough to house fairies, this cottage is sure to revive and restore you — body, mind, and soul.
If you're longing to reconnect with mother nature, look no further than The Nest, an adult treehouse about 20 minutes from downtown Nashville. This romantic weekend getaway for two has everything you need to escape the city and spend some quality time with your loved one. Cozy, rustic, and a treat for the inner child, this treehouse has seen many satisfied guests.
On the flip side, Nashville has a lot of excitement and adventure to offer and if you'd rather be in the heart of Music City, the hosts of Airbnb, once again, have you covered.
Unique urban Airbnbs
For more of an urban experience, the Vintage Decadence at the Speakeasy Retreat is a unique and highly creative spot for your Nashville expedition. And if you also happen to be a Harry Potter fan, you likely won't need to look any further than this Airbnb. The listing — get ready — was modeled off the Gryffindor common room. With dark leather and rich reds, this vintage suite will transport you straight into the magical world of Hogwarts.
If you're traveling with a small group and looking for some fun, this Airbnb, just a few minutes from the downtown nightlife, is a unique city space perfect for bachelorette parties or a girl's weekend getaway. The Trendy Loft features a fire-engine red spiral staircase, beautiful barn wood, and is within walking distance to tons of entertainment, bars, and restaurants.
Nashville is full to the brim with history, art, and of course — music. There's no reason your Nashville stay should be anything short of unique and distinctive.