Celebrity Hairstylist's Top Tips For Combatting Winter Hair Woes
NeonShot/Shutterstock
We may receive a commission on purchases made from links.
It doesn't matter what month it is in the year; we always want beautiful, luscious hair like the people in shampoo commercials. Unfortunately, many people struggle with hair problems ranging from thinning hair to hair that's too limp or extra frizzy.
While most people quickly stock up on hair products for a miracle, having a healthy diet is essential. "Your hair is mostly made up of protein, so eating a balanced diet of protein-rich food is important," Los Angeles-based celebrity hairdresser Sunnie Brook told Good Housekeeping. So add those protein-rich foods like eggs and fish to your diet, and if you're a vegetarian, eat plenty of beans and leafy greens.
When it's summer, we spend more time outdoors under the sun or by the pool, which causes considerable damage like faded color, chlorine-green hair (for all the pool fans), and a greasy scalp, thanks to the extra sweating. Whether summer or winter, don't neglect your scalp because that's where your hair grows. Previously, Hollywood-based celebrity hairstylist, Marco Pelusi told us the importance of scalp care and said, "Nurture your scalp because a healthy scalp will help foster the right environment for hair growth." He added that an unhealthy scalp could lead to flaking, itching, and other dermatological issues.
Here he's telling us all about how to resolve all your hair problems in the winter.
Marco Pelusi's top tips for winter hair care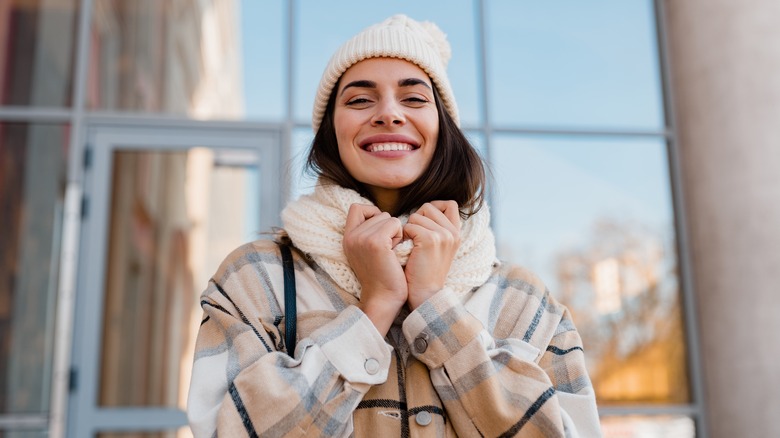 Maria Markevich/Shutterstock
If fading hair color and greasy scalp were some of the summer hair problems, winter has its own set too. Thankfully, we're turning to celebrity hairstylist Marco Pelusi on how to maintain healthy hair even in the chilly months.
Pelusi told The List, "Overall, it's important to provide the hair with adequate moisture during the winter, especially if you are spending time in a dry, heated home or work environment. So, spend extra time with conditioner on your hair while in the shower." He added that once a week, leave your conditioner on for 30 minutes for deep conditioning before washing it off.
A weekly hair mask is excellent if your dry hair feels extra damaged. Hairstylist Corey Tuttle told Byrdie, "Use a deep moisturizing mask at least once a week to replenish your hair." It'll help nourish your hair, and your hair deserves a little TLC.
You might have heard of the importance of maintaining your skin barrier; it also applies to hair. Pelusi told us, "Here's something else that's important for the winter: to provide a barrier for your hair from the environment. This barrier can happen by using a hairspray." He added that the spray would hold your hair in place if you're worried about hat hair too.
Worried about hat hair once you take it off? Pelusi advises, "Bring the spray with you to your destination, and slightly re-spray your hair upon arrival, and re-style as needed."
Hairstylists recommended hair products for the winter
If you're struggling with extra dry hair in the winter, take celebrity hair stylist Marco Pelusi's advice and stock up on his favorites. He told The List, "Marco Color Hydrate Conditioner is a beautiful choice; it's a lovely French lavender scent." This conditioner is perfect for quenching your hair's thirst, and you'll fall in love with the relaxing aroma of lavender. Regarding shampoo, he told us, "Temporarily switch to a moisturizing shampoo (like Marco Color Moisturizing Shampoo) to add more moisture daily to the hair. This will help keep the hair in good condition throughout the colder months." They're both color-safe too.
Regarding protecting your hair barrier, Pelusi suggests trying Marco Color Guard Hairspray, which has a lightweight hold. He told us, "When you are finished blow-drying your hair, spray some mists onto your styled locks, to hold the style and to help provide a barrier for your hair from becoming dried out (static)."
In the market for a hair mask? Try one of hairstylist Michelle Cleveland's favorites, Olaplex Hair Perfector No. 3 Repairing Treatment, the OG of hair masks, per The Strategist. Hairstylist Dhiran Mistry loves it, too, and said, "It will help reform shattered hair bonds." Stronger hair bonds mean stronger and less damaged hair that won't look too dry.