How The October 25 New Moon Will Affect You If You're A Gemini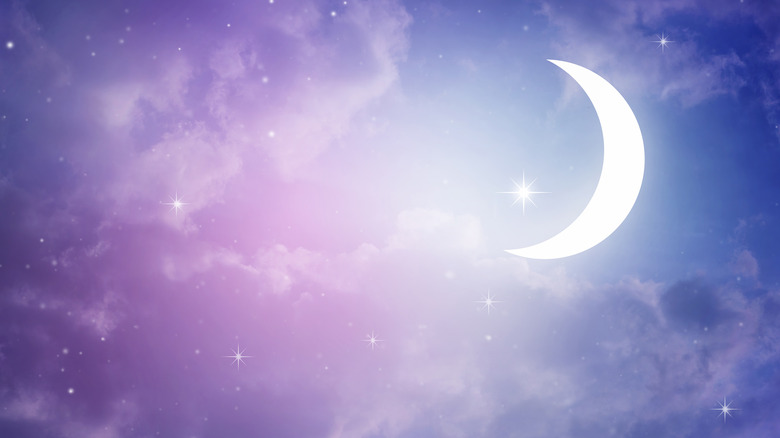 nednapa/Shutterstock
The new moon on October 25 is set to bring some chaotic energy into the world thanks in part to a partial solar eclipse that will kick off yet another eclipse season, per Bustle. The lunation falls under the water sign of Scorpio, an intense sign that is full of strong emotion. The new moon is usually considered a time for fresh starts and new beginnings. However, because of the upcoming solar eclipse, the energy of this lunation will be more erratic, and beginning new endeavors may not be the best idea. Eclipses can cause quick shifts and unforeseen paths to open up before you.
An astrologer named Noush tells My Imperfect Life that new moons and eclipses often make for intense vibes. "The eclipse is like steroids for the new moon," Noush tells the outlet. "Because it falls in the sign of Scorpio, the energy of deep and provoking change is an undercurrent which is picking up momentum and finally dismantling so that we can recognize our emotional strength and resilience to face life's challenges."
For those born under the sign of Gemini, the new moon is a chance to make some big changes to your daily life that could be beneficial. 
Gemini may need new routines during the new moon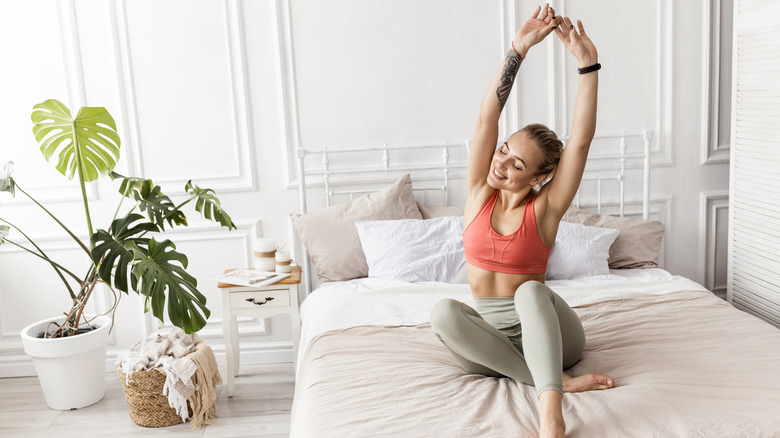 Shunevych Serhii/Shutterstock
If your zodiac sign is Gemini (born between May 21 to June 20), you may find yourself looking for a change in your daily routines and habits during the new moon on October 25, per Bustle. Now is a good time for you to sit down and really think about everything you'd like to get done in your day, which can include things like an exercise routine, hobbies you'd like to enjoy, your work schedule, time with friends and family, and self-care. So really dive deep into your daily routines and revamp whatever isn't working for you so that you can have more structured and productive days.
Woman and Home notes that the lunation falls in Gemini's sixth house, which should inspire the air sign to clean up their physical space as well. Cleaning up your home and decluttering the spaces that need it most will not only give you a sense of accomplishment but also help clear the clutter from your mind. Now is the time to get rid of things you no longer want or need.
Donate old clothes, trash those old letters and to-do lists that are taking up much-needed space in your home. Gemini may feel like this is a big overhaul and the new moon and eclipse energy may have you feeling a bit off balance. However, setting up new routines is the perfect way to get your life back on track and running smoothly heading into the holiday season.
Gemini may need to focus on healing during the new moon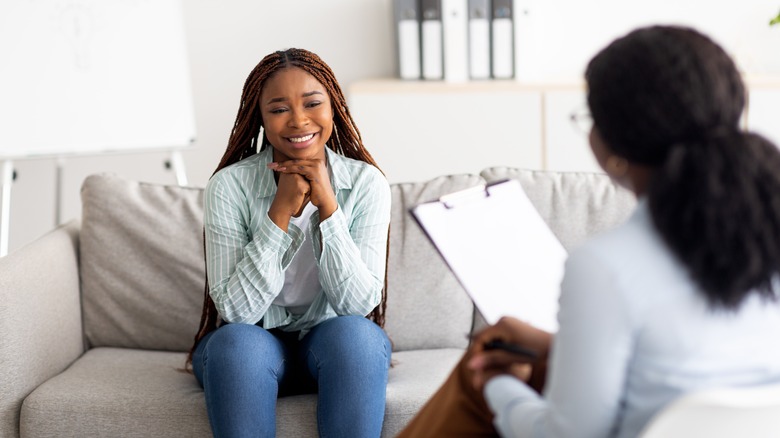 Prostock-studio/Shutterstock
According to PopSugar, Gemini should prepare themselves for a bit of a bumpy ride during the new moon and eclipse on October 25. However, getting some support from your loved ones could prove to be beneficial during this time. "This is a great time to realize that you do not have to do it all on your own," astrologer Desiree Roby Antila tells the outlet. "Ask for help if you find yourself in a bind, and take notice of who is there for you when you need it most."
Meanwhile, My Imperfect Life reveals that Gemini might need to dig deep inside in order to help themselves heal and move past some emotional wounds that they've been carrying with them. This lunation will be an ideal time for the sign to acknowledge their issues and work hard to remove any negative vibes from their life. By understanding your trauma, you'll be able to find the tools to move past your pain and begin living a happier, healthier life. "This new moon in Scorpio is an ideal time to deal with repressed negative emotions from the past, such as fear, anger, pain, and grief," astrologer Iva Naskova tells Refinery 29.
It appears that Gemini will have a lot of work to do during the new moon. However, it will be one of healing and hope for the air sign.