Meghan Markle Faces Even More Heat For Her Deal Or No Deal Comments Following Unearthed Clip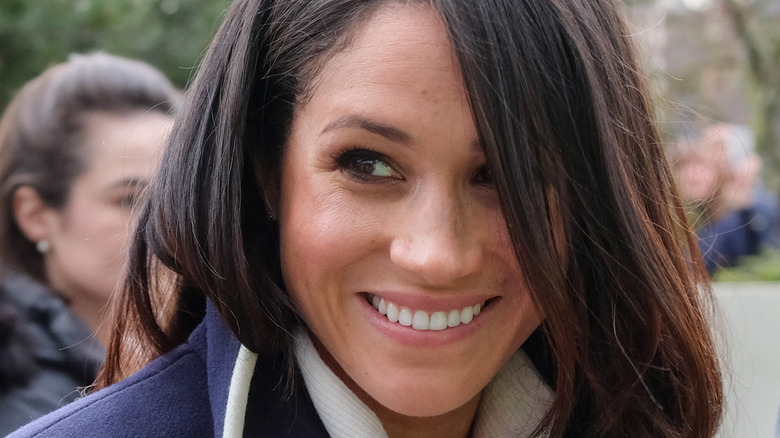 MattKeeble.com/Shutterstock
Another episode of Meghan Markle's podcast "Archetypes," another swarm of criticism. In case you missed it, the Duchess of Sussex's past podcast included a moment that she confusingly balked when her guest Mariah Carey called her a diva, and after a separate episode, had some listeners upset about her characterization of experiences going to a Korean spa with her mom as a child (via Reddit).
This time, Meghan discussed her infamous role on "Deal or No Deal" as a suitcase model. Of course, the former actress' turn on the game show was long before she married into the royal family, and marked her first foray into TV. The year was 2006, half a decade before she would go on to star on what was the most prominent show of her career, "Suits" (via IMDb). Although one could argue the Howie Mandel-helmed reality competition raised her profile, Meghan didn't exactly see it that way, as she shared on "Archetypes."
Meghan Markle's comments about her time on 'Deal or No Deal' don't go over well
Talking about the year she appeared on the game show, the Duchess of Sussex said, "It was solely about beauty and not necessarily about brains." Meghan Markle went on to share that while she was grateful for the job, she didn't like how it made her feel "which was: not smart." She also copped to feeling like a "bimbo" on stage (via The Hollywood Reporter).
Meghan also detailed, "I would end up leaving with this pit in my stomach, knowing that I was so much more than what was being objectified on the stage." She added that she felt "reduced" as well.
Several celebrities were quick to condemn Meghan's characterization of her time on "Deal or No Deal," including Megyn Kelly, who said on her SiriusXM show that the royal "knew exactly what she was getting herself into on that job and it was no surprise to her that they wanted her to look as good as possible while doing it" (via New York Post). Meanwhile, Whoopi Goldberg talked about the episode on "The View," saying in part, "That's TV, baby. But, what did you think you were going to? You know that's what the show was" (via People).
Now, Meghan is at the receiving end of even more backlash after a clip of her brief appearance on "90210" has come back to haunt her (via Page Six). 
Meghan Markle is called a hypocrite for taking an eyebrow-raising role on '90210'
In 2008, a year after Meghan Markle left "Deal or No Deal," allegedly because she didn't want to feel like a "bimbo" or be "objectified," the then-actress took a part on the "Beverly Hills, 90210" spinoff that wasn't exactly about her brains either.
As Page Six reports, the Duchess of Sussex appeared as a character named Wendy who is seemingly giving oral sex to Dustin Milligan, who played Ethan Ward on the show, in a car, in broad daylight. The storyline saw Ethan cheating on his girlfriend with Wendy in the scene, and her catching them in the act.
Twitter of course had a lot to say about the unearthed clip, with one viral commenter opining, "YEARS after you left deal or no deal for 'being treated like a bimbo,' you took on roles giving men BJ's in cars in 90210, taking your top off to grill burgers in Mens Health, had a ton of sex scenes in Suits. You've objectified YOURSELF. You're not a victim girl."
But others defended Meghan, with one individual noting that the difference between being a suitcase girl and appearing on "90210" was that on "Deal or No Deal," the duchess was there as herself, while the second opportunity saw her acting in a role.