Who Was Kayla Brady's First Husband On Days Of Our Lives?
Tara Ziemba/Getty Images
The character of Dr. Kayla Brady is just one of Mary Beth Evans' many soap opera roles. However, it's also her most well-known. The actress has been playing Kayla on "Days of Our Lives" for decades, and the character is one of the most beloved by fans. 
Kayla was first introduced into Salem in 1982 as one of Shawn and Caroline Brady's four children (via Soap Central). Over the years, she has had plenty of love interests, including characters such as Tim Casey, David Banning, and Chris Kositchek. She also dated legacy character Mike Horton in her younger days and had a strange romance with her sister Kimberly's husband, Shane Donovan.
Kayla's life certainly hasn't been easy as she's suffered multiple attacks, career issues, imprisonment, kidnapping, poisoning, loss of speech and hearing, and so much more (via Soaps.com). "Days of Our Lives" viewers know that Kayla's history is long and interesting, but there has been one constant in her life, and that's her love for Steve Johnson (Stephen Nichols). 
Shortly after getting together, the pair solidified their spot as a soap opera super couple with their dramatic storylines, epic love for each other, and dramatic flair, per Soap Hub. However, their relationship has been full of ups and downs.
Kayla's soulmate has always been Steve Johnson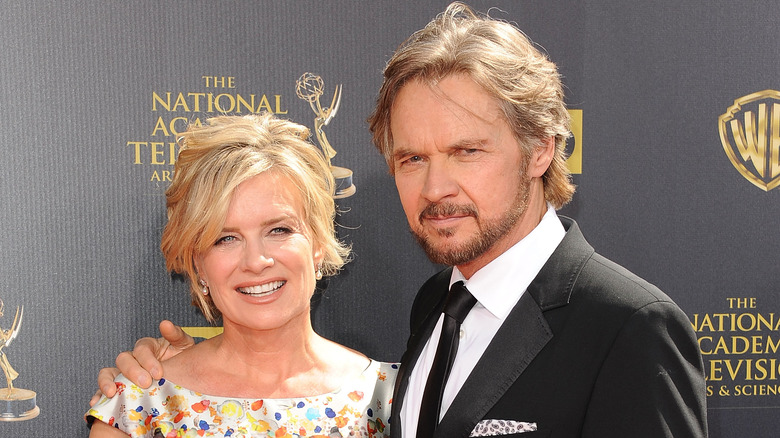 Angela Weiss/Getty Images
Longtime "Days of Our Lives" fans know that Steve Johnson and Kayla Brady are one of the most beloved couples in the soap opera's history. The pair first met when Steve was hired by Victor Kiriakis to give Kayla a scare. In addition, Steve also had bad blood with Kayla's brother, Bo Brady, who was responsible for Steve losing his eye (via TV Fanatic). Although they had a rocky start, Kayla and Steve had sparks from the very beginning, and they couldn't seem to resist each other.
Through the decades, Kayla and Steve have endured so much together, including bodily injury and the kidnapping of their daughter, Stephanie, per Soaps.com. Sadly, the couple's happily-ever-after was cut short when Steve was presumed dead for 16 years. Kayla believed that Steve had died after being poisoned by Lawrence Alamain. 
However, he had actually been taken by the Dimera family. Steve eventually made his way back to Salem with amnesia, but Kayla was able to help him regain his memories (via Soaps in Depth). The couple went on to have another child, Joey, and continue to navigate all of the curveballs that life threw at them.
However, to understand Steve and Kayla's history, fans also have to know about Kayla's first husband, who also happened to be Steve's biological brother.
Kayla's first husband was Jack Deveraux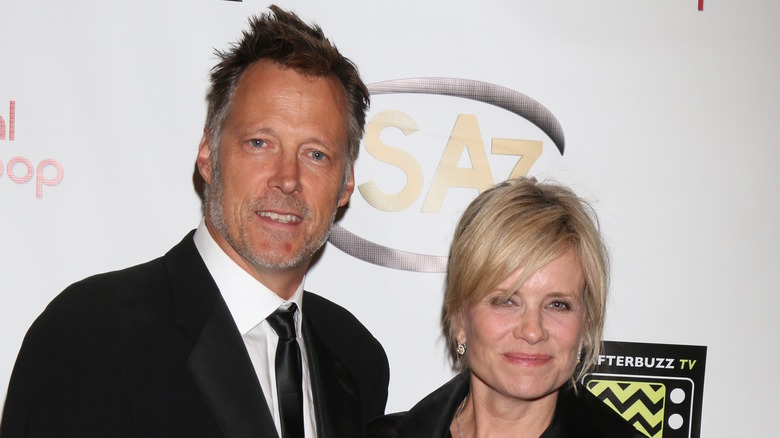 Kathy Hutchins/Shutterstock
During Kayla Brady's early days in Salem, "Days of Our Lives" viewers watched her befriend a woman named Adrienne Johnson, who turned out to be Steve Johnson's biological sister (via Soaps.com). Later, Jack Deveraux came to Salem suffering from Hodgkin's disease. He became Kayla's patient and fell in love with her. 
Steve and Adrienne also realized that Jack was their long-lost brother, Billy, who had been given up for adoption by their mother. Jack was believed to be dying, and Steve saw how happy Kayla made his brother, so he pushed Kayla away and encouraged her to be with Jack, per Soaps in Depth. Kayla married Jack in 1987, making him her first husband.
However, she couldn't forget her feelings for Steve. Jack eventually went into remission, and Kayla began having an affair with Steve, per TV Fanatic. When Jack found out, he was furious and had Steve beaten. In a fit of rage, he also raped Kayla. Jack and Steve eventually faced off, sending Jack over the edge of a rooftop. Steve donated his kidney to his ailing brother in order to save his life. Jack and Kayla divorced, and she was free to move on with Steve.
Over the years, Jack changed his ways and made peace with both Kayla and Steve. Although Steve and Kayla's relationship is one of the most important in "Days of Our Lives" history, many fans likely forget that Jack was actually Kayla's husband before she married Steve.
If you or anyone you know has been a victim of sexual assault, help is available. Visit the Rape, Abuse & Incest National Network website or contact RAINN's National Helpline at 1-800-656-HOPE (4673).