All The Reasons People Love To Watch Hallmark Movies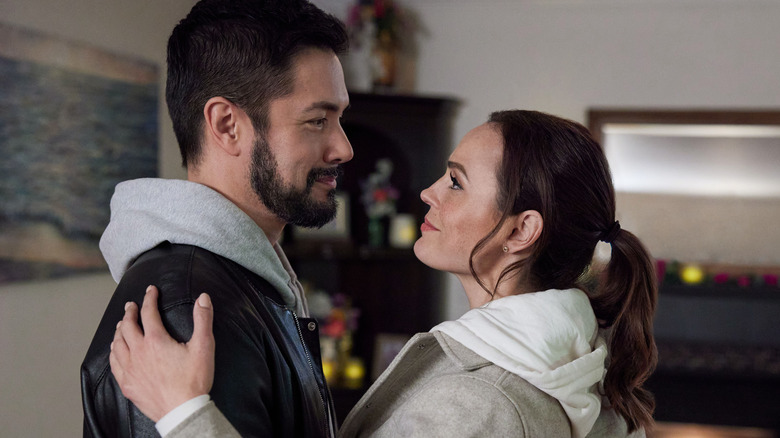 Allister Foster/Hallmark
Who doesn't love a cheesy rom-com filled with clichés, predictable plot lines, and feel-good endings that leave you happy, hopeful, and always coming back for more? These movies typically involve a specific cast of characters — bakers, widows, small-town business owners, and the like — who live in cozy, quaint towns and fall in love unexpectedly, learning the true meaning of life, family, love, or the holidays. Hallmark movies are especially popular around Christmas, having racked in more than 24 million viewers last holiday season alone, with almost one in 10 adults watching at least one Christmas Hallmark movie, according to The Herald-Times.
There's a reason the Hallmark channel is so cherished, with its Hall of Fame films receiving a collective 81 Emmys in the last 60 years. Regardless of the season, whether it be Christmas or Valentine's Day, the greeting-card-company-gone-successful-movie-network has hundreds of feel-good movies sure to provide some happy tears and romantic plotlines all year round. Can't get enough? Of course not. There are plenty of reasons why people love to watch Hallmark movies and keep coming back for more.
Hallmark movies just feel so good to watch
Let's face it: Hallmark movies are super cheesy. The lines between romantic and cringe-worthy often blur in these films, yet it's the main reason why people love them. Behavioral scientist Pamela Rutledge told NBC News that there's a psychological reason behind it. "The lack of reality at all levels, from plot to production, signals that the movies are meant to be escapism entertainment," she said. In other words, people crave the escape from reality that Hallmark provides — and you may also love to see the swoon-worthy things you make up inside your head come to fruition.
The repetitive yet reliable storylines are not lost on Hallmark movie fans but give them a sense of dependability and relief. A single woman returns to her hometown, not looking for love until she meets Mr. Right; two seemingly different people with nothing in common learn to work together, inevitably falling in love — you get the picture. Predictability provides a sense of comfort, as the viewer has some knowledge of how things are likely to end, dialing back worry and anxiety (via Vogue).
There's also something super comforting about Hallmark movies' characters, homes, and settings. From cozy living rooms to sleepy small towns, who wouldn't want to be transported into that world? Even though these films often feature the same stars over and over again, many fans find comfort in watching their favorite Hallmark actors, like Candace Cameron Bure and Jessica Lowndes — especially when they bring the fun-loving energy that viewers adore.
Also, one word: Christmas
What's the holiday season without Hallmark Christmas movies? Hallmark releases dozens of new Christmas movies each year and has aired more than 300 in total since 2009 (via Forbes). As magical as the holiday season is, people crave that much-needed break from the chaos of shopping, cleaning, baking, wrapping, and decorating, and Hallmark movies do just that. What sets them apart from other networks in terms of Christmas films is that Hallmark perfectly captures the essence of what the holiday is all about: magic. From the picturesque snowfall to the crackling fireplaces to the family traditions, and of course, love, Hallmark Christmas movies can benefit your mental health by providing a sense of much-needed comfort and holiday cheer.
Although many of these Christmas movies tend to have downright unbelievable storylines — who is really going to save Christmas, fall in love with a prince, or switch places with a doppelgänger? — that's what makes them so lovable. Through these Hallmark Christmas movies, viewers can experience the emotions associated with finding connection and relieving holiday-related stressors like financial pressure or family conflict (via NBC). If there's one thing Hallmark knows how to do right, it's Christmas — so get ready for the holiday season by tuning into the channel's annual Countdown to Christmas lineup!