How To Recreate TikTok's Viral Gym Lips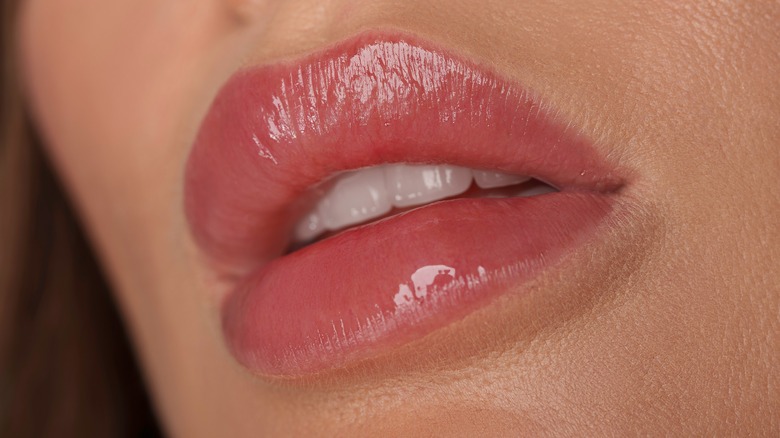 Beauty Works/Shutterstock
Okay, we know what you're thinking — why in the world would you wear makeup to the gym? Hear us out. While yes, dermatologists would recommend you ditch the face makeup when breaking a sweat, some people love the confidence it gives them while exercising. Nobody looks their best with sweat pouring down their red, flushed face, and while hitting the gym isn't a beauty contest, a little bit of makeup can be the confidence boost a person needs to feel a little better and work out a little harder.
While hitting the treadmill with a full face of makeup sounds like a recipe for a breakout, that doesn't mean you can't pop on a little bit of lip product to give yourself that extra pep in your step. Instead of reaching for lipstick, there's a viral TikTok gym lips trend that gives a juicy, natural pout that we're positive you'll want to incorporate into your pre-workout routine. Quickly exchange your gym duffle for your makeup bag, and let's get started before you head to the gym.
You only need two lip products to achieve the perfect gym lips
The gym lip trend first originated on TikTok by creator Kelli Anne Sewell (AKA @Makeupxka), who shared her go-to gym lip tutorial, which was quickly picked up by mega-popular beauty influencer Victoria Lyn (@Victorialyn) and shared with her 5.3 million TikTok followers. In Sewell's video, she applies a natural-looking lipliner to her lips and tops it off with a lip treatment — not a gloss or lipstick — but a mask-type product that hydrates and protects the lips.
You want to take the "your lips but better" approach when achieving a gym lip. This means finding a nude lip color that matches your lips exactly so that they look like, well, your lips. Victoria Lyn says in her video that this look is perfect for the gym or everyday errands, as it makes your lips look "super plump and juicy, but not makeupy."
Applying the products are pretty self-explanatory: apply the lipliner as you usually would and top your pout off with a bit of lip treatment. The liner makes the lips look defined and plump (especially if you over-line them a bit), and the lip treatment glosses them up and hydrates, protects, and repairs them as you work on achieving those gym goals.
How to find a lip liner that matches your natural lip shade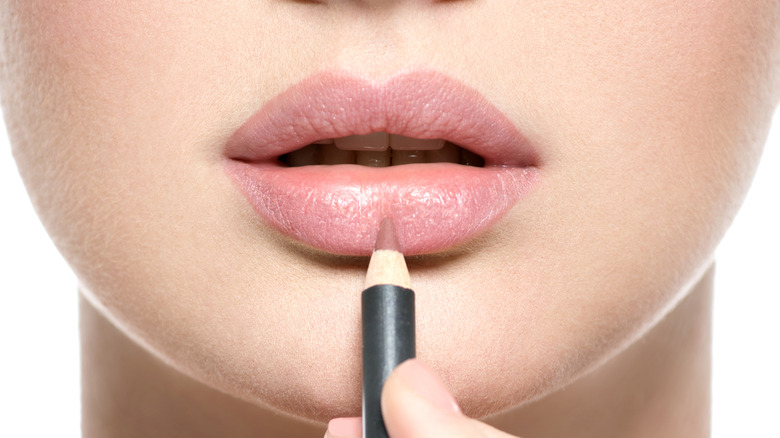 VALUA VITALY/Shutterstock
A key part of this viral lip trend is finding a lip liner that matches your natural lips. That way, the end result looks natural and not like you just put lip products on to hit the gym (even though you did). While there are a few TikTok hacks that will help you select the perfect lip color, a hack shared by Victoria Lyn in her gym lip video will help you find the perfect natural lip color specifically for this trend. All you have to do is look inside your mouth.
"Did you know that your perfect nude is the color of the inside of your lip?" she said in the video. "I know that's so weird, but it's actually true." This statement is backed up by several makeup artists, including Jenny Patinkin, who told Mind Body Green, "There's a ton of blood flow inside the mouth, and it's easy to see the contrast between your lips and what's next to them." You can even opt for a color that's one shade darker than the inside of your lip if you feel like it's too light (per MasterClass). If all else fails, a good trial-and-error situation may be your best bet, so get to swatching all the nude lip liners in your collection to see which one is your perfect match. Try this trend out, and we're sure your lips will be the center of your next gorgeous gym selfie.