How To Pull Off A Nude Lip Color
Rosdiana Ciaravolo/Getty Images
Lip color can make or break a look. If it's overly bright, it can leave you looking too made-up. In fact, one of the biggest mistakes people make with smokey eye looks is applying an equally dramatic and bold lip color — it's just overkill. On the other hand, a color that is too light can leave you looking pale or even sick, and a hue that clashes with your skin tone can be unflattering.
When a nude lip works the way it should, the overall effect is amazing. It looks both classy and timeless, yet very natural. As Nick Barose, a celebrity makeup artist, told Allure, "The perfect nude makes your face look fresh and youthful, but a lot of people pick something too light, too opaque, or too beige." While some say there's a secret hack to get perfect nude lips every time, following a few tried and true strategies can help you pull off this look with relative ease.
Prep your lips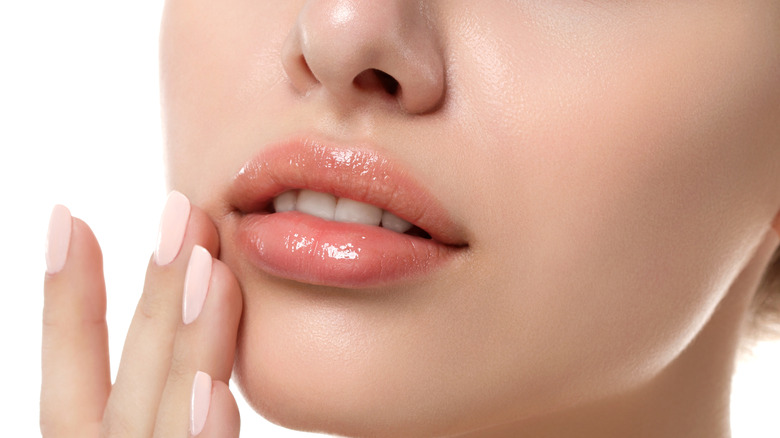 ldutko/Shutterstock
Before you do anything, you've got to prep your lips. There's a reason why you should exfoliate your lips before applying lipstick in any hue (via Healthline). You can have the perfect lip shade but if you place it on dry, flaky lips, it'll never look as good as it should. So, exfoliate your lips and then moisturize with a lip balm before applying color. Then, it's time to find a shade that fits you best.
Using lip liner can help give a flawless yet defined look. Celebrity makeup artist Alexandria Gilleo tells mindbodygreen, "I always like to line my client's lips with a pencil that's about two shades darker than whatever their skin color is." However, you don't want the liner to be super noticeable. It should form a distinct border without highly contrasting the nude color of the lipstick. Lip liner can also beef up thin lips. As Gilleo explained to the outlet, "It's fun to even overline their lips a little bit, just to give them that nice, full pout look."
Pick the right shade and choose the right finish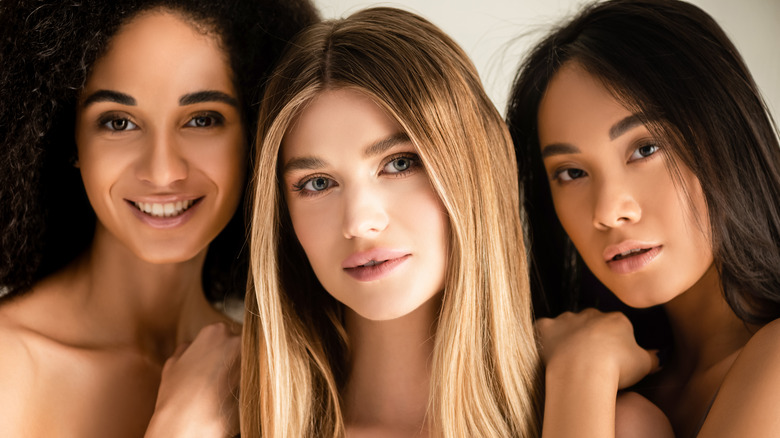 LightField Studios/Shutterstock
Like foundation and concealer, the key to a nude lipstick looking perfect is to identify the right shade for your skin (via Allure). For those with fair skin, pink hues work best. Medium skin tones should opt for beiges and light browns. The best nude lipsticks for dark skin include deeper caramels and cocoas.
If you don't know quite where you fall according to shade, an easier way to gauge what you should pick is to guess what your skin color would look like slightly darker. Celebrity makeup artist Min Min Ma tells Insider, "I like to use two to three shades darker than your own skin tone. This way you don't look sick."
Finally, choose between a matte or glossy finish. Mattes tend to be drying (via Byrdie), however, you can look for mattes that contain moisturizing agents like vitamin E and avocado oil to combat this issue. If you're looking for a little shine or just don't like the matte look, a glossy nude will do the trick.