Where You Can Buy The Jewelry Meghan Markle Styled For Her Variety Photoshoot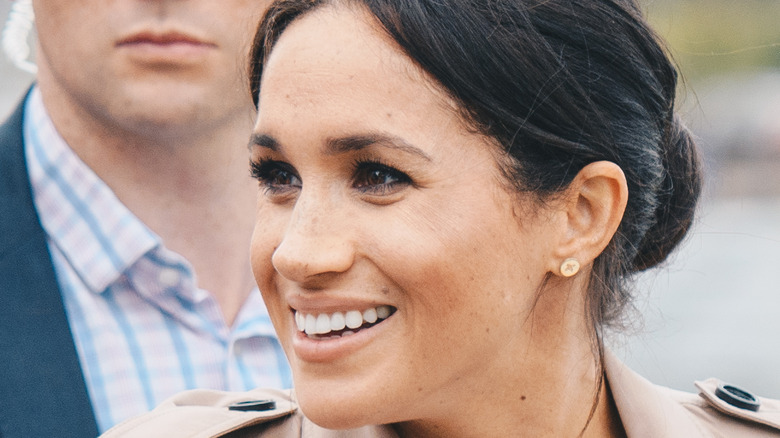 Shaun Jeffers/Shutterstock
In her first interview following Queen Elizabeth II's death, Meghan Markle, Duchess of Sussex, recalled the "nice warmth" the monarch gave as she got to know her. "I feel deep gratitude to have been able to spend time with her," she told Variety magazine. "It's been a complicated time, but my husband, ever the optimist, said, 'Now she's reunited with her husband.'"
Markle spoke with the press a month before the queen's death in a feature for New York Magazine's The Cut. Speaking about her life back in California, she criticized the rules of the royal institution and its relationship with the British media when it came to sharing photos of her children. In her interview with Variety, however, Markle is much more candid about how people view her and their misconceptions. "I think what happens, looking in from the outside, when there is much noise, is that you become dehumanized," she explained. "But if you remember that someone is a human being, then you don't treat them, talk about them, look at them the same way."
Speaking of looks, Markle was styled in four gorgeous outfits for her cover interview with Variety, featuring a variety of minimalist, statement jewelry — and here's where you can buy them.
Meghan Markle's jewelry collection includes minimalistic staples
For each look, Meghan Markle, Duchess of Sussex, is wearing items from designers Khiry, Jennifer Fisher, Mondo Mondo, and Grace Lee (via Variety). On the cover, Markle's necklace is the Jamma choker in gold plated brass, which retails at $350 on Jennifer Fisher's website. The duchess pairs a green Galvan dress with Mondo Mondo's Gold Jelly Earrings, which cost $325 (via SSense), and another pair of earrings by the designer — the Gold Cosmopolitan Hoop earrings for $325 — in the video interview with Khiry's $608 gold vermeil stack ring, according to What Meghan Wore.
Markle's Max Mara jumpsuit look is complemented by jewelry from Jennifer Fisher once again, including the gold $995 Globe cuff and the Khiry Orb ring with Brown Tiger eye for $465. What Meghan Wore lists this as the Khiry Orb ring with Black Onyx — both are a similar design with gold vermeil, but this one is now "in archive," according to the Khiry site. For Markle's last look in Jason Wu's Warp-Print midi dress, she's wearing the same rings by Khiry.
Meghan and Prince Harry now work from home to spend time with their children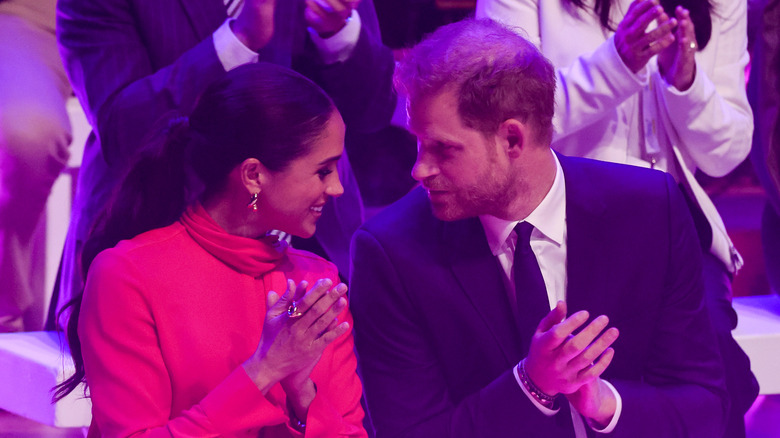 Chris Jackson/Getty Images
Aside from her effortless wardrobe, Meghan Markle uses the opportunity with Variety to talk about her close-knit family. She and Prince Harry, Duke of Sussex, now work from home following the pandemic to focus on raising their children, Archie Harrison and Lilibet Diana. "It allows us to have significant time with our kids at this really special moment in their lives," Markle explained. "We'll never get this time back."
When asked about her children's future, Markle acknowledged that while "they're our kids," their connection to the British monarchy leaves an unmistakable impression on them. "They're part of a legacy and a tradition and a family that will have other expectations," she said. "But I want them to be able to carve their own path." As of now, Archie and Lilibet don't have royal titles despite having a right to, as their grandfather King Charles III is now the reigning monarch of the United Kingdom (via Elle). A decision has yet to be formally announced, but according to Express, it's not looking likely.