The Eyeshadow Primer Hack That Provides Coverage And A Perfect Base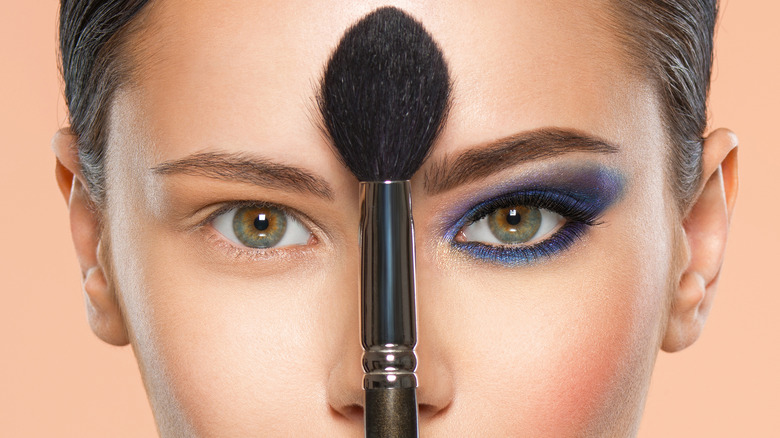 VALUA VITALY/Shutterstock
Are you searching for a perfect eyeshadow primer that not only helps your shadow stick but also provides coverage and works for your skin tone? Perhaps you have an issue with your eyeshadow, finding that it's creasing, looking patchy, or sliding off throughout the day — and you also want to keep coverage around the eye area to cancel out any redness or discoloration.
For those who seek a silky-smooth eyeshadow base, you have probably used concealer instead of primer. Many beauty influencers rave about the method, and even Maybelline New York insists that it works just the same. We hate to be the bearer of bad news, but that's not entirely true. According to Byrdie, concealer alone doesn't perform the same way an eyeshadow primer does. Sure, it provides a good enough base, but it can mute even the most vibrant hue and occasionally even change the color completely.
A proper eyeshadow primer is essential in getting the maximum look and wear of any shadow pigment. They are explicitly designed to prevent the natural oils on our eyelids from causing uneven, drab eyeshadow. You could scour the web for a single product that has great coverage, lasting power, and works for your skin tone. Or, you can dig into your makeup bag for a few things you likely already have to create the perfect eyeshadow primer that provides coverage and a perfect base.
Mix your eyeshadow primer and concealer together
You read that right. Though great for canceling out redness, most concealers do not make great eyeshadow primers on their own. According to makeup guru and YouTube creator Robert Walsh, under-eye skin and eyelid skin are not one and the same (via Cosmopolitan). Therefore, applying concealer alone to the eyelid and expecting it to perform in a way it was not designed is not practical. But, what if you like the coverage it provides? YouTube creator Johnny Ross recommends mixing your eyeshadow primer and favorite concealer together to provide an excellent base that allows the shadow to stay put all day and provides coverage.
In a 45-second YouTube Shorts video, Ross instructs viewers to blend their concealer and eyeshadow primer together to find their perfect match rather than looking for a single product that's the right shade. He goes on to say that achieving proper coverage without compromising the lasting power of the primer is an added bonus. He blends out the mixture on his eyelid with a makeup sponge, and the result with his eyeshadow application is a heavenly cut-crease masterpiece of blue and pink pigment.
Tips for applying eyeshadow primer like a pro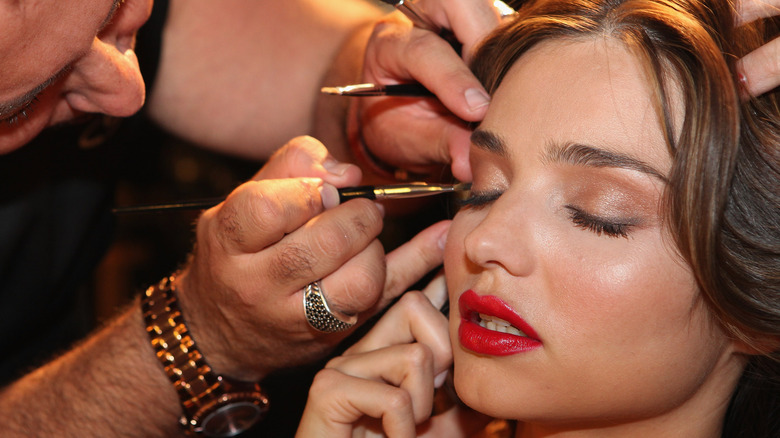 Handout/Getty Images
Luckily, mixing the two products together and applying them is a breeze. If you prefer to use your fingers to apply primer, wash your hands first to prevent cross-contamination of other makeup products you used earlier in your routine. You can also use a damp makeup sponge for a smooth application.
Apply a tiny amount — about the size of a pea — to the back of your hand and mix in some concealer. Tap it gently into the lid, ensuring you go all the way up to the brow bone. Eyeshadow primer isn't just for the lid, either! Apply it anywhere on the eye you would put shadow. This includes the bottom near the water line. No need to set your primer with a powder, as this can sometimes give a not-so-vibrant color payoff (per Bustle). Go straight in with your eyeshadow, and you'll definitely see a difference in the finished result.