Best Eyeshadow Primers In 2022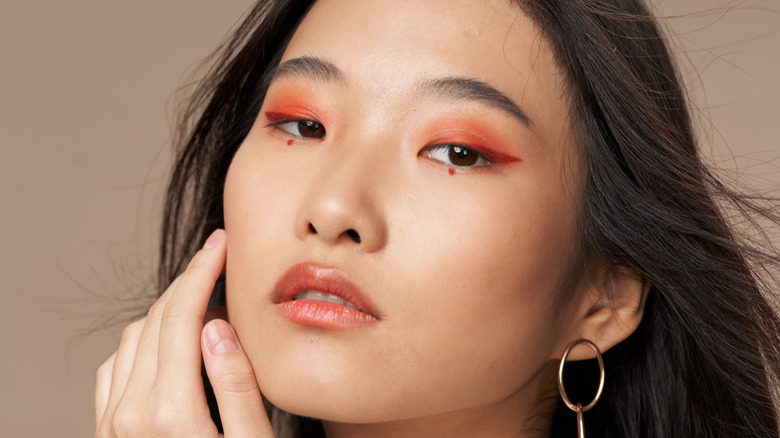 ShotPrime Studio/Shutterstock
We may receive a commission on purchases made from links.
When it comes to the trend cycle, eye makeup looks seem to be on rotation just as much as our outfits. We're wearing graphic liner and bold eye shadow pigments when "Euphoria" airs, but switching to soft pinks and dewy highlighters when "Bridgerton" comes on. We're switching between negative space shadows and glittery shadows every other day; however, for any of these looks to pop, we're going to need a dependable eyeshadow primer.
"It's good to set your eye shadow by starting with a primer. This helps to not only hold the shadow in place, but also preps the eyelid, getting rid of discoloration," makeup artist Desirae Cherman told Today. Using a primer on your eyelids can also absorb excess oil, reduce creasing, and create a canvas worthy of any makeup artist. So, pick up your brush, get your palette ready, and scroll for some of the best eyeshadow primers that money can buy.
How we selected products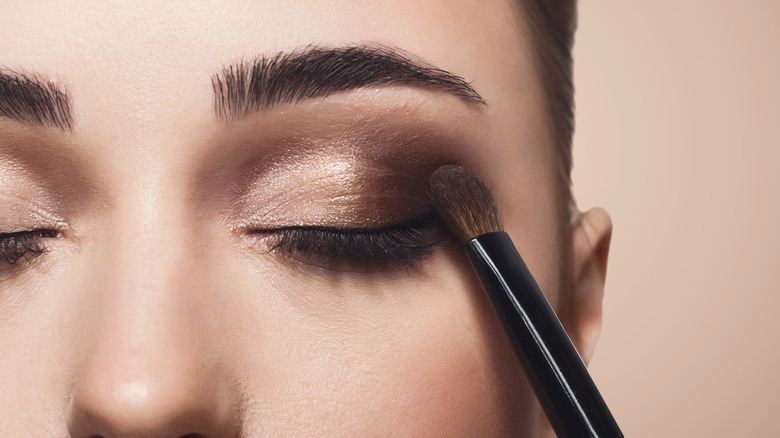 Prostock-studio/Shutterstock
You don't want to spend hours blending and lining shadow on your eyes, just for it to crease and fade off in an hour. Whether you're just starting out or experimenting with new eye makeup looks, you're going to need an eyeshadow primer. However, there are so many options on the market — whether they're in the drugstore aisles or in the vast universe that is the internet. We've ventured into this universe so you don't have to, and found potions and ingredients that are guaranteed to enhance every pigment in the color wheel.
You're going to find primers that work for all skin tones, clear and white ones, as well as primers that work for different skin types. They're also spoken of highly by everyone who's used them, in the review section of Sephora, Ulta, and Amazon. This list is additionally indiscriminate as it ranges in color, specialty, and price — there are amazing eyeshadow primers to be found in drugstores as well as high-end retailers. Browse through this comprehensive list to find the eyeshadow primer your eyelids deserve.
Best overall eyeshadow primer
Reaching cult status was easy for the Urban Decay Eyeshadow Primer Potion because the creamy nude primer didn't make any promises it couldn't keep. A drop of the formula doesn't just make your eyeshadow vibrant and crease-free — it also holds it in place for 24 hours, which means that only micellar water can disturb the staying power. As an added bonus, editors at Allure say that it "feels like cashmere on skin."
A reviewer on Amazon concurs, "I cannot live without this eyeshadow primer. I have very oily eyes, so it doesn't matter if I'm wearing shadow, liquid eyeliner, or a crayon eyeliner. Without it my liner/shadow [falls] off. I also use this primer as it sets my brow liner so well!" A Redditor also used the eyeshadow primer south of their eyelids: "I used UDPP [sic] for my nose today to help combat my super oily skin breaking my foundation up- AND IT WORKED BETTER THAN ANY FACE PRIMER I'VE TRIED!"
Get the Urban Decay Eyeshadow Primer Potion for $23 on Amazon.
Best budget eyeshadow primer
If you're looking to tighten the purse strings while expanding your makeup collection, e.l.f products are a necessity. E.l.f is known for its inexpensive makeup that doesn't compromise on quality. Its Shadow Lock Eyelid Primer is one such budget find that gives your eyelids a translucent finish and lasting staying power.
According to one customer, it powers through 10-hour restaurant shifts. "TODAY I WORKED A TEN HOUR SHIFT AND WHEN I GOT BACK HOME MY EYELINER STILL HAD NOT EVEN SMUDGED. It didn't bleed onto my upper eyelid, it didn't wear away at the corners of my eyes. I put it under my eyes and my mascara didn't melt." They continue to say, "10/10 this is the best product I've ever used." Another reviewer said that it lasted through dance practice. To sum up, this primer endures cardio like an athlete.
Get the e.l.f Shadow Lock Eyelid Primer on Amazon for $2.90.
Best drugstore eyeshadow primer
The next time you pick up a prescription, don't leave the drugstore without the CoverGirl Lid Lock Up Eyeshadow Primer. As one of the best-reviewed products from the brand, you know it's not going to disappoint. Aided by a handy applicator, the gel-based primer slides on easily and according to YouTuber Slashed Beauty, the "quick-drying formula ... doesn't make your lids look or feel dry." They additionally mentioned that the primer created a blurring effect on their lids, allowing for an even shadow application. The primer is also water resistant, so it's perfect for a date or interview you might sweat through.
One customer on Amazon raved, "Folks I just TOOK A NAP and my makeup was perfect when I woke up. Usually I'd look like a drowned cat if I slept with my eyes on." They affirmed: "JUST BUY IT NOW." Another also slept with their makeup on and said, "It looks impeccable the next day." While we don't advise bedtime glam, we think these reviews prove the product's immense durability.
Get the CoverGirl Lid Lock Up Eyeshadow Primer on Amazon for $8.54.
Best splurge-worthy eyeshadow primer
If you're a veteran artist or someone who wants to really invest in their eye makeup tools, you should consider the Hourglass Veil Eye Primer. Infused with skin-loving ingredients, this primer doubles up as skincare. The lightweight formula contains vitamins E and C as well as hydrating agents that leave your eyelids brightened, moisturized, and primed. It also reduces the appearance of creases and gives you a natural finish.
"I tried this and it doesn't crease at all! I was in the heat, worked out, and wore it for at least 12 hours. I have oily eyelids and am so glad I found this," a reviewer on Sephora said. While the $30 price tag may deter some, one customer said that they only finished their tube after five months of wearing "this five days a week for at least 12 hours a day and it's held up!"
Get the Hourglass Veil Eye Primer for $30 at Sephora.
Best eyeshadow primer for oily skin
When it comes to eye makeup, "Oil is your enemy, as is anything slippery on the lid," celebrity makeup artist Mary Irwin told Today. "I like to wipe the eye area down with micellar water before I start makeup to remove anything that could be on the face," she continued. However, if nothing stops your oily lids, you could try the 24-Hour Photo Finish Eyeshadow Primer from Smashbox.
The sheer formula keeps your shadow on for hours and is resistant to all four elements: creases, fading, sweat, and humidity. One customer on Ulta's website said, "I normally have greasy eyes and with this I can go to sleep and wake up with my make up intact! Shadow and liner last all day! Deserves so many more stars. Trust it ladies!" Another let potential buyers know that the product is their tried and true, saying that the primer helped their eyeshadow last "a full 16 hours." 
Get the Smashbox 24-Hour Photo Finish Eyeshadow Primer for $22 at Ulta.
Best eyeshadow primer for dry skin
While oil really is the enemy for eyeshadow, dry and flaky skin isn't a friend either. Benefit's Stay Don't Stray eyeshadow primer is made to prep your skin for pigment while deeply hydrating it. It contains sodium hyaluronate, a derivative of hyaluronic acid that can penetrate your epidermis and can attract moisture to your skin (via Healthline). It's also infused with vitamins E and C, so you could use it under your eyes to brighten the area and prep your skin for concealer.
One reviewer on Ulta's website said, "It has a creamy texture, dries fairly quickly and gives a nice, smooth canvas to apply my eyeshadow. No dry lines or flaking of dry skin." Another said, "As I am getting older I have more creases on my eyelids. This stops [my] eyeshadow from creasing. I love it!" The bottle also comes with a wand applicator, which makes it easier to use for spot concealing as well.
Get the Benefit Stay Don't Stray Eyeshadow Primer at Ulta for $26.
Best eyeshadow primer for all skin tones
If you're a fan of Rihanna's Fenty Beauty, you'll know that it's celebrated for its inclusive approach to beauty. The brand's eyeshadow primer uses an "invisipink formula [that] melts into all skin tones," setting a creaseless base for concealer and eyeshadow that stays true to its color — a win, win.
Reviewers are obsessed: "OMG I just can't this is the best eye primer I've used. It literally keeps my eyeshadow and eyeliner put all day long and there's only creasing at the end of the day even after taking a long hot bath," one said on their website. Another, who has self-described hooded and oily eyes, said that it's the first product they've used that doesn't lead to creases. "So incredibly glad I found this new holy grail product!" they raved.
Get the Fenty Beauty Pro Filt'r Amplifying Eye Primer for $22 at Fenty Beauty.
Best eyeshadow primer for bold colors
For your eye makeup to play the starring role, look to a white eyeshadow primer to set the stage. A white eyeshadow primer can really dial up the intensity of color in your palette, so it's best used for bold looks. The NYX Eyeshadow Primer is definitely one of the best known white primers, with 13,000 ratings on Amazon giving it a 4.3 out of 5 stars.
Encased in a little pot, the creamy primer can be dabbed onto your eyelids with a brush or finger to create a uniform canvas for your eyeshadow. "I've tried many [an] eye shadow bases and primers to get bright colors to pop. Nothing has worked for me as good as this NYX white base," a reviewer on Amazon said. The primer pot also comes in a black variation to enhance deeper hues in your shadow, making it a must for any face artist. Like one reviewer said, "You want your face to be a rainbow? You know you do!"
Get the NYX Primer Pot on Amazon for $5.99.
Best long-lasting eyeshadow primer
Too Faced has been giving eyeshadow insurance for almost a decade now; their Shadow Insurance primer has become a cult favorite because of its weightless formula, ease in application, and stubborn staying power. Its formula claims to protect against blue light damage while giving your shadow a smooth resting place for more than 24 hours. The primer is waterproof, so you have insurance for a rainy day, too.
"It just glides on the eyelid very nicely ... this looked almost as good at the end of the day as it did at the beginning of the day," YouTuber HotandFlashy said of the primer's durability. Reviewers on Amazon agree, with one longtime user saying, "This is the only stuff that makes my eyeshadow last for hours!" Another, on their website, said, "My favorite primer thus far. When I use this, my eyeshadow doesn't crease and it stays on all night!"
Get the Too Faced Shadow Insurance on Amazon for $19.75.
Best rated eyeshadow primer on Amazon
While most of the primers on this list have great ratings on Amazon, this Elizabeth Mott eyeshadow primer comes up as the No.1 best selling primer on the website. It's easy to see why; the brand concocted a formula that can color correct, brighten and balance skin tone, all the while enhancing eyeshadow pigment. It's also waterproof and has a transparent finish that makes it work for any skin tone.
Over 28,000 customers gave the eyeshadow primer a 4.4 out of 5 stars on the website, which is not a feat fit for any ordinary primer. A reviewer detailed their experience with it, writing, "This is the best eyeshadow primer I have ever purchased ... little goes a long way with this primer. It lasts all day, and I have even gone to work a few times still wearing 'last night's makeup' because it holds so well."
Get the Elizabeth Mott Thank Me Later Eyeshadow Primer on Amazon for $13.