The Makeup Hack That Will Make It So You Don't Need To Use Concealer On Your T-Zone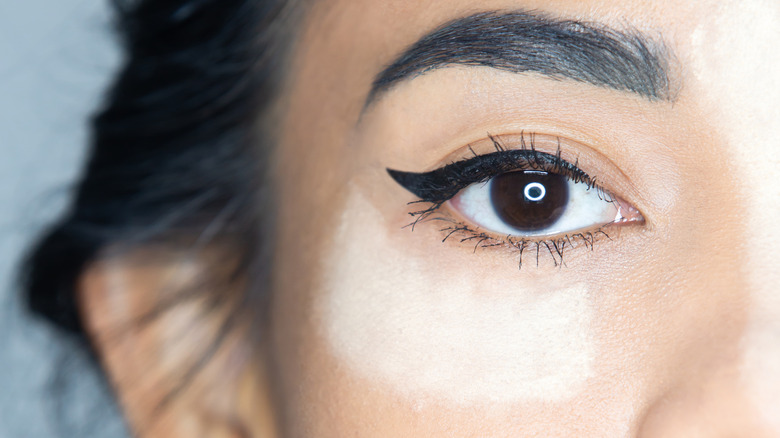 Tiwiplusk/Shutterstock
When highlighting and brightening the face, you know the drill: Apply concealer on the T-zone under the eyes, on the chin, and center of the forehead. This technique adds dimension by bringing those parts of the face to the forefront (via City Beauty). A specific approach to this highlighting routine that many makeup wearers follow is applying the concealer in an upside-down triangle under the eye. According to Cosmopolitan, this shape makes the center of the face appear more luminous and even-toned.
Usually applied on top of foundation and set in place with a powder, the result can sometimes look a bit overdone and cakey, especially since most concealers have a thick consistency designed for extra coverage. While many love the look a lighter concealer gives to the center of the face, it can be a bit too heavy on the T-zone, especially if you don't want thick coverage in that area. Luckily, there's an easy makeup hack that will make it so you don't have to use that heavy concealer at all.
Reach for a lighter shade of foundation instead
Replace that thick concealer with a foundation two shades lighter than your skin tone. Beauty creator Johnny Ross shared this hack in a YouTube Shorts video, suggesting that makeup lovers use a light foundation to highlight instead. He applies the foundation in the exact same spot concealer would typically go, blending it out with a beauty sponge. Not only will using this method ensure your skin doesn't react since you're using a familiar product, but it also results in a much more natural look.
And yes, you can even do the same with contouring! Vogue recommends using a foundation that's deeper than your natural skin color to achieve a more natural-looking bronzed contour. This soft sculpting method will give you a "your skin but better" result. As celebrity makeup artist Mai Quynh told Vogue, "I find that using a darker foundation color mimics real skin and looks more natural."
How to make your makeup look less cakey if you need to use concealer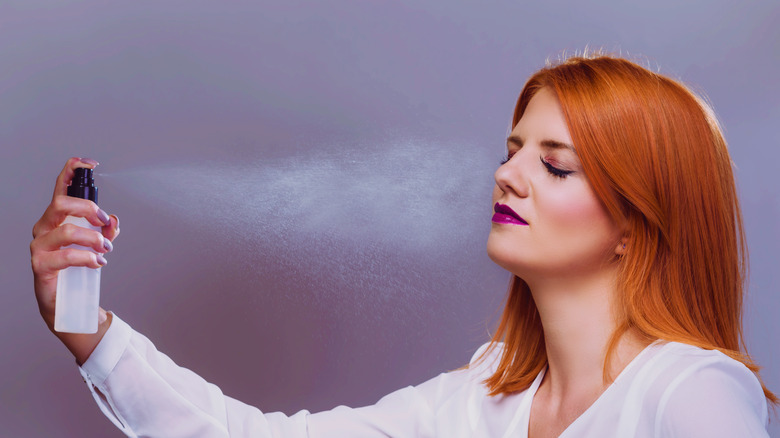 Lordn/Shutterstock
For those who want that extra coverage and prefer not to trade in their concealer for foundation, there are ways to minimize the thick, cakey makeup look. Using less product is a major first step toward a more natural-looking full coverage finish. Sometimes, it's not about how many different makeup products you apply to your face, but the amount (via Cosmopolitan). For those who tend to skip the pre-foundation face prep, like using a moisturizer and primer, you may want to start doing that. This will give a smooth, hydrated base for the makeup to sit on top of (per Byrdie).
If you just finished applying your makeup and realize it looks way too cakey, spritz your face with a hydrating and dewy setting spray. This will dissolve all the products into your skin, giving a fuss-free finish (per Cosmopolitan). If you don't have a setting spray on hand, a tiny bit of face oil or elixir applied with a wet beauty blender works too. If all else fails, don't be afraid to rock that full-coverage look. Practice makes perfect!