Makeup Setting Sprays To Keep Your Dry Skin Looking Dewy
Shutterstock
We may receive a commission on purchases made from links.
The truth is that a good makeup setting spray is essential for ensuring that your makeup stays in place. As per Byrdie, sometimes "makeup touch-ups" just aren't enough, and that's where a makeup setting spray comes in. A good setting spray can be a total game changer.
The great thing about makeup setting sprays is that there are so many options to choose from — from sprays designed for longer lasting hold to sprays made with certain skin types in mind — which means that there's sure to be a spray that's designed to meet your skin's specific requirements. If there's one skin type that can be difficult to find the right setting spray for, it's dry skin. The truth is that for dry skin types, matte setting sprays just don't work. You need a spray that's going to leave your skin looking dewy and fresh.
Elite Daily explained that, "The best dewy setting sprays lock your makeup in place for hours while simultaneously refreshing your skin." Compared to mattifying sprays, dewy setting sprays leave skin with a "luminous, hydrated effect, rather than a flat or powdery one." So if you have dry skin, what setting spray is for you? 
Opt for these setting sprays if you have dry skin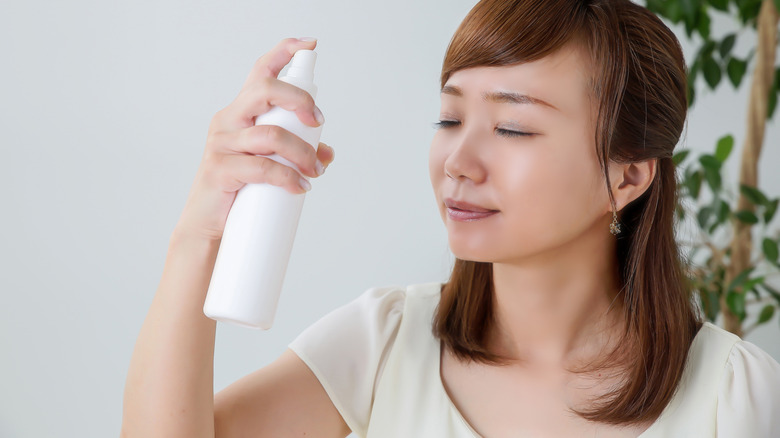 Shutterstock
If you are one of our dry skin girlies who can't find a setting spray for your life, don't worry, we've got you covered. As noted by Bustle, you want to look for setting sprays that have the descriptors "dewy," "moisturizing," and "luminous" — these will lead you to your best bet. 
First up, try the Urban Decay Cooling Makeup Setting Spray, as it has "a cooling sensation" and is ideal for "hurting skin." If you're looking for another option, go for the NYX Makeup Setting Spray, as it has a dewy finish and is another fantastic makeup setting product to try.
Bustle also recommended e.l.f Studio Makeup Mist & Set, which is an alcohol-free spray that's "infused with aloe, green tea, cucumber, and vitamins A, C and E," making it ideal for daily use, and it's super affordable. Elite Daily recommended Wet n Wild 3-in-1 Primer Water which has a water-based formula and comes in three different scents — coconut, rose, and cucumber.
If you're a designer makeup fan, Anastasia Beverly Hills Dewy Set Setting Spray is also dubbed a great option for dry skin, plus its mild vanilla and coconut scent means it makes your skin smell like a dream.