The Controversial History Behind Princess Diana's Engagement Ring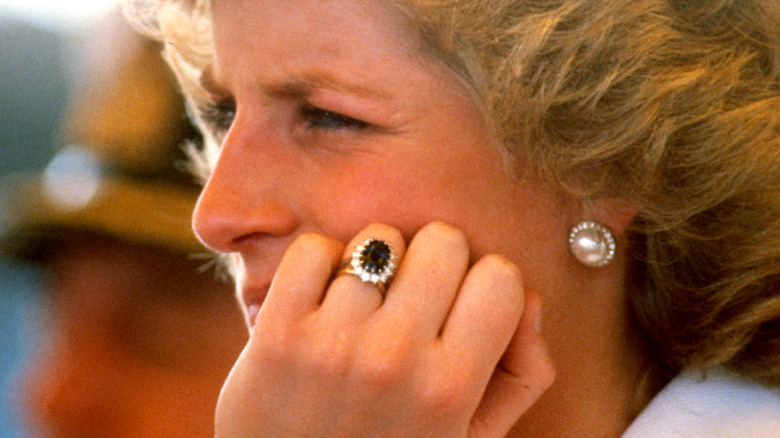 Anwar Hussein/Getty Images
Princess Diana's engagement ring, which is now worn by the new Princess of Wales, Kate Middleton, is among the most coveted baubles in the world. The piece of jewelry, which was valued at a jaw-dropping $440,000-plus when Diana wore it, consists of a 12-carat oval-cut blue sapphire encircled by round diamonds and set in white gold (via Hello! and The Knot).
The first wife of King Charles reportedly chose the storied ring herself from among a collection of jewels any one of us would love to get our hands on. Incidentally, how the widely-copied ring was chosen was the beginning of a kerfuffle surrounding the iconic piece.
First, lest you think that the bauble was an odd pick in and of itself, consider that royal engagement rings throughout history have not always featured traditional designs. According to Bustle, the Queen Mother's engagement ring was also a sapphire with diamonds. Meanwhile, Princess Anne went with a sapphire ring for both of her engagements. To be fair, Queen Elizabeth II would don a diamond and platinum engagement ring, which is more reflective of what modern brides-to-be have often desired.
But, it was hardly the sapphire center stone of Diana's ring that was controversial.
Princess Diana's ring broke custom because it wasn't custom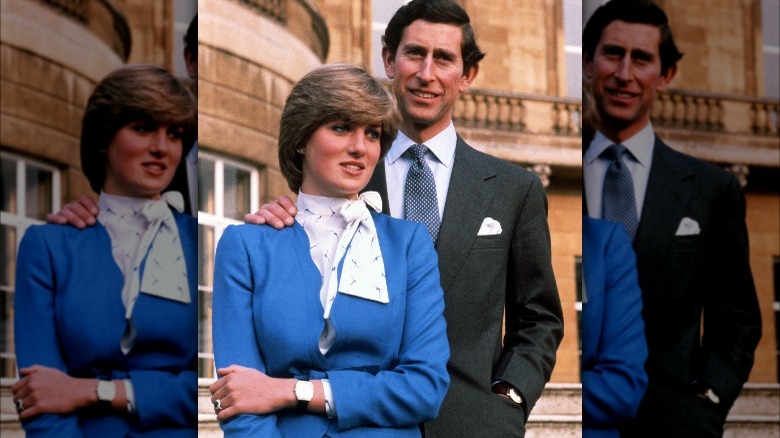 Anwar Hussein/Getty Images
Queen Elizabeth II's engagement ring was as unique as a monarch would expect. Bustle states that the long-reigning sovereign sported a diamond from the last Romanov Imperial couple. As such, it's not as though just anyone could copy the ring. Not so with Princess Diana's engagement ring. As Brides reports, the piece she selected from the crown jeweler Garrard was part of a catalog and anyone could have selected the now-world famous ring, a fact that didn't impress Diana's new royal in-laws, who all sported custom rings of their own.
Nevertheless, the jeweler would declare that the piece showed what "exquisite taste" the late Princess of Wales had. And just why the late Princess of Wales went with that particular design was likely for sentimental reasons, with The U.K. Sun reporting her mother had a similar ring. It's also been widely reported that the ring's design was inspired by a brooch Queen Victoria wore on her wedding day as her "something blue."
No matter the exact reason Diana decided the sapphire stunner was for her, there's another eyebrow-raising fact about the ring people are still talking about to this day.
Princess Diana just couldn't let go of her engagement ring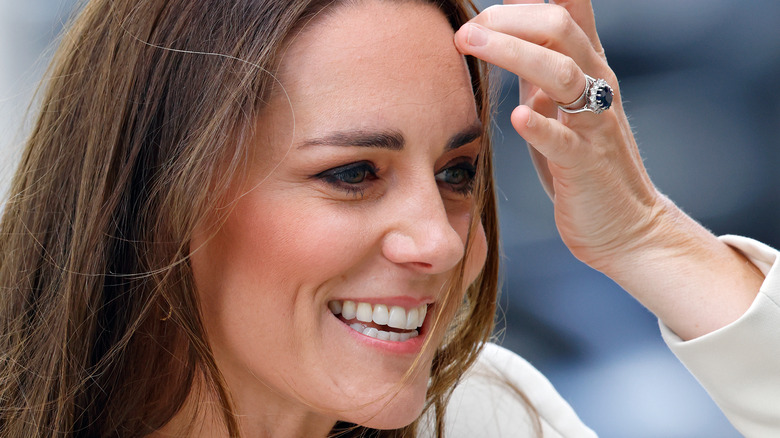 Max Mumby/indigo/Getty Images
Princess Diana said "I do" to Prince Charles on July 29, 1981. By August of 1996 the couple was divorced, having separated in 1992 (via History and Marie Claire). Despite no longer being with the Prince of Wales, guess what piece of jewelry the mom of two continued to wear for years following their estrangement? If you guessed it was her sapphire and diamond engagement ring, you'd be right.
Apparently, wearing the piece, along with her wedding ring, was a gesture of respect for her sons, Prince William and Prince Harry (via Daily Mail). Of course, whether to wear an engagement or wedding ring post-divorce is a matter of personal preference ultimately, as pointed out by Today.
In the case of Diana's famed ring, it has gone on to enjoy a completely new life of its own and is now worn by her daughter-in-law and the new Princess of Wales. Kate Middleton has reportedly taken the honor of wearing the iconic bauble so seriously, she had the band altered for a better fit and to make sure it doesn't slip off, an accident that would amount to her worst fear (via Marie Claire).