70% Of People Think This Is The Best Royal Engagement Ring - The List Survey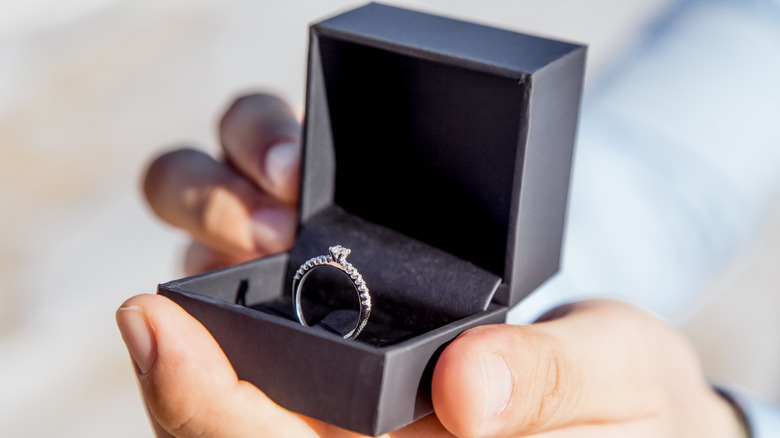 Irina Montero/Shutterstock
Who doesn't love a good wedding? From the lavish wedding weekend trend to intimate microweddings, a celebration of love is always a good time.
But of all the types of weddings out there, our favorite by far is a royal one. Watching a royal wedding is the closest thing most of us will get to being a real-life princess, so we soak up every detail of the process – especially the engagement rings. If you're stunned by the average cost of an engagement ring in the U.S., the value of a royal engagement ring might make you dizzy. Still, we love to admire the beauty and sentiment that comes from the jewels that have been passed down through generations of royals.
To find out which royal family rock is really the fan favorite, The List conducted a survey on YouTube that asked, "Which royal engagement ring is your favorite?" Over 80,000 people voted, and the winner is as clear as the diamond around her finger!
This iconic engagement ring has a storied past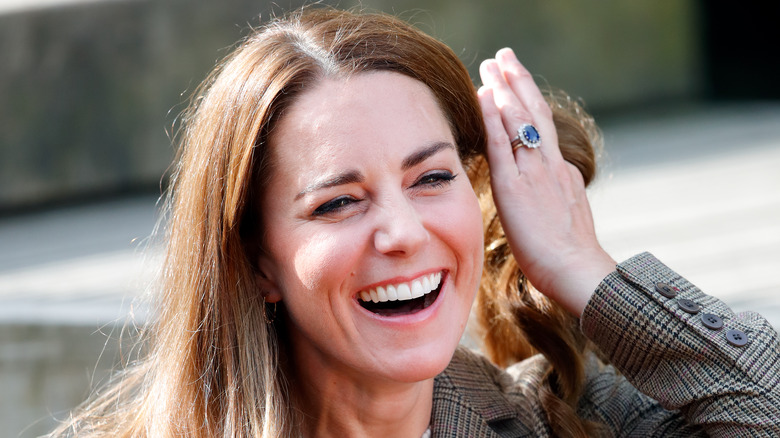 Max Mumby/indigo/Getty Images
According to The List's survey, an overwhelming majority voted for Kate Middleton's sapphire ring as their favorite royal engagement ring. 70% of voters favor the Princess of Wales' beautiful ring, a family heirloom that once belonged to her mother-in-law, Princess Diana. According to Vogue, the ring was inspired by a sapphire brooch that was worn by Queen Victoria in 1840 and was passed down to Queen Elizabeth II. King Charles III proposed to Princess Diana with a ring that was modeled after the sapphire brooch that captivated everyone with its unique beauty — sapphires are a huge hit with the royal family.
Kate Middleton almost didn't get Princess Diana's iconic engagement ring, because it was initially given to Prince Harry after his mother's death. But when William was ready to propose to his soon-to-be wife, Harry generously gifted the ring to his brother (per Marie Claire). One commenter on The List's YouTube survey said it perfectly, "All of them are beautiful in their own unique ways, but Katherine's sapphire ring is, hands down, my favorite. It was Diana's and seeing it on Katherine just has this sentimental, touching and loving feeling to it. And it looks good on her too."
In second place with 15% of the vote was Queen Elizabeth II's diamond ring. Brides reported that her three-carat diamond was "sourced from a tiara that once belonged to Prince Philip's mother." How romantic!
These fan-favorite royal rings really sparkle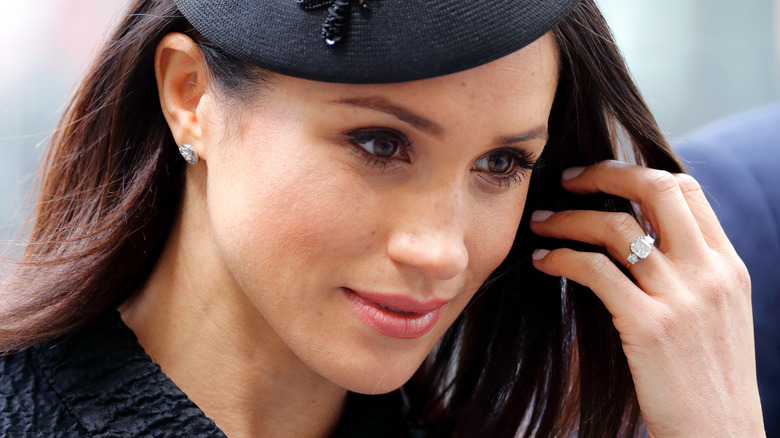 Max Mumby/indigo/Getty Images
Meghan Markle's stunning engagement ring received 10% of the vote. In an interview with BBC, the couple gushes over the beautiful ring that Prince Harry, Duke of Sussex, thoughtfully designed. The ring features a yellow gold band with a center diamond that was made in Botswana, a sentimental place for the Sussexes. Even without his mother's engagement ring, Harry still found a way of honoring Princess Diana by incorporating smaller diamonds from her jewel collection into the new ring for his duchess (via Brides).
2% of voters love the ruby red engagement ring that Prince Andrew used to propose to Sarah Ferguson, Duchess of York. The couple was together for ten years, but Ferguson was seen wearing it nearly eleven years after their separation, Hello! reported. We can't blame her, it's stunning!
Camilla Parker Bowles' square diamond ring also received 2% of the vote. One voter called the art deco-inspired ring "very underrated." The second wife of King Charles III wears a five-carat emerald-cut diamond around her ring finger as the new Queen Consort. According to Town & Country, the ring may have once belonged to Charles's grandmother.
From family heirlooms to sparkling new bling, the royal family really knows their jewels.