Sustainable Fashion Fave Reformation Is Branching Out With Its Newest Collab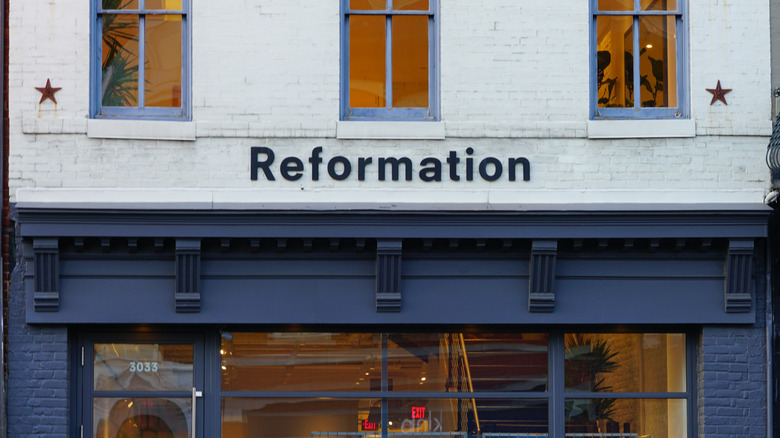 EQRoy/Shutterstock
Though Reformation clothing is expensive, the brand's cool girl look remains ever popular. Its the go-to of every off-duty model, with Kendall Jenner spotted rocking Reformation jeans and Hailey Bieber posting pics in one of the brand's signature strappy dresses (via Vogue). It's obvious that Reformation has both star power and sustainability to its name, a key combination for consumers who are becoming more aware of the impact of fast fashion and the waste it produces. 
As Reformation boldly states on its website, "Being naked is the #1 most sustainable option. We're #2." Reformation's Chief Sustainability Officer and VP Operations, Kathleen Talbot, told Forbes in February 2021, "We've been carbon, waste and water neutral since 2015 — but we realize neutral isn't good enough. In December, we announced that we'll be climate positive by 2025." In the meantime, it currently has a rating of "Good" by sustainability and ethics rating website Good on You, only one off from the highest possible score.
Reformation has previously collaborated with fashion resale website Net-A-Porter (via Vogue) as well as popular sportswear brand New Balance (via Refinery29), but the brand's latest partner marks a departure from their usual clothing collabs.
Both brands have combined their aesthetics together to create a completely unique product
The brand's latest collaboration may feel somewhat unexpected, but we're so here for it. In their first-ever beauty collab, Reformation has partnered up with Saie Beauty to release the High Glow Liquid Highlighter (via Refinery29). The rose gold shade is aptly named "Ref Rose", and, according to Saie, "gives you an effortless, sustainable glow on the face, cheek, or eyes." 
Saie is a clean makeup brand, making it the perfect brand for Reformation to collab with. According to Byrdie, Saie was launched in 2019 and has since become the cool new kid on the beauty block. In reference to its "Ref Rose" highlighter, the brand stated, "High Glow is inspired by Saie's cult favorite Dew Blush and Glowy Super Gel. Combined with the moisturizing gel-cream texture of Dew Blush and lightweight, illuminating properties of Glowy Super Gel, the product's formula is truly luscious and one-of-a-kind."
They also matched the rosy pink shade to Reformation's holiday collection, which features plenty of shimmering silk tops and vintage-inspired pieces. Whatever your plans, this highlighter will have you glowing all night long and is the perfect companion for the upcoming holiday season.