If You Love Virgin River, Here Is The Book You Should Read
There is much to be said for sitting down after an exceptionally tiring week and unwinding with a TV series that feels like a warm hug. Created by Sue Tenney and based on the Robyn Carr novels, the Netflix show "Virgin River" does just that. 
The complicated and also triumphant relationships that come with starting over are explored in a gentle way in this show. Perhaps that's why "Virgin River" has managed to do something quite unique: It found its way to the No. 1 spot on Netflix's top 10 shows list after losing it, according to Forbes. The storyline mainly follows the life of Melinda Monroe, or Mel for short, played by Alexandra Breckenridge. After her husband dies in a car crash, she leaves her difficult past in the city behind and moves to a remote yet gorgeous town in California known as Virgin River (via Collider). There's something about starting a new life in a completely different place that's both nerve-wracking and inspiring, and this is exactly what's explored in the show. 
If you enjoy the intense drama and heartwarming emotion of "Virgin River," you're sure to love reading this book.
Beachside Beginnings by Sheila Roberts is a book you'll love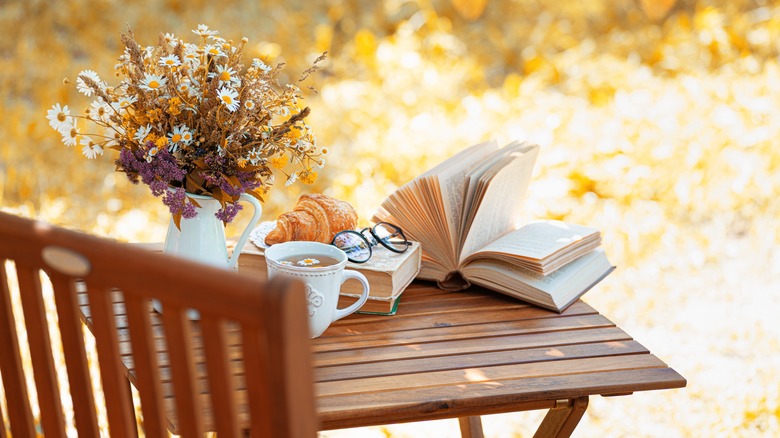 LanaSweet/Shutterstock
Author Sheila Roberts, whose books have been turned into movies for the Hallmark Channel and Lifetime, combines a perfect blend of romance and starting over in her novel "Beachside Beginnings" (via Goodreads). Stylist Moira Wellman escapes five years of an abusive relationship with her boyfriend, Lang, and moves to the town of Moonlight Harbor with the hope of starting over. This beachside community becomes the setting for Moira's new job, her budding romance with an attractive officer, and new friendships. 
Much like with "Virgin River," the theme of the book revolves around the thrill of beginning a new life within a small community, per Reader's Digest. 
Both Mel and Moira are eager for a second chance at life, and their new homes offer more than just beautiful scenery. They become safe havens in which the two women bravely chart out the next phase of their lives, aided by new relationships. 
Both Sue Tenney and Sheila Roberts loved picking the landscape and building the characters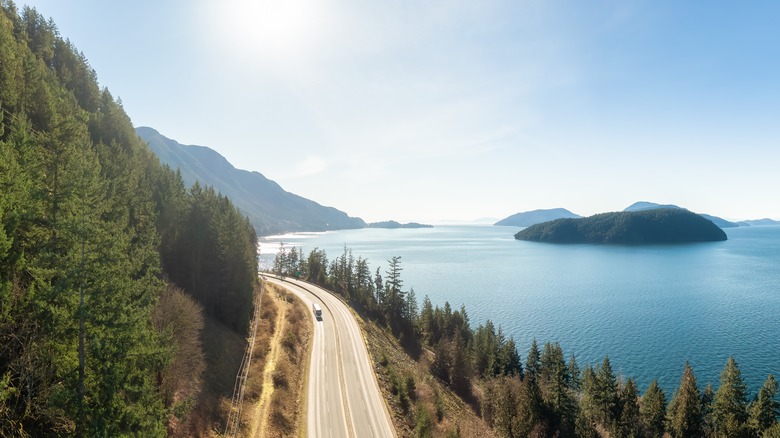 EB Adventure Photography/Shutterstock
Both "Virgin River" and "Beachside Beginnings" have stunning landscapes as their backdrop — beautiful beaches, sprawling mountains, and winding rivers. 
The real place where "Virgin River" was filmed was in Canada, with shooting taking place in Vancouver and other locales in British Columbia. Creator Sue Tenney told Creative Screenwriting that the crew gets together at the start of every season to brainstorm spots of natural beauty where the show might film. Tenney says they try to up the ante to highlight more of the gorgeous scenery the country has to offer every year. But, it doesn't stop there. Tenney is also drawn to the realness of the characters she creates. 
For the author of "Beachside Beginnings," Sheila Roberts, the setting for the book added value in every sense — golden sunsets, the sun, the sand, and the sea. (For this reason, it might make a perfect addition to your list of best beach reads for summer.) And, like Tenney, she also enjoyed filling the community she created with interesting and raw characters. "When we're hurting, we all need people to come alongside us and help us heal. Good friends make good medicine," she told Frolic Media.