The Most Popular Quote From The Fault In Our Stars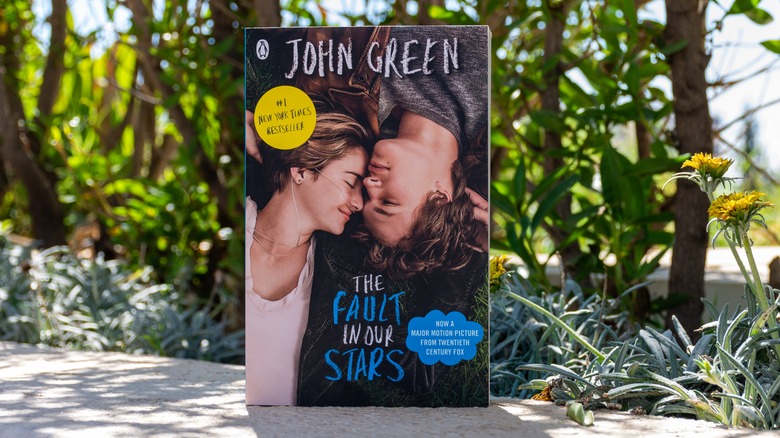 hamdi bendali/Shutterstock
Those with a taste for heart-wrenching films and for books filled with scenes that make you cry and wonder why life can be so cruel probably enjoy the novel-turned-movie "The Fault in Our Stars." Written by best-selling author John Green, "The Fault in Our Stars" shares the journey of 16-year-old lung cancer patient Hazel Grace Lancaster and her unexpected love story with osteosarcoma (bone cancer) survivor Augustus Waters. The ending packs a teary-eyed punch, with several memorable quotes sprinkled throughout.
There is no shortage of book and movie lines circling the web, courtesy of social media users who can't help but share the heart-warming (and sometimes gut-wrenching) quotes that resonate with them. And when it comes to "The Fault in Our Stars," this is especially true. While the novel is packed full of lines that trigger several different emotions, and many of them are recited in the film, there is one line, in particular, that is the most popular among fans.
Grab a tissue
Fate had plans in store for Hazel Grace after she was forced to attend a cancer support group. There, she met the charming and witty Augustus, who was seemingly and magnetically pulled toward her. Both book lovers, they agree to read each other's favorite novels, which becomes the premise of the entire plot when Augustus utilizes his previously unused "make a wish" to get Hazel to Amsterdam to meet her favorite author (via IMDb). On the plane ride there, Augustus reads her favorite book, "An Imperial Affliction," and she watches him.
This scene prompted one of the most memorable and most quoted lines in the book, according to Insider: "As he read, I fell in love the way you fall asleep: slowly, and then all at once."
This line let everyone know that although she had slowly been falling in love with Augustus, at that very moment, she knew she was his. One search of #SlowlyThenAllAtOnce on Instagram reveals dozens of posts, with the famous quote even printed on shirts and bracelets. Collecting over 46,000 likes on Goodreads and printed over several aesthetically pleasing graphics online, it's safe to say the quote is definitely a fan favorite.
John Green's inspiration behind the quote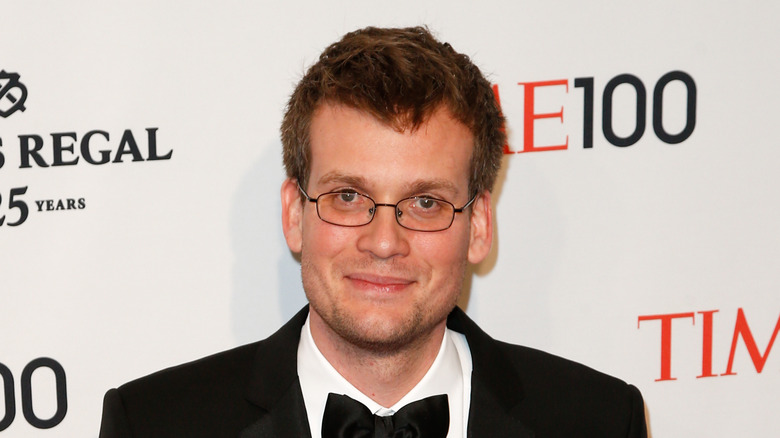 Debby Wong/Shutterstock
Turns out, the famous quote shared from "The Fault in Our Stars" may have had some inspiration behind its creation. In May 2014, author John Green took to Reddit to host an "Ask Me Anything" Q+A session, which he typically is known to do during book releases (via Time). One commenter asked about the popular quote, writing, "The line about falling in love is like falling asleep... 'Slowly, then all at once.' Why do I feel like I've heard it before...? More importantly, what inspired it? It's a great line."
Green responded to this question in the forum, sharing a Hemingway quote that he found to be noteworthy. "There's a similarish line from Hemingway: 'How did you go bankrupt?' 'Two ways: Gradually, then suddenly.' So, maybe there? That was my initial inspiration for the line." This prompted one commenter to say the line made them cry. Another user shared their belief that several of Green's works were reminiscent of books written by Ernest Hemingway. Regardless of its inspiration, the quote certainly did its job by providing a tear-inducing combination of words that resonated with many fans.