Netflix Movie Scenes That Made Us Cry In 2020
This content was paid for by Netflix and created by The List.
Theaters may have been closed for much of the year, but movie fans still had a lot of new features to enjoy at home. The film slate for 2020 included exciting action bonanzas, heart-swelling dramas, hilarious comedies, and jaw-dropping documentaries. Considering it was such a roller coaster of a year, it's fitting that many of our favorite films from 2020 were also the most emotionally resonant ones.
Looking back on all of Netflix's originals of the year, there are some scenes that still have us reaching for our handkerchiefs. From moments of pure triumph to heartrending acts of sacrifice to romantic scenes that left us swooning, here are the movie moments that made us cry the most this year.
The Old Guard - "He's not my boyfriend"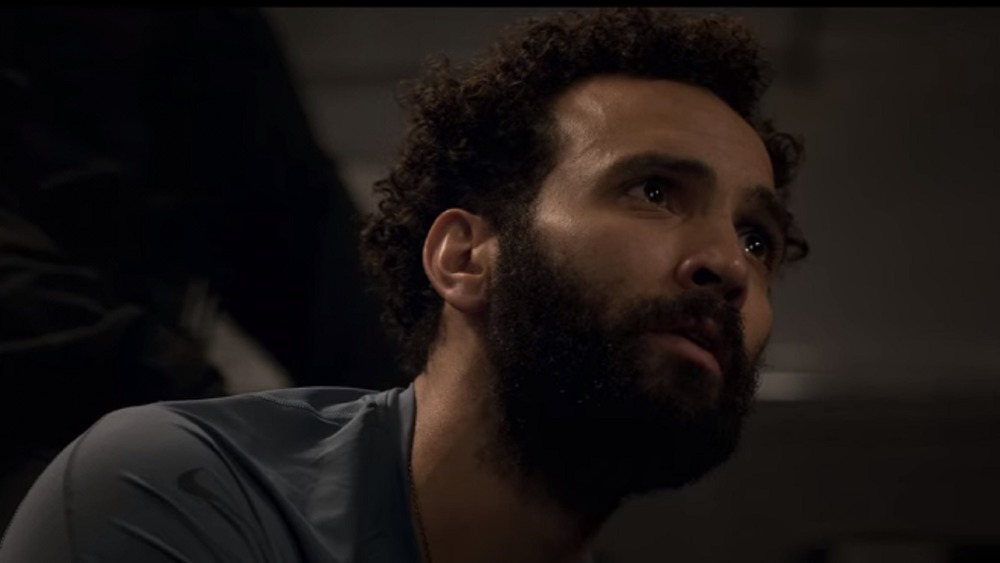 Aimee Spinks/Netflix
There's much to love about what director Gina Prince-Bythewood pulls off with her adaptation of Greg Rucka's graphic novels. The Old Guard is thrilling and thoughtful, and we can't get enough of seeing Charlize Theron's Andy lead her badass team of immortals through the modern world. Each character in the film has a unique story to share, and the more we learn about them, the more we adore them.
That is especially true when it comes to Joe (Marwan Kenzari) and Nicky (Luca Marinelli), two ancients who were once enemies during the Crusades but found their forever with one another. In one of the movie's most unforgettable moments, the two are captured by the foot soldiers of Merrick (Harry Melling), the pharmaceutical giant who wants to imprison and study them to steal their secret to long life. When one of the captors taunts Joe over his concern for Nicky and teases, "What is he, your boyfriend?" Joe responds with a heartfelt monologue audiences won't soon forget.
"He's not my boyfriend," Joe answers. "This man is more to me than you can dream. He's the moon when I'm lost in darkness and warmth when I shiver in cold, and his kiss still thrills me even after a millennia. His heart overflows with a kindness this world is not worthy of. I love this man beyond measure and reason. He's not my boyfriend, he's all and he's more." Even the guard is stunned into silence by this declaration because it's absolutely perfect.
Extraction - "Run"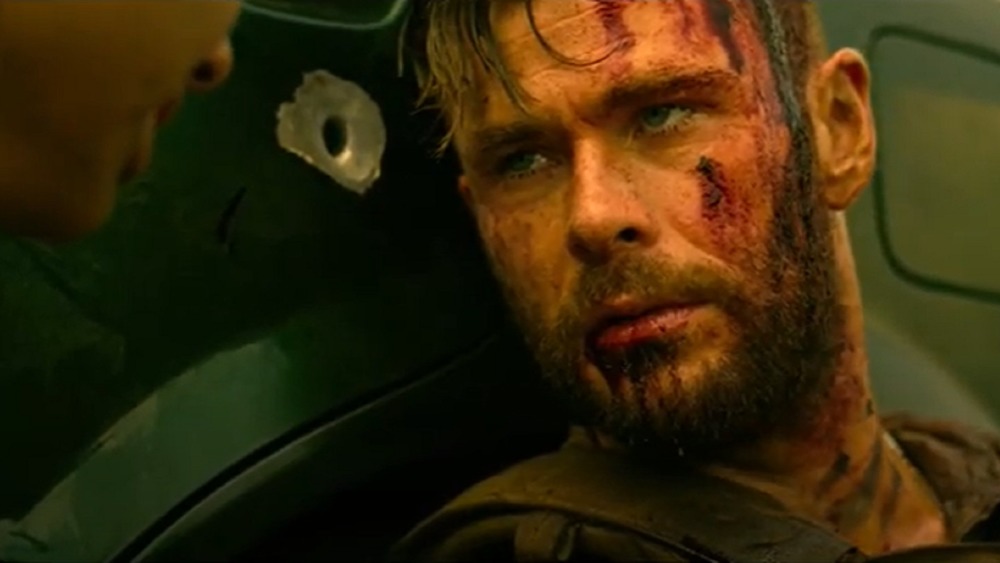 Netflix
Whether the upcoming sequel to Extraction will feature the return of Chris Hemsworth as Tyler Rake remains to be seen, but there is a split second before the credits roll that gives us hope our favorite mercenary may somehow survive the events of the movie. Whatever happens, though, the power of Rake's final scene in Extraction cannot be overstated.
After thwarting a litany of attackers and even facing a former friend, Rake refuses to abandon young Ovi Mahajan (Rudhraksh Jaiswal), despite knowing that he will not be paid for his rescue of the boy. We soon learn that a personal tragedy may motivate Rake's affection for the child, since he lost his own son at a young age to lymphoma. In the end, when Rake has finally secured an exit for Ovi across a bridge, he instructs him to "run" while Rake fends off the remaining hitmen.
Tragically, Rake is then shot by a hidden attacker and his wound appears to be fatal. As he bleeds, Rake has one last vision of his little boy in happier times, playing at the beach long before he fell ill. It's then that Rake is finally able to let go of his grief and his fight, and we see him plunge into the river below. The moment is absolutely gutting yet peaceful, and it's impossible not to tear up whenever this sequence unfolds.
All the Bright Places - "I'm better now"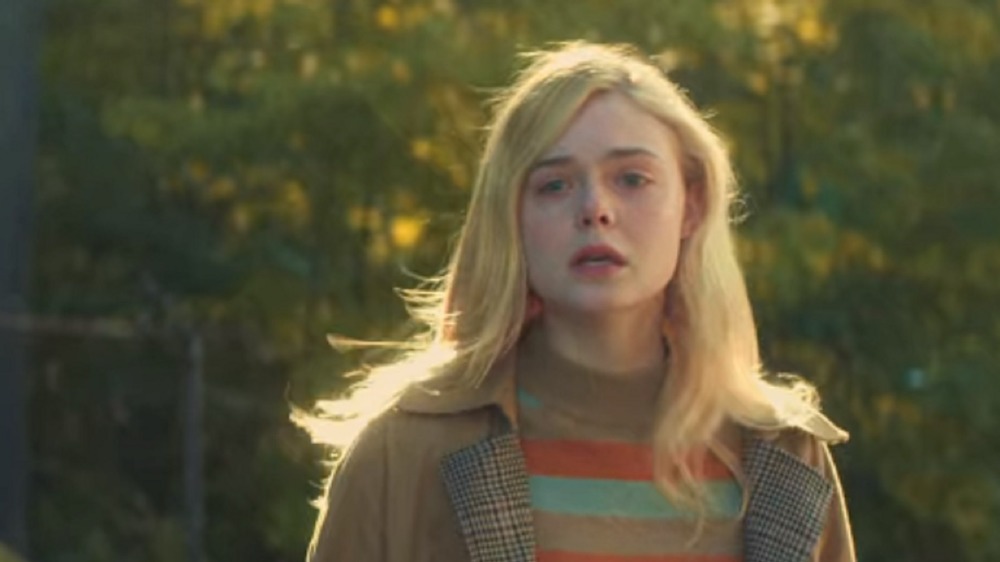 Netflix
Brett Haley's adaptation of Jennifer Niven's All the Bright Places requires at least two boxes of Kleenex to watch. The movie follows Violet Markey (Elle Fanning) and Theodore Finch (Justice Smith) as they work together to find joy after experiencing individual traumas.
For Violet, it's the death of her sister that sparks her downward spiral, but she's brought back from the literal edge of self-harm by Finch. Even as he still grapples with his own struggles with mental wellness, he helps to lift her into better spirits. While Violet steadily finds herself in a better place, though, Finch's mental wellbeing declines significantly, and we learn that he has been the victim of abuse at home for years. 
Things continue to worsen for Finch after he's taunted at school, and, when he disappears without explanation, Violet sets out to track him down. Her worst fears are confirmed in the film's most gutting moment, when she finds his clothes near the swimming hole she used to visit with him in brighter times and immediately knows that he has died. The anguished scream that follows Violet's discovery is absolutely wrecking. 
To All the Boys: P.S. I Still Love You - "Break my heart, Covey"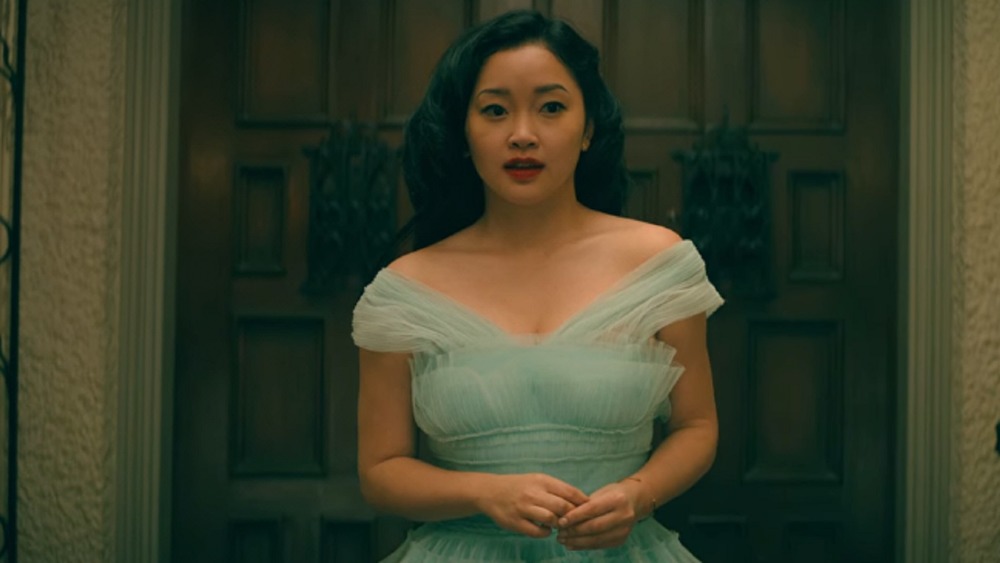 Netflix
The sequel to To All the Boys I've Loved Before, titled P.S. I Still Love You, finds Lara Jean Covey (Lana Condor) questioning whether Peter Kavinsky (Noah Centineo) still has feelings for his ex-girlfriend Gen (Emilija Baranac) after some miscommunications and even lies convince her that he might. At the same time, she's reintroduced to John Ambrose (Jordan Fisher), another former crush who received one of her fateful letters. As Lara Jean becomes distant from Peter, she grows close to John Ambrose, and it is only after Gen sets the record straight that she begins to realize how she truly feels about both of the boys in her life.
In the film's final act, Lara Jean kisses John Ambrose at the Star Ball, but her love for Peter washes over her in the moment, and she decides to go back to him. As she steps outside, she is surprised to find Peter standing there waiting for her because he knows she doesn't like to drive in the snow. It's then that he dials up the gentlemanliness of his gesture by saying that he's prepared to go along with whatever she wants. "Break my heart, Covey. Break my heart into 1000 pieces," he offers. As ready as he may be for just that, though, he's relieved to hear her confess that she still loves him. And those three words will probably reduce most viewers into big puddles of tears.
Tigertail - "There are many things I never told you"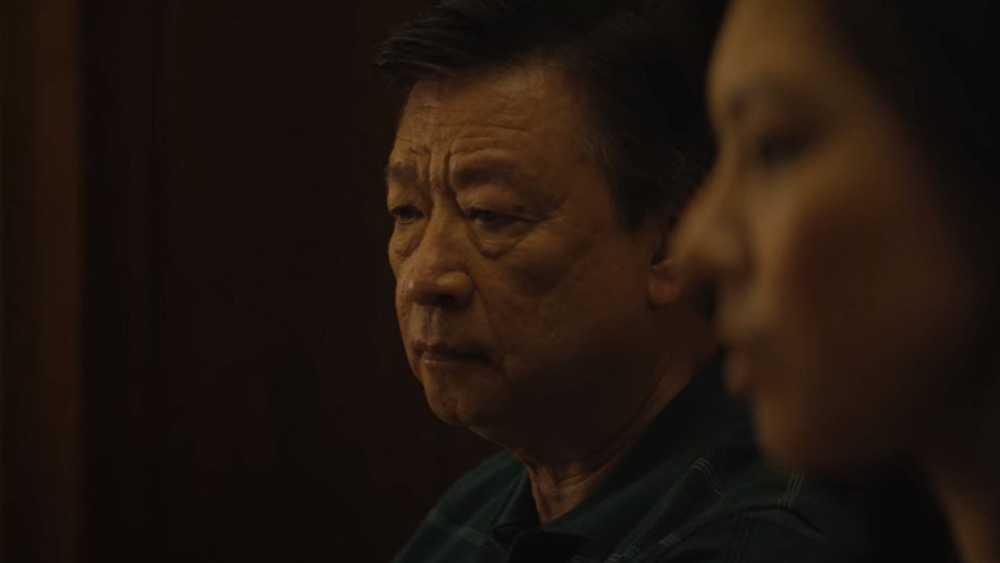 Netflix
Regret is one of the hardest things to cope with, especially during the more advanced age stages of one's life, and Alan Yang's Tigertail explores that concept with heartbreaking precision. The film centers on Pin-Jui (played in his later years by Tzi Ma), a man who has to sacrifice a life with his true love for the sake of opportunity and resents himself and the family that results from his arranged marriage.
Pin-Jui's strained relationship with his daughter Angela (Christine Ko) is particularly saddening, as he does not know how to communicate with her, let alone comfort her in her hour of need. However, Pin-Jui finally gets the chance to reconnect with his lost first love Yuan (portrayed in aged form by Joan Chen) and learn of her happy life. Yuan offers Pin-Jui some advice for bridging the gap between himself and his daughter, and, after attending Angela's party, he finally relates to Angela's newfound loneliness by telling her about his own past and feelings. 
The scene of Pin-Jui finally admitting to being purposefully distant from his daughter — "There are many things I never told you," he says — and her responding with true interest is so simple and yet so profound. The subsequent shots of the two traveling together to Taiwan to visit his former home and finally discussing his life's story are so satisfying that you can't help but bawl your eyes out over these two finally finding each other.
The Trial of the Chicago 7 - "And the following are their names"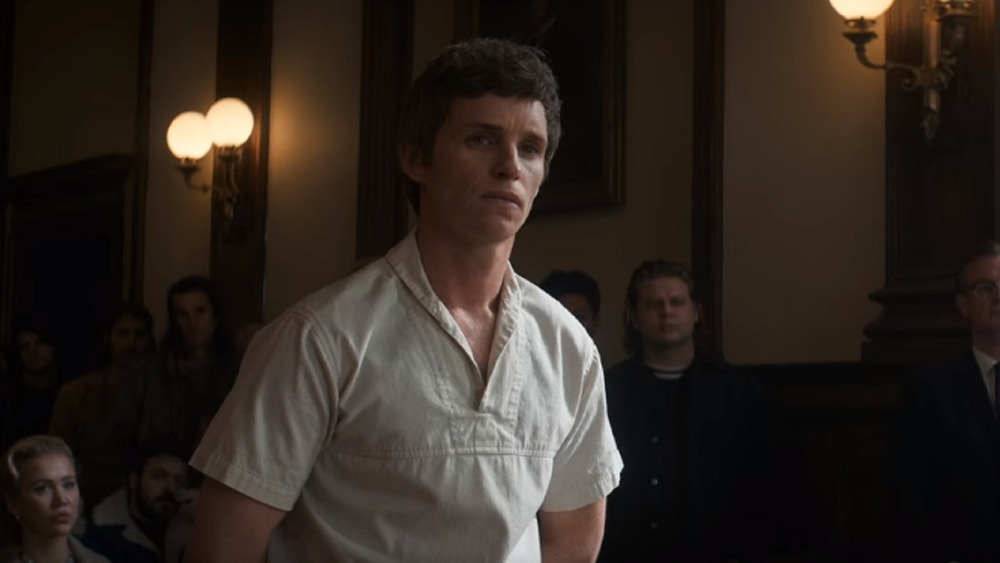 Netflix
Aaron Sorkin's biopic drama about the Chicago Seven — a group of anti-Vietnam War protesters who were charged with inciting riots at the Democratic National Convention in 1968 — is an inspiring look at this sliver of the history of activism. The moral conviction of the accused alone is enough a person emotional throughout The Trial of the Chicago 7, but it's the final moment of calm rebellion that'll really get your tear ducts working overtime.
After an extremely contentious trial, the biased Judge Hoffman (Frank Langella) allows defendant Tom Hayden (Eddie Redmayne) to deliver a final statement on behalf of all of the defendants before the sentencing phase. The judge makes it clear to Hayden that he has the best chance of receiving leniency from the judge if he is willing to make an apolitical statement of contrition. However, Hayden acknowledges and then bucks that request, stating that 4,752 troops have been killed in the war since their trial began and proceeding to read each of their names and ranks. As his fellow accused, the attorneys, and others in the courtroom begin to stand in solidarity with Hayden, it's hard not to pump your hands in the air alongside them, let alone keep a dry eye.
Dick Johnson Is Dead - "Long live Dick Johnson"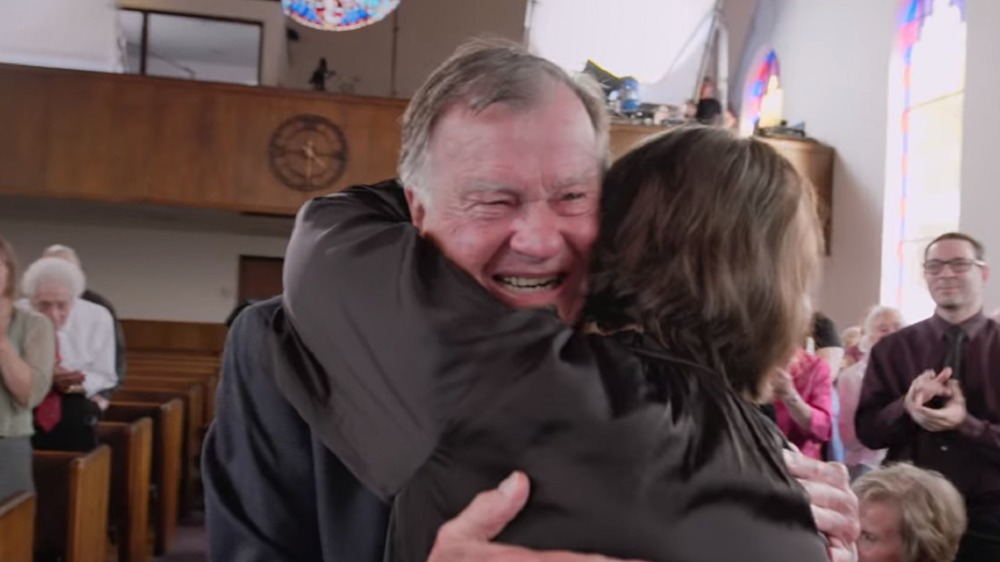 Netflix
Filmmaker Kirsten Johnson gifted the world with her incredibly inventive and emotionally evocative approach to saying goodbye to her beloved father before he ever really passes away in Dick Johnson Is Dead. The mockumentary-style film is a celebration of life and the boldness of meeting death head on, as she and her father imagine and act out the many ways he could go and film them all.
In the film's gut-punching climax, we see things get really real for both of them, though, as the titular star's faux funeral unfolds, and the speakers and guests reveal their genuine emotion and affection for Dick in past tense as he observes in the wings. Though they all may be playing it up for the show, their words and expressions still leave Dick — and the viewers at home — weeping with some mixture of gratitude and grief over the preciousness of life. As Johnson tells us in the end, her experimental film is meant to distill something impossible, but she still has the audacity to say with hope "long live Dick Johnson" before she opens the door to give her old man one more hug while she still can.
Shawn Mendes: In Wonder - "I'm so so sorry"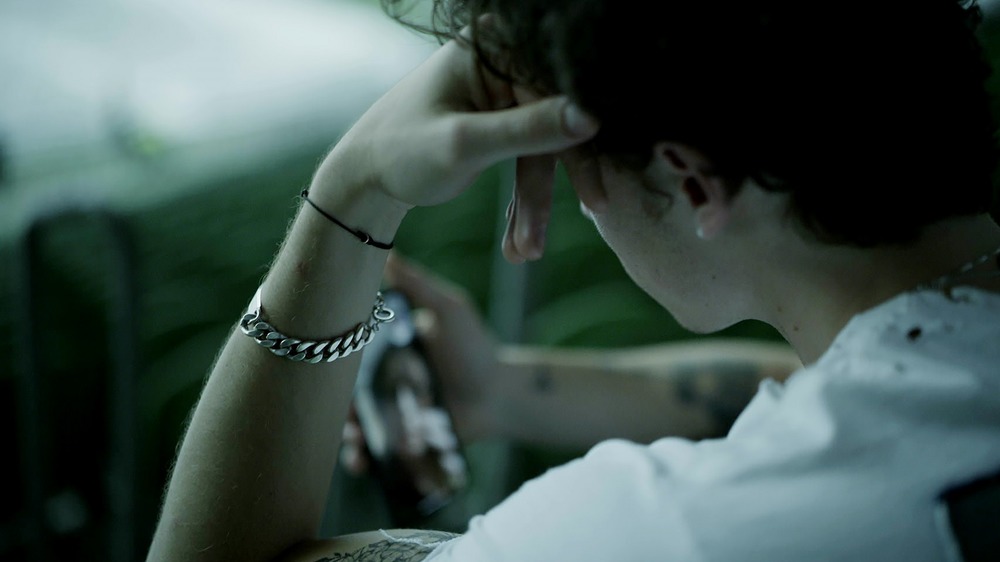 Netflix
The perils of superstardom become crystal clear in Shawn Mendes' gripping concert documentary In Wonder. The film introduces fans to a side of the beloved pop singer we don't normally see, revealing the very personal stresses and sacrifices that come with global success, including being separated from loved ones and having very little privacy or the freedom to have a normal public outing. At the same time, Mendes remains humble and grateful for his fans.
Mendes' true dedication to his crowds is especially clear when he faces an empty stadium after he's forced to cancel a show in São Paulo, Brazil. While it's not unusual for an artist to have to shutter a show due to an unexpected illness, Mendes is just as heartbroken and tearful as the throngs of fans who are now heading home outside. Perhaps his silence in the scene is owed to his laryngitis diagnosis, but the sight of him wordlessly weeping with disappointment over letting his fans down will still give you a major case of the gulps.
I'm Thinking of Ending Things - "The lie of it all"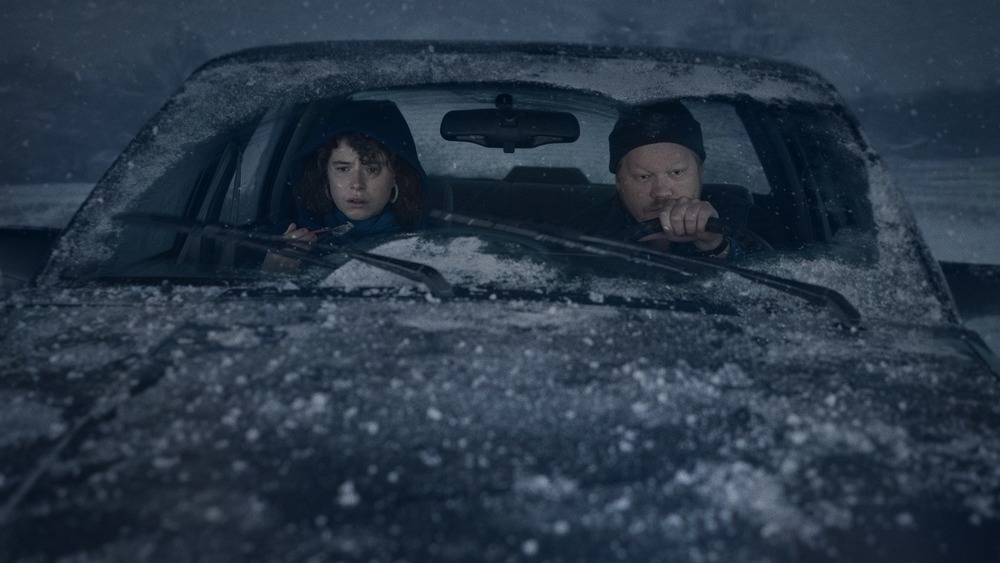 Mary Cybulski/Netflix
Charlie Kaufman's twisty existential drama I'm Thinking of Ending Things centers on a young woman sometimes played by Jessie Buckley who, despite wanting to break up with her boyfriend Jake (Jesse Plemons), accompanies him for a lengthy road trip to visit his family on a farm. Their many conversations piece together a puzzle of odd poetry and discomfiting revelations, and those exchanges reveal some very hard truths about the human condition.
One quiet scene that proves to be particularly upsetting to the characters and audiences alike is when Jake begins picking apart the uplifting phrases that many of us turn to in times of desperation. Jake laments how "hopeless" he thinks life is, and when his girlfriend asks him to be more specific, he says, "All of it. Everything. Feeling old. Your body is going, your hearing, your sight, you can't see. You're invisible. You made so many wrong turns. The lie of it all." He then cites familiar phrases like, "it's never too late" and "it's always darkest before the dawn" as examples of platitudes that give false hope. As he continues to list out the ways he feels misled by these tropes, it's hard not to join him in choking up over the weight and consequence of this difficult discovery.