Queen Camilla Is Reportedly Going On A Lavish Getaway Without King Charles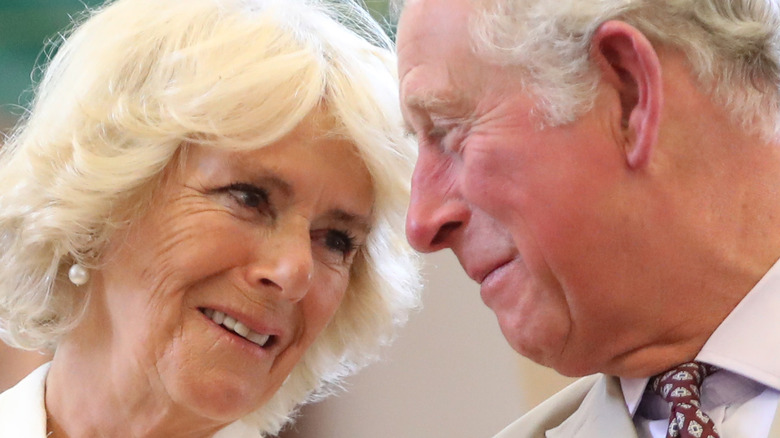 Chris Jackson/Getty Images
Camilla Parker Bowles' life has changed inexorably since King Charles ascended the throne. Queen Elizabeth II made a point of ensuring her daughter-in-law would become queen consort upon her death, per People, making the announcement during her Platinum Jubilee weekend and describing it as her "sincere wish" that Camilla would adopt the moniker. A source confirmed the king was always operating under the assumption that his wife would be crowned alongside him.
Charles and Camilla's relationship timeline stretches back decades, even if the royal couple started out somewhat controversially since the king was married to Princess Diana at the time. By this stage, though, there's no denying Camilla is the love of his life. Moreover, as a source told the Daily Mail, "She's never once tried to overshadow her husband, she's always played a supportive role ... He is her top priority." Thus, making her queen consort made perfect sense in the end.
However, emerging further into the spotlight has to be taxing too, as evidenced by Camilla taking a well-earned break without Charles.
The queen consort is taking some time out at her favorite spot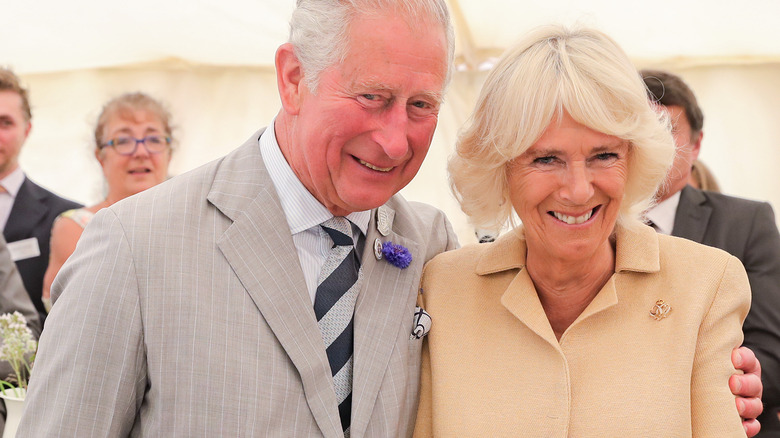 Chris Jackson/Getty Images
Even queen consorts need their me time. According to The Times of India, Camilla Parker Bowles has parked up at a holistic health center near Bangalore, India, alongside some of her closest friends for some much-needed rest and relaxation. The queen consort arrived on Friday with the requisite security detail, and immediately headed to the Soukya center, where she'll be indulging in everything from yoga to homeopathy, meditation, and even therapy.
Run by Dr. Isaac Mathai, the facility is focused on "healing, prevention or rejuvenation," per its official website, which should suit Camilla perfectly if she's been stressed out lately. Police sources clarified, "There were strict instructions not to publicize her trip as it's a private visit." Moreover, "No public engagement programmes or interactions have been scheduled during her stay." 
Clearly, Camilla is looking to focus on her own well-being above all else, without any outside intrusion — including from her beloved husband. As the Daily Mail reported, the queen consort has been a regular visitor to the integrated medicinal facility since at least 2013, when she took a week-long "ayurvedic detox" there. At the time, Camilla was on the cusp of a royal tour of India. Evidently, ruling alongside King Charles requires an even stronger dedication to self-care.
Camilla could have some tough times ahead with Harry's memoir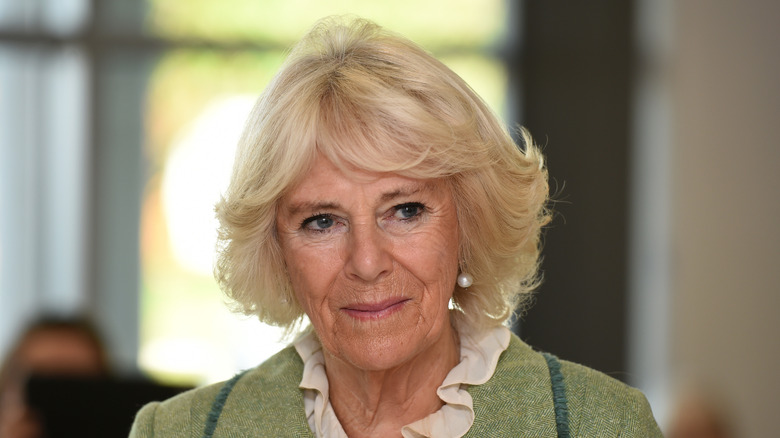 Finnbarr Webster/Getty Images
Prince Harry's bombshell memoir is hitting shelves early next year, and the royal family is understandably quaking in their boots. In particular, King Charles is concerned the book will be an "excoriating takedown" of his beloved wife, Camilla Parker Bowles. A source told The Sun, "There are concerns about Harry's recollections of Camilla's entry into the royal family, and how her long-running romance with Charles damaged him from a young age."
They continued, "Understandably he found those early years incredibly difficult, and he might publicly blame Camilla for much of what he believes went wrong in his childhood, and the trauma the whole situation caused." Royal author Tina Brown told the Daily Beast the queen consort lives in fear of what Harry might say. However, if he does go in on her, it might be the final straw for the king and his youngest son's relationship, following years of turmoil.
As an insider informed the Daily Beast, "Almost everything Charles has done over the past 20 years has, in one way or another, been about getting Camilla accepted by the public. He is incredibly protective of her and he couldn't do it without her. Even the queen finally accepted that." Thus, "If Harry forces him to choose, by laying into Camilla in his book, I have no doubt he will choose Camilla."