Sean Hayes Pens Touching Tribute To Will & Grace Co-Star Leslie Jordan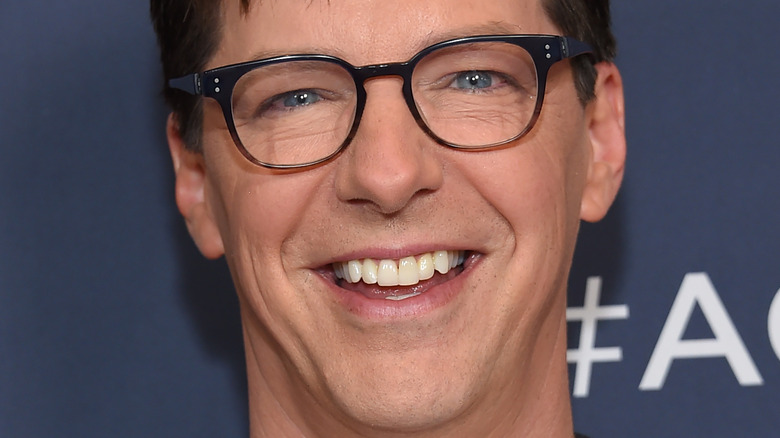 DFree/Shutterstock
Leslie Jordan, the hilarious comedian and actor, tragically passed away at the age of 67 on Monday (via CNN). The star was behind the wheel when he suffered a medical emergency and lost control of the vehicle. His car then hit a building in Hollywood and he was pronounced dead at the scene.
Over the years, Jordan had become a fixture in pop culture with his appearances in several films and TV shows. He made appearances on shows like "American Horror Story" and "Ugly Betty," and was a fan-favorite guest judge on "RuPaul's Drag Race" (per Variety). The comedian provided us with hope and comfort during the COVID-19 lockdown, posting hilarious videos that often went viral, making him a household name with a whole new generation.
However, it was his role as Beverly Leslie on "Will & Grace" that would forever be his claim to fame. Shortly after his passing, his co-stars weighed in with emotional messages in tribute to Jordan.
Hayes' tribute to Jordan was special
Leslie Jordan's portrayal of Beverly Leslie on the hit sitcom "Will & Grace" was likely his most successful role (via The Hollywood Reporter). He would win a primetime Emmy award in 2006 for his time on the show as the best friend to Karen, played by Megan Mullally. He helped to balance out her cynical personality.
He formed close bonds with his co-stars during his years on "Will & Grace," and when word that he had sadly passed away came to the surface, they were some of the first to pay heartfelt tributes to Jordan online.
Sean Hayes, who starred as Jack on the groundbreaking sitcom, wrote an especially heartfelt post on Twitter. "My heart is broken. Leslie Jordan was one of the funniest people I ever had the pleasure of working with," wrote Hayes, attached with a photo of the two actors together from their time on the show. "Everyone who ever met him, loved him. There will never be anyone like him. A unique talent with an enormous, caring heart. You will be missed, my dear friend."