The Bold And The Beautiful Fans Weigh In On Deacon's Stunning Proposal To Brooke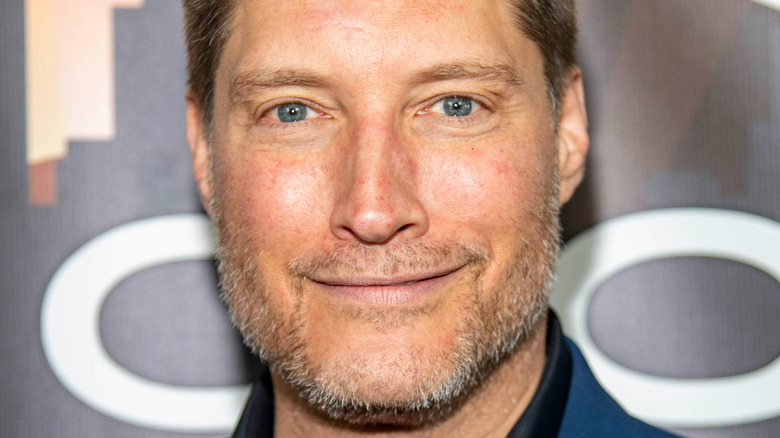 Eugene Powers/Shutterstock
Deacon Sharpe (Sean Kanan) has had the most tumultuous time since returning to "The Bold and the Beautiful" late last year. He first resurfaced in Los Angeles, hoping to grow closer to his daughter Hope Spencer (Annika Noelle), but his presence was quickly met with contempt from the Forrester family (via Soaps in Depth). Hope's stepfather, Ridge Forrester (Thorsten Kaye), was the most vocal about his disapproval of Deacon spending more time around the family. However, Deacon's clear attraction and feelings for Hope's mother and Ridge's wife, Brooke Logan (Katherine Kelly Lang), bothered Ridge the most.
Under the influence of a spiked holiday drink, Deacon and Brooke shared a kiss. After learning of Brooke's betrayal, Ridge reconnected on a deeper level with his ex-wife Taylor Hayes (Krista Allen), crossing the line with a singular kiss of their own (via Soap Hub). However, after being duped by his son Thomas Forrester (Matthew Atkinson) into believing Brooke called child protective services on him, Ridge fled to Aspen and became intimate with Taylor, pledging to a life with her (via Soaps).
Naturally, Brooke was devastated and confused by Ridge moving on with Taylor. She has yet to receive a real explanation for his actions, but she knows her relationship is over. With Brooke and Ridge's marriage destroyed, the door appears open for Deacon, and this week's episodes prove just that. He's ready to make the proposal of a lifetime, and viewers are torn on how to feel about this bombshell. 
Viewers are split about a Deacon and Brooke marriage
Characters on "The Bold and the Beautiful" don't waste time moving to a new relationship if their current one fails. It happened when Ridge Forrester swiftly reunited with Taylor Hayes after feeling betrayed by Brooke Logan, which might also be the case between Brooke and Deacon Sharpe. The official Twitter account for "Bold" posted a clip from one of this week's episodes featuring a surprise marriage proposal from Deacon to Brooke.
Fan reaction has been quick to this plot twist, with voices on both sides. On the proponent side, one viewer wrote, "I'm sure she'll say no, but I wish she would say yes. He truly is the only man who loves only her, so those words are coming from his heart." Another viewer tweeted, "Say Yes!!! Ridge wants to erase all their history, she needs to move on from that loser!! Save Deacon!! Save him from Sheila & let her be the only one going back to prison, not him!! Let Hope have a real chance to have her mom [and] dad together."
However, one fan pointed out that Deacon's still sleeping with another woman, saying, "How can he ask this after romping around in his tiny bungalow with Sheila, the ax murderess?" Another viewer echoed that sentiment, writing, "She wouldn't benefit from marrying another man who 'loves her but flirts with or lusts after other women. Deacon is sleeping with Sheila [and] he recently flirted with Nikki."
Viewers will have to stay tuned this week to see how Brooke responds to Deacon's shocking question!