Warm Up Your Locks This Fall With The Butterscotch Blond Trend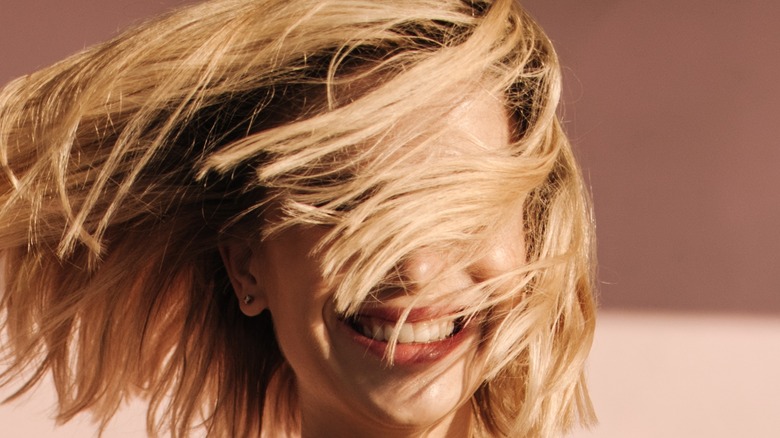 Look Studio/Shutterstock
Since blond hair is more rare than you might think, many people end up dying their hair this light color. Of course, many different shades and hues fall under the blond category. Between ultra-light platinum blond locks for a sleek, edgy vibe, the strawberry blond look featuring a cute red tint, and classic sunny blond tresses, there are various ways to rock blond hair. And thanks to beloved celebrities such as Marilyn Monroe and Taylor Swift, blond hair will likely never go out of style.
People typically associate blond locks with warm weather and the summer season, so many beauty enthusiasts opt to lighten their hair in the spring and go darker when fall arrives. But now, a trending shade of blond is perfect for fall: butterscotch blond. "Butterscotch blond is a color that lives between light golden tones and rich caramel to sometimes even copper-caramel tones, often infusing these together to create beautiful dimension and texture . . . especially as we leave the sun-kissed summer months for fall and winter," hairstylist Trent Matthews told Popsugar. Thus, butterscotch blond is a warmer shade of blond with hints of light brown and sometimes copper, too.
Butterscotch blond Is perfect for fall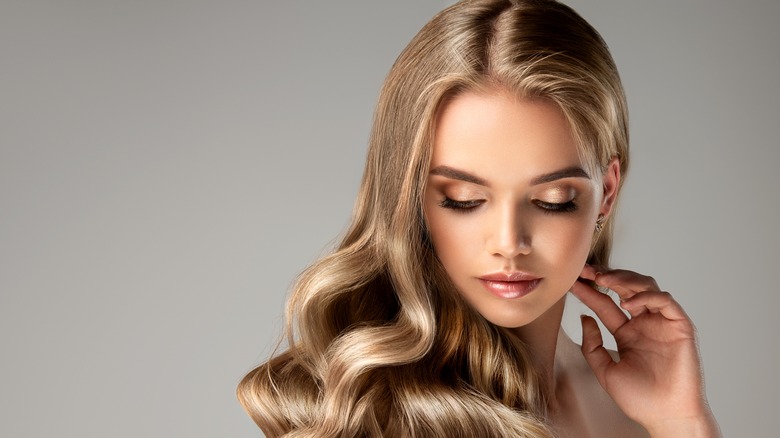 Sofia Zhuravetc/Shutterstock
Before you book an appointment to become a brunette or redhead for the fall season, you should consider going butterscotch blond instead. Since this hair color is warmer than traditional shades of blond, it's more fitting for cooler weather. Plus, because butterscotch blond hair has a richer appearance than bright or light blond, this warmer hue will look more natural on brunettes or redheads. The color also looks excellent on anyone, whether you have wavy, curly, or straight locks. 
You should consider going to your local hair salon if you want to flaunt this trendy hair color, but if you want to test out how it would look on you, or you like the look but don't want to commit, you could try out a butterscotch blond wig. For example, the Epic Cosplay Nyx Butterscotch Blonde Long Straight Wig is available for around $40 at Hot Topic.
Moreover, there are other spins on butterscotch hair colors besides blond. According to You Probably Need a Haircut, another option is butterscotch brond, a slightly darker choice that still has the butterscotch effect but is right on the border of blond and brown. Additionally, there's a brown butterscotch choice for anyone who wants to rock a brunette spin on the trend, and redder options include butterscotch copper and auburn butterscotch.